Published 9 Jul 2020
The 38 Most Common Job Interview Questions — Are You Prepared?
---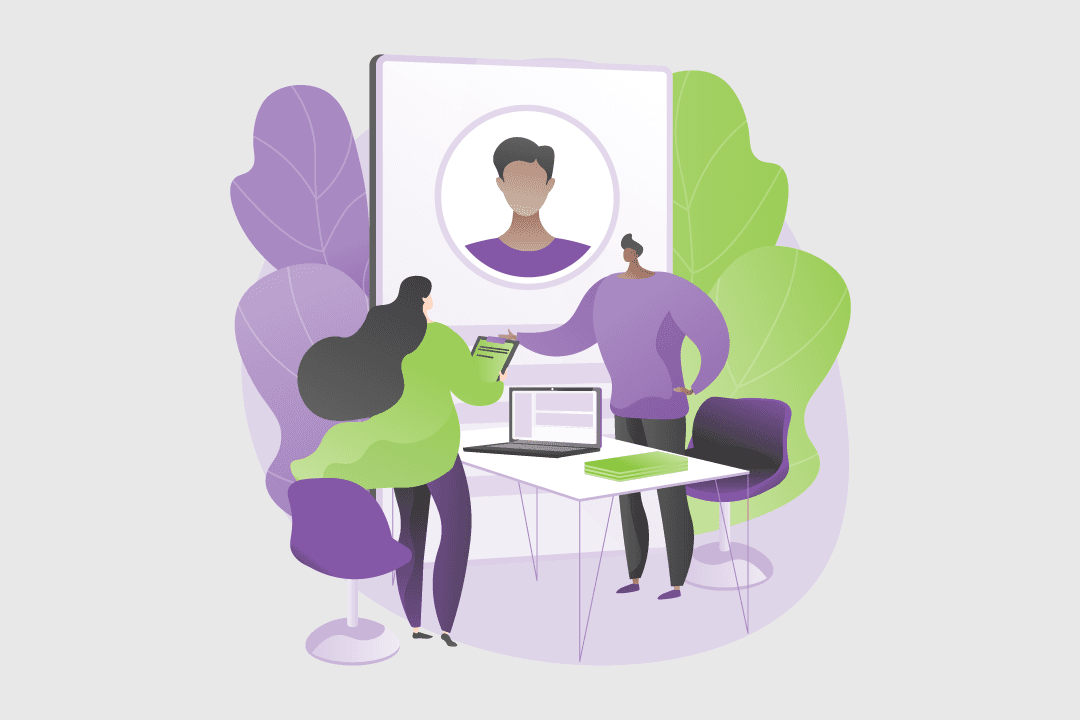 ---
We spoke to some HR experts and recruiters about the most common job interview questions and how to answer them. Make sure you're prepared with this go-to list.
The most common job interview questions
Save this checklist for later and keep the most common questions in mind. By the time your interview rolls around, you'll be fluent!
---
JUMP TO:
---
1. Why should we hire you?
---
This interview question is an excellent opportunity to convince recruiters that you're the best candidate for the job. Whether you have years of experience or are new to the field, treat your answer as a sales pitch for your skillset, personality and all-round character. We suggest breaking down your answer to this interview question into these three steps:
Explain to the recruiter that you're a hard worker and have the relevant work experience, skills and motivation according to the job description
Not only can you do the job, but you're the best person for the job and will endeavour to complete high-quality work with practical communication skills
That you've taken the time to understand the company culture and you feel that you would be a good match for both the role and the team.
The recruiter already knows your relevant work history due to your resume, and perhaps your selection criteria responses. Our interview tip is to tailor your answer specifically to the company, much like your cover letter. Emphasize your people skills and your ability to be both a team player and independent worker and above all show that you're a great, qualified candidate.
---
If you're looking for the perfect answer, look no further. Use these three key ingredients to secure the job offer.
---
Learn More
---
2. What is your greatest strength?
---
Talking about your greatest or biggest strength can seem intimidating and like you're bragging, but we assure you it's a fantastic opportunity to set yourself apart from other job candidates. Whether they be hard skills or soft skills, avoid reciting a generic list of strengths for this interview question, e.g., "I have great communication skills, I'm a problem-solver, and I'm a team player." This sample answer gives the hiring manager no real context as to why these are some of your biggest strengths.
Choose 1 -2 examples of strengths, and follow-up them up with a story that highlights them. A sample answer could be "Some of my greatest strengths are my work ethic and management skills. I realised this when I…" This answer shows self-awareness to a hiring manager and can make a good answer, great. Try and choose strengths that are relevant to the job description too. For example, when interviewing for a data analyst position, it's best not to provide social media marketing skills as one of your greatest strengths!
3. How would you handle…?
---
Knowing a potential employee's problem-solving skills are critical to most employers. How you handle issues in the workspace says a lot about your ability to handle pressure, your relationship with other team members and your overall work ethic. Hiring managers sometimes ask about past issues you may have had in previous roles during a job interview to see whether you're a good fit for their business. The best way to handle this question is to have an example of a time you dealt with an issue already prepared. Give a brief explanation of the issue and then detail your problem-solving strategies to fix the problem. Highlight any moments you used clear communication, strong decision-making or showed leadership qualities. You can also mention anything you may have done differently now that you have hindsight, or specify anything you learnt because of your experience.
Another possible question a hiring manager could throw your away is "How would you handle… *insert job-related problem here*?"
This behavioural interview question is asking you to prove first-hand that you're a great problem solver. Often, this question includes a broad but difficult situation. Your answer should consist of effective solutions to best handle this potential problem. Refer back to the job description when answering questions like this one – what skills did they specify were important to be successful in this role? Mention these in your answer (e.g. "I know clear communication is important for this role; hence, I would let everyone in the team know about the issue…").
If you've encountered a similar issue in real-life, you can use that example to frame your answer. E.g. "How would you handle an aggressive customer if they called to complain?" Could be answered with "Well, in my previous role, I had to handle these sorts of calls, and I found…"
4. Why do you want this job?
---
"Why do you want this job?" or "Why do you want to work here?"  "Why are you interested in this job?" are common interview questions that seem to frustrate many interviewees during a job interview. However, for recruiters, this is an important question as it helps them gauge how well you know the job description and the company.
Our interview tip is to pre-prepare for this question by breaking up your answer into two parts. First, explain why you want the specific role you're interviewing for. A sample answer could be "I think I would be a great social media manager due to my skill set and in-depth knowledge of consumer behaviour on these platforms."
You then want to focus on the company itself and why what they do matches your career goals. Research is critical here. Google search the company and find its company website and social media accounts. The research will help you better understand the work environment, company culture and all-round goal of the business. A good answer could be "I know you use a lot of data to tailor your social media campaigns to your target audience, and this is something I would love to be a part of!"
5. Is there anything else you'd like us to know?
---
During the interview process, the hiring manager will usually ask this tricky question towards the end of the job interview. Although open-ended and a little vague, this interview question could work very well to your advantage – so don't panic! This is your chance to tell the recruiter something they should know, but you haven't had the opportunity to express yet.
Remember, a good answer at this point during the job interview is brief and relevant to the role! You might talk about something you're passionate about, or something particular about your work experience, or why this job would present you with some great new opportunities to refine your skills that your previous job couldn't offer you.
If you feel there's nothing more that you need to mention, your closing statement can be a recap of why you would make a great candidate for the role. i.e. "I think we've discussed everything that you need to know about myself, but I would like to reiterate that my past experience in public relations is relevant and this job is something I would be really passionate about. I'm open to new opportunities, and I think this role is a perfect progression from my previous job."
6. What are you passionate about?

---
If a future potential employer or recruiter wants to know more about your personal interests, take the opportunity to show them what makes you, you! What you do in your free time is an important part of your life and often exposes what motivates you.
A potential future employer needs to get to know you on a more personal level to gauge whether you'll fit in well within the company culture and with fellow employees. If asked what you're passionate about during a job interview, it's okay to mention your personal life (be honest!). However, it's a good idea to link back to your work-life and how you keep the two balanced through good organizational skills for your over-all well-being (and the employers)! If your passions genuinely link into your field of work, then make that connection clear to the interviewer. Explain how you are developing valuable skills related to your work in your free time while still indulging in your true passion! Answer any follow-up questions and allow your personal interests to make you a stand-out candidate for the role while showing off your great personality.
7. What do you do in your current role?
---
As interview questions go, this one is quite straight forward. A hiring manager asks this job interview question to gauge how well you understand your current role and relevancy to the new role. Hence, this common interview question is an excellent opportunity to convince the recruiter that your current job has given you the most relevant and valuable work experience to tackle this new role.
A good answer to this interview question requires you to know the job description for the new role well, so when you describe your current position, you can do so in a way that complements the job description.
Second, draw similarities between your current role and the new role concerning skill set, work environments, or work experience. Even if the position you're interviewing for is slightly different from your current job, the two roles will most likely have overarching similarities in skillset and worth ethic that you can point out to your potential employer.
A recruiter will appreciate your knowledge of the relevant aspects of both roles and how your work experience and skillset set you apart. To conclude, it may be beneficial to explain how the new role would allow you to reach specific career goals in a way that your current job can't.
8. What makes you unique?
---
A winning answer to this interview question is explaining a specific skill or personality trait you possess, or an experience you've taken part in that's different and memorable that sets you apart from the other applicants. Make sure you follow-up whatever you say with specific examples as evidence – how and why does it make you unique? So, what makes you unique? In all honesty, it could be anything, but try and choose something relevant to the job description. Think about your skillset, personality traits or work history. Highlighting specific skills that could set you apart from other applicants is not a brag, but rather precisely what the hiring manager is looking for. Have you done something recently that helped you acquire new skills? Is there something you do in your spare time that could help you be a more valuable employee? Remember that in your job application you already explained your work history and throughout the interview process you probably discussed your previous roles in detail, so try and avoid using overall past jobs as an example of what makes you unique.
9. Tell me about a conflict you handled at work
---
Many people struggle with this interview question despite, many of us encountering workplace conflict at some point in our professional lives.
If an interviewer asks about past workplace conflict management, they're looking for an example of a time you used problem-solving skills to address an issue in your work environment that made you uncomfortable or agitated. Stay calm and professional during this question – exactly how you would while handling conflict in a real work environment! We suggest focusing on the resolution process, rather than the issue itself. A brief overview of the situation followed by a more detailed account of how you achieved conflict resolution is a good way to answer this interview question. Employers like to hear about a person's ability to find common ground with other team members as this strengthens employee relations and company culture. Highlight any use of effective communication you used to handle conflict as this skill is integral to many roles! Aim to explain your point of view clearly and how your actions assisted with the overall resolution process. A great way to conclude would be to acknowledge how you would improve your ability to address conflict after your past experiences.
10. What should I know that's not on your resume?
---
If a hiring manager or recruiter asks you what they should know about you beyond your resume during a job interview, take it as a good sign! Don't be intimidated by this interview question – our interview tip is to allow yourself to give some personal information so your potential employer can get to know you beyond your cover letter and resume.
If they ask you this question, they're most likely already interested enough to want to get to know you beyond your past work experience – you could rephrase the question as "tell me about something interesting". Take this as an opportunity to tell your potential employers something interesting about you that you couldn't include on your CV for this new job. You could tell them about a particular accomplishment or skill that allows you to open up more about your past work history – like a recent project you worked on that showcases your work ethic. Or tell them about a personal or career goal you are currently working towards that highlights your diverse interests and positive traits. Try to keep to one central point of discussion when answering this question to give them the most interesting, relevant information.
11. Where did you come across this job opportunity?
---
To most job seekers, this is a pretty straight-forward common interview question and is often used by recruiters as an ice-breaker. Just as the question suggests, keep this part of the interview process short and sweet.
If a friend or co-worker told you about the job, it's a good idea to name-drop – you never know if that connection could help you in scoring a job offer! If you found a listing during one of your many job hunts, try and remember the correct website, social media platform or LinkedIn account you found it on.
It's also not a bad idea to follow up your answer with a short reason why the job posting took your interest. What about the job description fit your career goals? Why do you think this career opportunity is the right one for you? A common mistake is drawing out this should-be short answer into a long-winded explanation as to why this new job is the right job for you. Try and avoid this! The hiring manager will appreciate it, and you'll appreciate the extra time to talk about what motivates you and your career goals later during the job interview.
12. How do you handle stress?
---
Stress management skills are an attractive quality to a hiring manager, and can often indicate what kind of worker you are. No matter how much you try to avoid it, stressful situations are a genuine part of everyday work life, and being able to effectively work through them while completing some of your best work is a real skill.
If you're asked this behavioural interview question or similarly, "how do you handle pressure,?" during a job interview, don't try and brush it aside (i.e. "Oh, I don't get stressed.") Be honest about your techniques. Handling stress often comes down to time management and your methods of prioritizing work tasks and tight deadlines.
Discuss your stress management methods such as keeping a to-do list as a motivator or going for walks in your lunch break to release pent-up energy. Indicating self-awareness when it comes to your stress levels is key. Another interview tip is that if you're able to think of a specific example of when you've overcome a stressful situation, this could be an excellent way to conclude!
13. What is your management style?
---
Although it may not seem like it, this is a common interview question, even if you're not interviewing for a management position.
Potential employers like candidates with leadership skills as it suggests possible professional development. Even if you've never held a management role, think of a time when you had to embody leadership skills – maybe you helped a fellow employee work through a difficult task? Or perhaps you were in charge of delegating tasks to other team members to get a project done on time? Either way, defining what a good management style is to you is an important first step.
We suggest a democratic management style. Explain that you're sure in your decision-making process and give clear direction; however, you're open to suggestions and often have check-ins with your team to encourage discussion about team needs and overall well-being. Think of one or two examples of when you embodied this style of management and discuss why it was effective and made you a good leader. This will highlight that you have the potential to make an effective leader even if you're not currently interviewing for a leadership role!
14. What's your current salary?
---
It's an uncomfortable and inappropriate interview question, but unfortunately, it's more common than you think. This question is less common in Australia than it is in the US, but it still pops up occaisonally. Although your current salary shouldn't affect salary negotiations for a potential new job, recruiters sometimes like to use this information about your current job to low-ball their initial offer.
During the interview process, if the recruiter asks the dreaded salary question – don't panic! Our advice is to politely deflect the question back onto your potential employer. A sample answer to this interview question could be "I'm happy to share my salary expectations with you to see if it matches yours; however, I'm (or my current employer are) uncomfortable with sharing my current salary figure." You could also agree with the hiring manager to share your current salary after the salary range for the role you're interviewing for is disclosed.
Doing some research before the job interview is also a great idea! Websites like glassdoor.com can help you find relevant salary information for your potential new job and guide you to determine your salary expectations. This way you'll feel more prepared if your prospective employer decides to involve your current position's salary in the interview process.
15. Tell me about a time you made a mistake
---
This question along with "tell me about a time you failed," can be an awkward interview question because let's face it, none of us like admitting when we've done something wrong (especially if it was a big mistake). But, a recruiter doesn't ask this difficult question to hear "Oh, I can't think of an example." We're all human – we all make mistakes. Be honest about a past mistake (preferably a work-related one), explain clearly and avoid placing blame on a co-worker or team members.
Explain the root of the issue and how you played a role. After providing a specific example, explain how you learnt from the experience. Self-awareness is an excellent quality that hiring managers like to see in job candidates and could convince them that you're the right person for the job! This interviewing question is an excellent opportunity to give an example of a mistake you've made and how you learned from the situation.
16. What do you like about your job?
---
This isn't a trick question, and there's no right or wrong answer. Be honest about what you like about your current job or previous employer if asked this in a job interview. A recruiter asks this question to better determine whether you would be a good fit with the company and its current employees.
Focusing on aspects of your current or last role that you genuinely liked is important, such as your ability to have a healthy work-life balance, the fun atmosphere or the flexible hours. It's equally as important to link these elements to your potential new job. For example, elements such as similar company cultures, work environments, team members and customer demographics are a few sample options you could choose to focus on and draw similarities between.
Keep the answer professional, and on a positive note, there's no need to provide a negative answer about your current or previous job to seem interested in the new role. You could then conclude the answer by reiterating to the hiring manager what you enjoyed about the previous role; however, your job satisfaction would improve with this new opportunity.
17. What makes you stand out from the crowd?
---
In other words, "what makes you unique?" or "what sets you apart?" These questions can be the cause of some anxiety during an already stressful job interview, but if you prepare yourself for this interview question – your answer could be what sets you apart from the other applicants!
Make sure your answer is relevant to the role you're applying for and be specific. Most applicants will have similar skillsets and track records to you, so what sets you apart to a hiring manager? Looking back at feedback from previous employers or co-workers could be useful. Is there a trend in your behaviour that was often commended? It could be a personality trait or your brilliant communication skills – whatever it may be, you want to make a lasting impression on your potential employer.
Another question to ask yourself is, have you done something in your personal life that's given you new skills or a fresh outlook that standard work experience couldn't have given you? Allow yourself to have one or two examples of why you're unique and remember that a good answer will follow-up these examples with evidence!
18. What are your pet peeves?
---
This may seem like an odd, slightly irrelevant interview question, but it's important to understand why a potential employer may ask this in a job interview.
Usually, a recruiter asks this question to try and identify how you deal with conflict and whether you'll fit in well within other coworkers and the company culture. Choose a pet peeve that doesn't raise a red flag to the hiring manager, and explain how in the past you've addressed this annoyance.
A great answer to this question should be concise and your body language should be relaxed. Don't linger on what things may give you a negative attitude in the workplace, but rather shift the focus to how you handle things positively on the job.
19. Where do you see yourself in five years?
---
Potential employers like employees with drive and career motivation and your answer to this interview question will help them evaluate just that. Be honest about your career goals but also be realistic. With some hard, focused work where could you realistically be in 5 years?
Hiring managers want to hear that the role you're applying for is going to help you achieve this goal because it shows that you've thought about your future and you're driven enough to go after it. Better yet if your 5-year goal is achievable within their organisation, it shows you have longevity as an employee.
If you're unsure about exactly where you want to be in 5 years time, that's also okay. Be honest, but make sure you make it clear you see the experience their organisation can provide you as a critical stepping stone to figuring out what it is you want to achieve in this time.
19. Where do you see yourself in five years?
---
Potential employers like employees with drive and career motivation and your answer to this interview question will help them evaluate just that. Be honest about your career goals but also be realistic. With some hard, focused work where could you realistically be in 5 years?
Hiring managers want to hear that the role you're applying for is going to help you achieve this goal because it shows that you've thought about your future and you're driven enough to go after it. Better yet if your 5-year goal is achievable within their organisation, it shows you have longevity as an employee.
If you're unsure about exactly where you want to be in 5 years time, that's also okay. Be honest, but make sure you make it clear you see the experience their organisation can provide you as a critical stepping stone to figuring out what it is you want to achieve in this time.
20. What are your weaknesses? (Hint: Don't say that you're a perfectionist)
---
We can't lie and say that a recruiter isn't looking for major red flags not to hire you with this interview question, but! They're also trying to gauge your level of self-awareness, and this can be a fantastic way to win them over.
Identify a weakness you may, but one that you're striving to improve. Have a specific example ready prior to the job interview but, be careful not to choose an essential skill listed in the job description as your weakness! This can raise significant concerns to the hiring manager.
We asked HR and recruitment consultant Cindy O'Dea how to answer this particularly tricky one.
Cindy has over 20 years' experience as a generalist and specialist in Diversity and Inclusion. As well as being employed full time as an HR professional in the Disability Sector, she also conducts her own HR Consultancy conduction workshops on job-ready skills.
She advises against saying that you're a perfectionist. "Everybody uses it," she stresses. "No panel wants to hear this."
A better approach is to "make it real," which means you need to prepare with some introspection and critical self-reflection.
"I talk about how I'm a doer," she says, "and I might start doing tasks to get something achieved quickly without always thinking through all the options. However, because I'm aware of this, I now take more time to consider options."
21. Tell me about a time when you faced an unexpected challenge at work and how you handled it?
---
Unexpected issues occur in the workplace all the time and how you handle these issues says a lot about how you work under pressure. Hiring managers ask this interview question for two reasons:
To evaluate your

problem-solving skills

under unexpected pressure

To see whether you identified the

difficult situation

as a

learning experience

that will make you more self-aware in your

next job
Choose a recent example of a time you've faced a challenge in the workplace and briefly recount the events. Follow up with a more detailed account of how you handled the situation and your thought process, focus on any moments of excellent communication with co-workers and teamwork. Conclude your answer by identifying why the challenging issue occurred and, identify a positive outcome because of the problem. An example of a positive outcome could be as simple as "I became more self-aware of how I deal with stressful situations and why being a team-player is very important in the workplace."
22. Why did you leave your last job?
---
This can be an awkward interview question no matter what the reason, but, we suggest staying as positive as possible! Bad-mouthing your current employer doesn't reflect well on you so, it's best to focus on your career goals as the reason for you seeking a new job.
Identifying to the hiring manager that their organisation is an excellent fit for your skills and career progression is a great way to go about answering this question during a job interview.
Focus on your potential employer's ability to get you to where you want to be in your career because this is more beneficial to you, rather than focusing on why your previous employer couldn't.
A sample answer to this interview question could be along the lines of, "I want to work more closely with digital content creation, and I think your organisation and this role is the perfect opportunity to achieve this goal." 
23. What other companies are you interviewing with?
---
This question can be a little intimidating during a job interview. Will you offend the hiring manager by mentioning other roles and organisations you've applied for? Will it seem odd if you haven't applied anywhere else? Our advice is, to be honest, but a little vague.
Depending on where you are in your job search, it may be positive to mention a few other roles you've applied for that are similar to the one you're currently interviewing for. This shows you're interested in the type of work and role they're offering and you're proactive in your efforts to ensure you find work in that field.
We suggest, however, following this up with reasons as to why this role and their organisation is particularly attractive to you and your career progression. If you haven't applied for anywhere else, it may be beneficial to mention other job listings you have seen that you found interesting and may apply for in the future. This shows that their organisation were your first choice, but you are aware of other opportunities in the market.
24. Tell me about a time when… (general behavioural questions)
---
Behavioural interview questions are asked in a job interview so the hiring manager can evaluate how you react and think during particular workplace situations. More often than not, the hiring manager is assessing your soft skills – e.g. your ability to lead, your interpersonal skills, and how you react under pressure.
These skills are critical for almost all jobs, so be sure to highlight moments you displayed excellent communication or leadership qualities. 
Possible interview questions that fall under this category are often similar to "Tell us about a time you encountered an unexpected challenge in the workplace," or "How would you handle a difficult customer over the phone?"
Behavioural questions generally ask for an example of a time you handled some form of challenge or unfamiliar occurrence in the workplace. It's a good idea to have some examples prepared before the interview begins. Your ability to communicate your ability to problem-solve, think on your feet and be self-aware during these challenges are crucial for these questions.
Ensuring you nail behavioural interview questions can set you apart from most other job candidates, so get preparing!
25. What do you want to do with your life?
---
This question can be very overwhelming under more casual circumstances, let alone during a job interview. But, remember – you are in a job interview, which means your answer can be tailored towards the role you're applying for, making it slightly more manageable.
Most people have many life goals, each one addressing a different element of their life. For this interview question, choose a life goal that links in with your career and why this potential role will help you achieve it.
Avoid identifying the current position you're interviewing for as a specific life goal because a hiring manager will see this as what it most likely is – untruthful.
Instead, make it clear how the organisation and the role can help you transition into something that will make you happy. Whether that be another, more senior position, or the opportunity to more easily complete certain projects you're passionate about – keep this answer focused while still being true to your aspirations.
26. Do you have any questions?
---
Although job interviews are primarily for the recruiter to evaluate whether you're the best candidate for the job, it's also an opportunity for you to properly assess whether you really want the job.
Job descriptions primarily focus on the specific role itself and the responsibilities and skills required of you for your application to be successful. But, a large part of enjoying your job is the company culture, environment and your coworkers.
This interview question is an excellent opportunity to find out more about these aspects of a new job. A lot of role-specific information is covered during the interview, so take the time to think of some unique questions!
For example: "Do you have any weekly rituals or activities you do to encourage social interaction between coworkers?" Or "What do you like about working here?"
27. Tell me about yourself
---
Arguably the most simple yet perplexing question to answer of all time. The interviewer asks you this and you find yourself thinking, "What do I say? What do they really want to know about me?" It's an easy one to overthink or get stuck on, but prepare an answer that is relevant to the position you are going for.
Interviewers don't want you to recite your resume and they're not looking for an autobiography of your life. They are most interested in what you can bring to the table from your previous roles. Tell them about aspects of previous work experience; like the reason you took your previous job, what you were looking for then and what you're looking for now, and most importantly, your achievements or what you gained out of the job. Essentially, give them a quick overview of how you got to where you are now and what skills you picked up along the way that will help you in future career prospects.
Interviewers often start with this question to ease into an interview, so take advantage of how open-ended it is by highlighting what makes you stand out against other candidates. What makes you different and why should they hire you.
28. What are you looking for in your next role?
---
First things first, read the job description. This a really great (and easy) way to make sure you're ticking the boxes of your potential employer's wish list of what they're looking for in an employee. Whilst you don't need to have ALL of their desired qualifications, definitely incorporate the same type of language that they've used in the job description, as it will resonate with them immediately.
In referring to the job description, you should be highlighting your skills to exemplify how you can add value to the company. Your answer could begin with "I would like to employ my communication skills in order to boost client engagement and product usage, which will result in increasing revenue." This not only tells the interviewer what you would like to achieve in your role, but also shows how your skills will help to achieve their business goals.
Whether it's training and development, specific goals you want to accomplish or overall job satisfaction. Ensure that you're going to get what you want out of the job. Keep in mind that whilst you want to impress the interviewer, you also want to make sure the company can offer you just as much value as you can offer to them, so answer honestly about what you're looking for.
29. Tell me about a time you failed
---
It can be difficult to talk about failure and weaknesses in an interview, however, it can also give you an opportunity to tell the interviewer how you overcome obstacles. There's nowhere to hide when this question arises, so start by framing your answer with what failure is to you. Define it on your own terms and why it was personally a failure to you.
Choose your example, run them through what happened, but then gear your answer more towards what you learnt from the experience and how you would go about it a different way should a similar situation ever occur. Discuss how it made you feel, why it made you feel that way and how you overcame that feeling of maybe disappointment or defeat. Explain how you handled the situation and what you did to turn it around. Always finish on a positive with a reflection of what you learnt, even if the issue wasn't resolved.
Employers are human too. They understand that things happen sometimes and that everybody makes mistakes, but it's how you deal with and grow from them that will define you.
30. How do you prioritise your workload?
---
It's often thought that we need to work a million miles a minute or set up camp in the office to complete our work deadlines, but that is not what interviewers want to hear. Your potential employer wants to know that you can identify the most important tasks to get done and shift work around, in order to meet deadlines.
A great way to answer this question is by giving a real-life example of how you go about your day by prioritising your work. Your response could go something like: "I start my day by writing down all of my current tasks and highlighting the three that are most important or urgent. I then assign blocks of time to work on those tasks and always allow some room for potential incoming work, as I understand that sometimes priorities change." Let them know that you plan your days out but can also shift work around when need be. Try to incorporate specific scenarios that exemplify your ability to prioritise your work, as it will help paint a better picture in the interviewer's mind.
You should also mention being open in your communication with your manager and co-workers. If you feel like you have too much on your plate, say so and ask for assistance. It's all about balance. Your employer doesn't want you to work yourself to the bone, they just want to know that you can organise your time in a way that is productive and efficient.
31. How would your co-workers or your boss describe you
---
This is the perfect opportunity for you to tell the interviewer the type of worker that you are, as well as highlight aspects of your personality so they can determine whether you will be a good fit in their overall corporate culture.
Use this question to back up the strengths you have mentioned throughout the interview and in your resume. Think about all of the positive attributes that you offer to the workplace. Do you have incredible communication skills? Are you a team player? Are you a reliable colleague? These are all valuable characteristics that employers are looking for in an employee, so capitalise on that.
Ask your previous or current co-workers what they think your best attributes are, and choose the best ones to expand on in a way that will be beneficial to the role you're going for. Keep in mind that the interviewer will most likely run reference checks, so make sure whatever you say will definitely be backed up by your referees.
---
32. What motivates you?
---
Eagerness to work and succeed in employees is highly sought after by hiring managers, and this is a great question to show them you're precisely that! Ensure your answer is relevant to the role and organisation you're applying for by choosing to discuss the part of the job description that initially interested you. When you found the job listing or heard about the position from a colleague, what made you excited and motivated to apply? Was it the opportunity to work on some interesting projects? Had you heard about the organisation's company culture and wanted to be a part of it? If you're honest about your answer, your excitement will be apparent to the hiring manager, and they'll be more likely to believe you when you say that this job is the one for you. To keep your answer believable and concise, try and choose only one element about the job that you're particularly motivated for and wish to succeed in.
---
33. What would you do if you were in my position?
---
Career coach and speaker Dominic Soh works in the careers department of RMIT university, and has placed over 500 international students in internships with top Australian employers. When he first graduated, he was rejected by employers 526 times over 561 days.
He's seen the interview process from many perspectives, and wouldn't be surprised to see this question come up in an interview.
The purpose of this question, says Soh, is to "test how big and wide" the candidate's thinking is. The employer wants to "see if they are able to think on the spot and look beyond the role they applied for." This question is designed to scope out leadership potential, and whether you have the chops to problem-solve and make strategic decisions.
To answer this question well, research not only the organisation you're applying for, but the space they're working on. List the top 1-3 challenges in that space, and how they might be tackled. Keep a couple of different options up your sleeve, and be prepared to explain why they would be good maneuvers.
---
34. If you were a car/bird/animal/colour what sort of car/bird/animal/colour would you be?
---
Career coach and author Paul Di Michiel says he's witnessed the rise of this question recently.
"These sorts of questions have been published in the 'yellow press' [tabloid newspapers]. Easily impressed interviewers then tend to use them when interviewing people,"
"This is fine, but how do you analyse the answer? Will I be a better employee if I'm a finch or a hawk? A VW Golf or a Honda? Blue versus black?"
"Frankly, these are frivolous questions that have little or no value and that for many interviewees would put the interviewee off working for the organisation. If I go to an interview, I'd rather be asked rigorous, thoughtful questions that bring out my skills and abilities in relation to the role."
The takeaway? Don't worry too much about answering these questions correctly – in fact, they may be a bit of a red flag or show that you're dealing with an inexperienced interviewer.
If you can, try to spin your answer in a way that paints you in a positive light, i.e. that you fit the ideal candidate description.
35. What's your dream job?
---
We all know this question pretty well. It's the question we're asked constantly as children, to which we replied ambitiously: astronaut, doctor, superhero. While you should still be ambitious when answering this question, try not to be as specific as you were in your childhood.
Don't reply: "this is my dream job." It comes across like you're just saying what they want to hear, and people can sense that. Instead, be more general and list off the kind of attributes you're looking for in your dream job: adaptability, ambition, room to grow. By keeping your answer broad, you leave the door open for promotions or reassignments in the future.
If you're interviewing for your dream job and say "this is exactly what I want to be doing", it gives the impression that you're not willing to budge from that position. Instead, you want to make it clear that you're invested in the company, and any job with them could potentially be your dream job.
36. Why do you want to work for this company?
---
The best way to prepare to answer this question is research. Research, research, research. Do some digging into the company before you get to the interview; Google is your best friend here. Find out things like:
What does the company stand for? 

What are the origins of the company?

What do they value? 

How do they operate? 
Being able to answer these questions and delve deeper into what you love about the company's backstory proves that this isn't just another interview for you and that you're invested in the outcome. If you identify with an aspect of the company's identity, make that clear. They want to know that you're eager to represent what they stand for, and not just there to come in and collect a paycheque every week. They want to know that you're here for the right reasons. There's no better way to prove your commitment to the company than doing your research beforehand.
37. Why do you want to leave your current job?
---
Do not diss your current job. Bad Mouthing your previous employer will only make your future employer wonder what you might say about them one day. Not only that, but it comes across as disloyal and stubborn.
You want to steer this interview away from negativity; it should be all about the positives! Keep your answer optimistic by looking ahead, not backwards.
Maybe you need more room to grow, and this new company will provide that for you. Maybe you want more responsibility in this next job, and that's what they're offering. Or, maybe you want to work somewhere that lines up with your long-term career goals, and this new company is exactly that; pathing the way to your future.
The most important thing to remember is to keep positive by explaining why you're leaving your current job in aspirational terms. This will prove that you have an optimistic outlook, upward potential and an eagerness to develop.
38. How do you like to be managed?
---
Just like interviewers have their list of must-haves in an employee, you probably have your own must-haves in a boss. You will know from your past experiences how you like to be managed. Choose two or three specific managerial characteristics you respond well to, and give an example of how and why that particular management style was so successful. Emphasise how, for example, a more hands-off management styles allows you to be a better and more efficient employee as there is a strong level of trust between you and your manager. Always keep a positive approach to this question, even if you have had your fair share of horrible bosses.
Whilst you want to detail your manager wish-list, you also want to align your answer with the culture of the company. If you can, do some research into the company and search their social media pages or ask anyone who might have some insight into what their culture is like. Determining whether you fit the company culture could be the deciding factor in choosing one employee over another, so aligning your answer to their criteria will give you a much better chance at landing the job.
How to Prepare for a Job Interview
---
The interview is the most important part of the recruitment process. It's the part that can allow you to shine and really show the company what you can bring to the table.
According to Merilyn Speiser, Principal at HR consultancy firm Catalina Consultants, a first-round interview should last around 45 minutes. 
Speiser says that ideally, two people will conduct the interview, "one as the primary interviewer and the other taking notes."
The interviewer should be listening intently and asking a series of follow up questions to ensure that the candidate provides comprehensive answers. The note taker should be doing just that – making sure they get everything down and putting together the best possible notes. They should also be watching out for things like body language, interest and engagement.
"[The first interview is] focused on behavioural and competency-based questions for around 70% of the time, with 20% focused around explaining the business and the remaining 10% allocated for questions from the candidate."
Top Tips for a Successful Interview
---
of first impressions are determined by the way you dress and your punctuality.
---
Keep in mind that even if you nail the answers to your interview questions, the smallest inconveniences can affect your chances. Being late, underdressed or even unprepared can be all it takes to cost you the job.
---
Plan out your journey in advance

Check parking availability or public transport options

Allow extra time for delays

Read up on the organisation you're applying for

Think about answers to potential questions

Create at least three questions you can ask the interviewer after

Plan your outfit in advance and make sure it's appropriate
---
Once you've got these sorted, it's time to familiarise yourself with the most common interview questions and the best answers.
It's not advisable to learn your answers off-by-heart, as that will sound fake and rehearsed. You want to sound competent, experienced and professional, but relaxed and authentic.
The key is to know what a hiring manager is trying to find out with these questions, and what a good answer sounds like.
---