Published 20 Jan 2022
Free Resume Templates [Download]: How to Write a Resume in 2023
---
Need to download a resume template for use in Australia?
We've got all the the templates you need here.
Your comprehensive guide for writing any kind of resume.
In this guide, you'll learn (almost) everything you need to know about resume-writing, which format to choose, and how to include skills that will make your job application stand out in the job market.
Did you know?
---
You'lll also find resume templates that are suitable for those who are applying for their first job, all the way to seasoned professionals – for any kind of industry.
The average corporate job attracts
---
---
resume submissions per week
---
---
of hiring managers most want to see resumes that are tailored to the job ad
Download your free resume template and follow along with the steps in this article.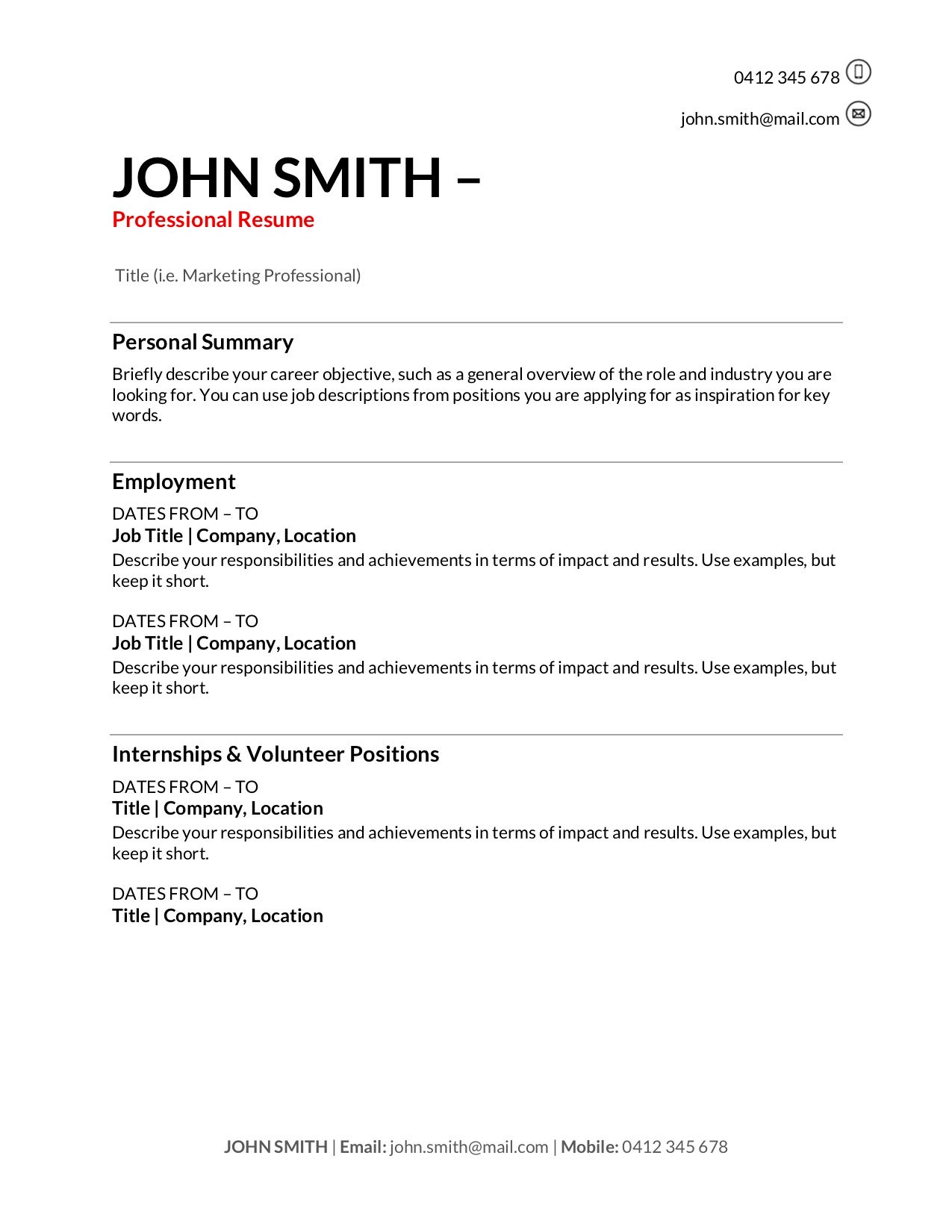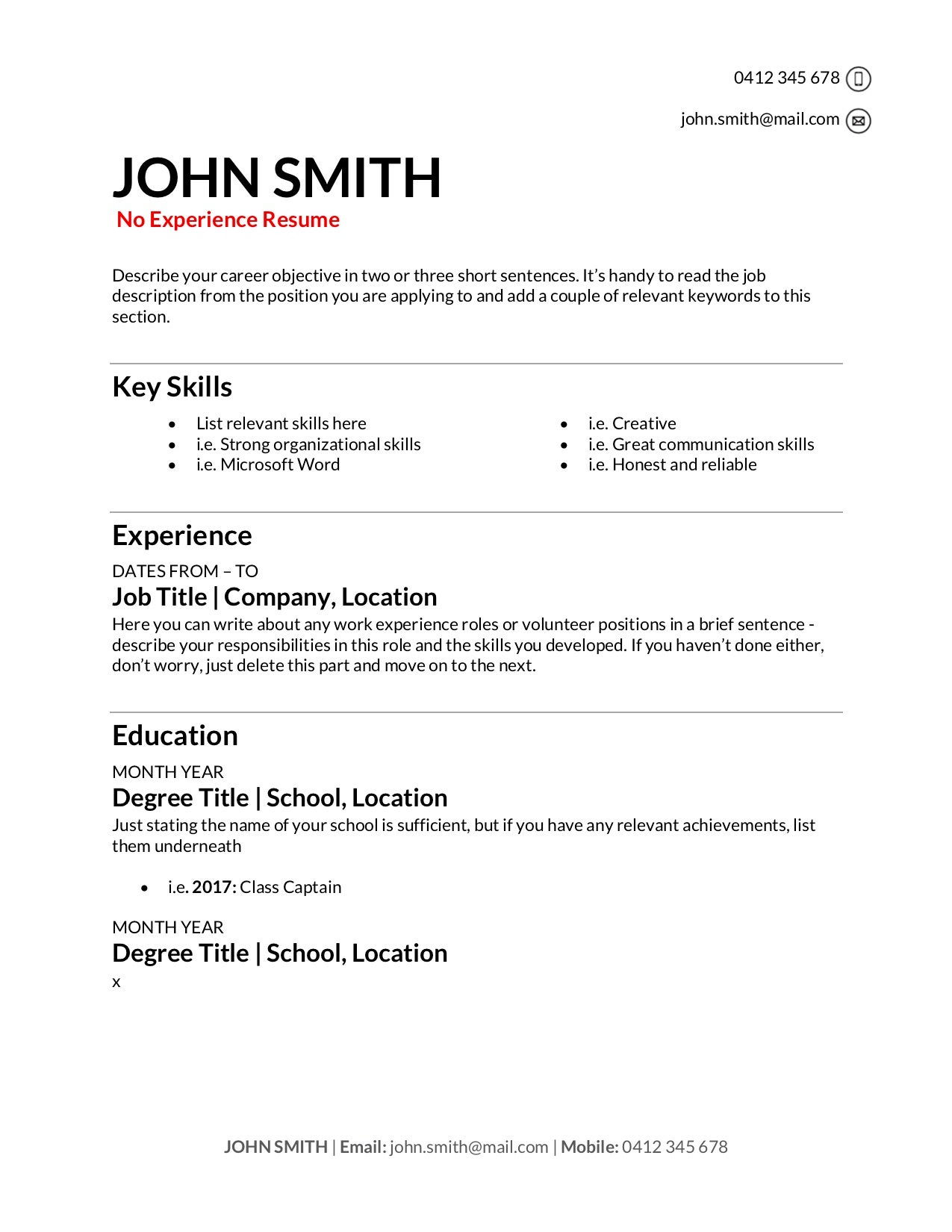 CHAPTER 1: RESUME BASICS
How to Write a Resume
---
A resume is a factual account of your skills, capabilities, and accomplishments. The difficult part of resume writing is structuring and formatting these facts correctly, in order to tell the right story.
The most important thing about resumes is that there is no one size fits all: they must be tailored to the job you're applying for. This does not necessarily mean you must spend hours crafting separate resumes for each job. However, it is good practice to create a generic version, then create copies and tweak them for each application.
Each industry and role will demand a different resume, and the expectations for what to include for each one will differ. For example, a retail manager will have a much different resume to a data scientist.
While crafting the perfect resume requires precision, you don't need to reinvent the wheel. In fact, it's very helpful to work from current samples for inspiration, to see what the requirements will be for your specific industry. Examples also help you stay up-to-date with current best practices for writing resumes and help you to avoid blunders which may get your resume thrown in the "no" pile.
What to include on your resume
Contact Information

Start by listing all of your relevant personal information, including your name and contact details. These are critical, as this information will be used to get in contact with you, should the employer want to see you in an interview stage. Email address, phone number, and your full name are all important to include.

Personal Statement

Write a brief statement about who you are, the education levels you've achieved, what you've done professionally and what your goals are. This is also a good place to briefly mention some of your achievements, but try to make sure that it's all relevant to the job you're trying to get.

Professional Skills

List the things you are able to do with professional competency. For example, you may be a qualified typist or have completed a course in checking computer readouts for engines. If you have skills and training in relevant programs or software, include those here too.

Qualifications and Education

List your tertiary achievements using subheadings and bullet points. Use this order: years the Degree was studied and when the qualification was completed, the name of the Degree, and the education provider. If you've studied more than one qualification, you can include previous courses too.

Work History

List your employment history using subheadings and bullet points. You can also include brief statements about your responsibilities and achievements, as well as the titles you had in those positions, such as manager or executive.

Memberships and Affiliations

If you're a member of an organisation such as a charity or a professional body you can list it and your position within it. Some people may be members of industry societies or organisations, including professional associations which look great on a resume.

Hobbies & Interests

Do you play team sports? Volunteer for a community group or a charity? Do any of your outside interests relate to the job? For example, someone applying for a job as a manager may be the captain of a sports team.

Volunteer Positions

Taking part in volunteer positions, and helping not-for-profit organisations is a great inclusion on a resume if you can use it. If you've been a volunteer sports coach for a local community team or taken part in charities and fundraisers then make sure to list them, and how long you've been affiliated.

References

A resume should always include the contact details of several referees – people who know you personally or professionally who can answer a prospective employer's questions about you.
Worried about explaining gaps in your employment history? Here's how to address tricky resume gaps, and even turn them into a selling point in the eyes of prospective employers.
Learn More
How to Write Personal Statements & Summaries
Most resumes will include a personal statement or summary at the top of the page, underneath your contact details. Employers are looking for the right people, both in terms of qualifications and personality, so show your best side.
Your personal summary should be 2-3 lines of short phrases, ideally structured like this:
---
Job titles
3-5 job titles that you would accept for your next role. This helps recruiters to picture you in the job they're hiring for.
Examples: Project Manager, Operations & Startup Manager, Assistant Construction Manager
Professional capabilities
3-6 professional skills or competencies that are relevant for the role you're applying for. The higher up, the more specific they will be.
Examples: Life Cycle Management, Risk Management, Stakeholder Partnership, Leading and Supervising
Past successes
These can take the form of any abilities or achievements you've been recognised for in the past.
Examples: Projects completed to deadline. Eliminated unnecessary documentation. Highest stakeholder satisfaction rating.
How to Use Referees
Finish the resume by providing referees – people who know you professionally and personally and can vouch for your competence.
Before you include these people, check with them to make sure they are happy to be asked for a reference about you by potential employers.
List the references' name, job title, company name, business address, telephone and email for ease of contact.
Should You Include Interests and Hobbies?
Many resumes include a brief section about your personal life, with curated detail relevant to employment. The idea is to show an employer what kind of person you are. You can include hobbies, such as sports, but it's best to select ones which indicate you're a good fit for the job.
For instance, if you're applying for a communications job, you may want to include your passion for graphic design and podcasts. If you're applying for management, you could include that you're captain of a sports team.
Further, space on your resume is limited, so if you don't have any relevant skills it might be best to leave this section off.
Soccer

Yoga/Pilates

Boxing

Cycling

Golf

Running

Swimming

Weight Training

Tennis

Mountaineering
Dos
Tell the truth
Keep it to 1-2 pages
Follow conventional keyboarding practices
Convert to .PDF or .docx
Proofread proofread proofread!
Use key words from the job ad
Don'ts
Include obvious skills
Use clichés or jargon
Try to hide gaps
Make vague statements
Forget to update information
Use an unprofessional email address
CHAPTER 2: INDUSTRY-SPECIFIC RESUME SAMPLES
No Experience & Industry-Tailored Resume Samples
Below you'll find specialised resume tips depending on what you're after – whether you're just starting out or are a skilled professional, these layouts will provide you with a customised resume that is suitable for the job or industry you are applying for.
Student and First Job Resumes
Students and people applying for their first jobs can often be found in the same boat – and often start from scratch, professionally speaking.
By taking the basic resume template and highlighting your education, life experience and personal qualities, you can still create an effective first resume that will help win employment and grow experience.
---
Who Are You?

As always, start with relevant personal information, including your full name and any relevant contact details. If you are underage, you can also include the name of a parent or guardian as the primary point of contact.

Personal Biography

Tailor this section to highlight your achievements, in education and your personal life. State what you have done so far and what direction you want your life to take, both professionally and personally.

Qualifications and Education

List your tertiary education level and, if relevant, what grade levels you achieved. This applies whether it's for high school, university or further education like TAFE. Give employers an idea of what kind of student you were, and what kind of employee you could be.

Work History

Students and first job applications often may not have much, if any, professional experience. So you can list any work experience stints you may have gained, volunteer work or part-time work.

Professional Skills

Again, this may be limited by life and professional experience, but think hard. Many high schools teach typing, computer skills, basic wood and metal shop work- which can be important to a trade type job- and sports skills. Even listing relevant life skills that you are familiar with, such as computing and driving, may be helpful. A lot of schools also now provide students with skills in programs such as excel, and photoshop, which can be very relevant knowledge for the right job.

Memberships and Affiliations

Do you play a team sport? Are you a Surf Lifesaver? Captain of drama? A school prefect? Anything that you've done in life that highlights your contribution and commitment to certain areas in your school or personal life are a great inclusion.

Personal Interests

Similar to what has been mentioned above, list anything you're interested in or passionate about. Perhaps you like to travel, read or volunteer in your free time. Have you achieved something worth noting, like winning a short story competition or giving a valedictorian speech?

Volunteer Positions

Taking part in volunteer positions, and helping not-for-profit organisations is a great inclusion on a resume if you can use it. If you've been a volunteer sports coach for a local community team or taken part in charities and fundraisers then make sure to list them, and how long you've been affiliated.

References

Many schools encourage their students to ask teachers they have excelled under for a reference, and many are happy to give one and be listed for contact. You can also ask sporting coaches, mentors or trusted friends.
Crafting an Effective Retail Resume
The retail sector is one of Australia's biggest employers and places a high value on people with a wide set of professional skills and experience. So retail resumes are a little bit different than the norm.
Why? Retail is a fast-paced industry with little time for messing around. Skills such as communication, organisation and people skills are important, as retail jobs are very high customer- contact. Retail employers want to know the basic information about you straight away. And if your resume doesn't hit the sweet spot, it will probably get binned.
It pays to look around online for retail resume examples and dissect them to work out how they are different from the standard resume types. You'll see that retail resumes are usually very direct and to the point, usually one or two A4 pages in length, and often ordered differently to the standard resume.
Next, combine your knowledge with the basic resume template and craft a tailored document, specific to the retail industry:
---
Who Are You?

Professional resumes start the same as all others – name and contact details.

Personal Biography

State your professional experience and ambitions simply and clearly. For example, 'I am a highly experienced sales assistant keen to acquire new skills and opportunities.' Then briefly list what experience you have amassed in the retail sector – managing others, driving sales etc. If you don't have any real experience in the area, try to make a statement that highlights your ambition and passion for the industry, as well as what skills you think you can bring to the job.

Professional Skills

Retailers hire people based on their professional skills, so this section is usually pushed higher. List your technical skills in bullet points, such as familiarity with computer spreadsheet programs like Excel, which is commonly used in retail. Next, list any professional certificates you may have, such as TAFE diplomas, certificates, or management level experience from previous jobs in the retail sector.

Memberships and Affiliations

The retail sector in Australia has many unions and peak bodies, so if you are a member of any, list this high in the resume.

Qualifications and Education

List your education history and any relevant qualifications. Retail employers want to know what skills and experience you have gathered.

Work History

List your work history within the retail sector, including what responsibilities each position gave you. Anything involving management or a specific retail skill such as operating a cash register should be included high up. Retail jobs are competitive, so it is crucial to state how long each position was held for, so employers can gauge what kind of employee you have been in the past.

Personal Interests

Keep this brief, but mention a few things you like to do to give a good personal impression. Retail jobs involve lots of teamwork and trust, so employers want to know what you are like.

References

You can list referees or say they are available on request. Remember, retail is a fast paced industry that values skills and experience, so your resume should reflect the sector's needs.
Putting Together a Professional Resume
A professional's resume is extremely important to maintain their reputation and includes everything they've gained throughout their careers.
Many professionals such as lawyers, investment bankers and corporate managers maintain a high-quality resume document that is not focused on gaining a particular position.
Instead, a professional's resume is maintained as a form of advertisement, available upon request to headhunters or displayed on a networking website such as Linkedin to attract job offers or business opportunities.
If the desired position comes onto the professional's radar, then the resume can be tailored to it. But otherwise, it is maintained on the presumption that headhunters or other employers will see it and come to them.
To craft a polished document of your own, it is essential to do research and gather as many professional resume examples as you can, including administration resume examples. Many leading figures from business, politics, sport and the arts have their resumes available online. Linkedin gives quick and easy access to the resumes of scores of big names, including Google's Larry Page and Tesla's Elon Musk.
Next, take the basic resume template and fill it in, but remember, professional resumes have a different emphasis:
---
Who Are You?

List your name, email address and contact phone number. Quick and easy.

Personal Biography

Professional resumes begin with a snappy – and usually brief – statement about who they are, what they have achieved and what their vision is, both professionally and personally.

Work History

Professionals usually put their work histories first. From the very beginning, a professional's resume needs to display their skills and experience as well as what level of employment and success they have achieved.

Qualifications and Education

A professional resume often goes into deeper detail about a person's education and qualifications than other fields. This reflects the emphasis placed on education by sectors considered as part of the professional sphere. A professional resume should cater to this by listing all relevant education experiences, degrees and qualifications, even those that are ongoing. For example, a person may have graduated with a degree in Economics, and also list that they have completed further education modules from a business school.

Professional Skills

A professional resume should strongly highlight the skill set that has been gathered. An emphasis is usually placed on real world experience, management positions, professionally recognised achievements and any professional certificates or courses that have been completed.

Memberships and Affiliations

Professional fields such as law, business and medicine have many groups, organisations and even clubs that reflect a person's competence and standing. Professionals also place emphasis on joining community groups and having local involvement, so listing any of these aspects are favourable.

Personal Interests

Like any job in any field, professional industries hire people, not Degrees or old job titles. Show who you are, and what you're like.

References

Professional resumes often include statements of recommendations from prominent colleagues or acquaintances. Anything to get an edge and stand out from the pack is always welcome!
---
---
CHAPTER 3: DESIGN AND FORMATTING
This Is What Your Resume Should Look Like in 2023
Which resume format should you use?
When it comes to resume writing, there are several resume layouts you can choose from.
Here is our complete list of resume formats below:
---
Reverse chronological

The chronological resume format is the most popular and familiar with recruiters. It's also the most compatible with Application Tracking Software, meaning you'll show up well in scans when you submit applications through online job posting sites. This classic format does a great job of demonstrating your experience, so it's the most fitting choice for those with a lot of relevant work experience. The only drawback is that it can be a little bland when applying for jobs in creative industries, where they are seeking candidates who think innovatively. In that case, you may want to consider how to make your resume pop visually in order to catch the hiring manager's eye.

Functional

We don't usually recommend functional resumes. Most employers do want to know about your work experience and a functional resume hides this, and can even make you look inexperienced. Recruiters are not accustomed to the format, and this may cause them to reject your application early on. For this reason, if you are changing careers or you don't have much experience, stick with the combination format.

Combination

A combination resume is recommended for career changers and those with a diverse range of experience. It's a flexible format that highlights your skills while tying them to previous work experience and achievements while hiding any gaps in your work history.
Have you thought about the way your resume looks? Is it formatted with no consideration for spacing, and all the text jumbled together? If your resume doesn't look clean, current, and catch the hiring manager's attention, you could be reducing your chances of getting an interview. 
That being said, unless you're applying for a creative position in an unconventional workplace, keep your formatting fairly conservative. Less is more. An over-the-top design can get your resume discarded quicker than you can say "Canva".
1. Use The Best Layout
A recent study from a job-search site found that "F-Pattern" or "E-Pattern" resumes grab the recruiter's attention and hold it for much longer than a centred resume. This is because it mirrors the way our eyes move across web pages: from up to down, and left to right.
---
2. Add Subtle Pops of Colour
Using accents of a single colour throughout your resume to highlight key areas will make important parts pop and help the whole document look pulled-together. Don't go overboard, especially if you're applying for a traditional job, like an accountant. 
3. Choose an Appropriate Font
There's no single correct font to use for your resume, but it's important to choose something that is clean and easy to read, usually a basic serif or sans-serif font in size 12, and no smaller than 10.5. Going larger than size 12 is acceptable for headings, but keep them below 24 as a general rule of thumb.
You can use a serif or sans-serif font, and in general serif fonts are seen as more traditional, whereas sans-serif fonts are cleaner and more modern. Which one you choose will depend on what kind of impression you'd like to make.
Use the same font throughout, but play around with using all capitals and different font weights (i.e. bold, light) to draw the eye to important points.
According to a recruiter survey by Hubspot, these are the 7 best fonts to use:
Times New Roman (serif)

Arial (sans-serif)

Calibri (serif)

Helvetica (sans-serif)

Cambria (sans-serif)

Georgia (serif)

Garamond (serif)

Avenir Next (sans-serif)

Muna (serif)
Some recruiters mentioned staying away from decorative, cursive and bubbly fonts – and you should definitely avoid Comic Sans and Curlz MT.
4. Make Your Skills Section Pop
A skills section is best in a list, and add it to the very top under your personal statement. Use keywords that you've seen in the job ad – this will function as a quick summary of your key strengths. You may even want to add coloured rectangles behind each skill. This will give them the appearance of 'tags' and make them easily scannable. Otherwise, a clearly formatted list will work well.
How to Optimise Your Resume for Bots
75% of resumes are rejected before they see human eyes. That's because most recruiters and large companies now use a software called ATS – Automated Tracking Systems – to filter out resumes that don't meet specific criteria or contain certain keywords. That means that a bot is standing between you and the job you want! But it doesn't have to be.
Avoid these common mistakes which will mean an ATS can't scan your resume properly:
Don't use columns. Formatting a resume with more than one column confuses the computer scanning system, meaning that your resume may be automatically excluded in the first scan.
Don't use fancy templates. This includes resume templates made in Photoshop or Indesign. These are difficult for the system to scan and make it unreadable.
Don't leave out keywords! That's what ATS are scanning for. Keywords include soft and hard skills, especially if they are listed in the key selection criteria of the job ad. Add them in a skills section at the top, but also use them throughout your resume when mentioning your past accomplishments and study.
Don't use PDF format! Stick with .docx or .doc unless the upload options specify PDF. You can use plain text files, but they are harder for humans to read once it gets past the ATS.
Don't put contact details in the header or footer. The ATS will not be able to find them.
Avoid charts and graphics. Scanning systems can't read this, which means the information you wanted to get across will be lost.
Don't use symbols as bullet points. Just use classic bullet points like the ones in this list, otherwise it can confuse the ATS and get your information scrambled.
Do a free ATS scan on your resume before you submit it anywhere. There are many of these available online for free, and it will help you pick up any errors beforehand so you can fix the document.
Most resumes submitted online are never seen by human eyes. Discover how to optimise your resume for the robots and get more job interviews.
Learn More
CHAPTER 4: RESUME SKILLS
How to List Skills on Your Resume
How to Use Skills in a Resume
When mentioning skills, it's important to qualify them with a competency level. So for example, if the job calls for a strong understanding of business systems, and that's one of your strengths, then add "Strong" or "Excellent" Knowledge of Business Systems. If you only have basic knowledge of Photoshop, indicate that with "Basic Photoshop Skills".
You'll list your key skills in a section at the top, but make sure you mention them again in your work experience descriptions, so that the hiring manager can see you're backing up your claims with examples –  which you can then talk about in more detail in your cover letter.
Tailor them to the job posting
Skills are a central part of your resume, and often one of the first places that a hiring manager will look. They want to know that you have the tools to get the job done. You'll need to show them that you have the exact skills they're looking for.
For example, say you're applying for a position as an in-home disability carer. Putting down 'game development' on your list of skills will just confuse the person looking at your resume. It may be impressive, but it's not relevant.
So it follows that when it comes to skills, quality wins over quantity. That is, choosing the right skills is super important – they must be relevant to the job you're applying for.
Another thing to keep in mind is that most companies now use ATS (Applicant Tracking Systems) to categorise and filter out resumes that don't have the correct keywords. If you don't have the right keywords listed in the job ad, your resume might be dismissed before a human even sees it.
So, it's super important to tailor this part of your resume to the job ad.
Let's take a real-world example, modified slightly for publication here:
Company X is seeking a Junior Product Manager for a global business in Sydney. You will report directly to the VP of Marketing based in the US. You will head up the end-to-end development of our products and make sure our goals are aligned with users' needs. To succeed in this role, you should have a strong technical background, a naturally analytical way of thinking and an ability to explain technical concepts to non-technical users.
  
Responsibilities:
Manage the entire product line lifecycle from concept, design development

Ownership of the pricing and profitability of the product range

Conduct marketing studies to determine customer requirements, technology trends and innovations, and competitive information
Work with Product Engineering to test and evaluate new products, new competitors' products and to prepare reports to the executive team

Liaise with and collaborate with the Brand Marketing, Product Marketing and Sales team on product promotions and campaigns
Requirements:
Prior experience in a technology company in product management or in a similar role
Curiosity for new technology trends and innovation
Experience within consumer goods or industrial sectors
Relevant tertiary qualifications – ICT Engineering/Marketing etc

Commercially astute and strategic thinker who can drive fast business decisions

Strong understanding of how to develop and apply quality systems and processes

Unrestricted work rights in Australia.
---
From the job ad, we can immediately see that we need to include the following to be considered for the role:
Prior experience in a similar role
Experience in the consumer goods or industrial sectors
You'll also need to show you have the following technical skills:
Product Lifecycle Management
Pricing Strategy
Marketing Studies
Data Analysis
Innovation
System and Process Development
---
And, reading between the lines, you'll also need the following soft skills:
Excellent Communication
Adaptability
Collaboration
Teamwork
Strong General Business Understanding
---
Resume Skills List
If your employer is looking for certain skills, you should make sure they are listed on your resume in the right way. Here are a list of resume skills for different areas, or you can check out our complete list of 100 resume skills for any industry or job.
---
CHAPTER 5: RECRUITERS
The Pros and Cons of Using a Recruiter to Find a Job
The job search can be challenging at times. If you've been looking for a while, you may start to wonder about using recruiters.
Someone whose job is to find you a job?
To job seekers, this sounds like a dream come true.
Okay, hold up.
Read this before you go out and contact recruiters – there are some things you need to know first.
Pros of Using Recruiting Agencies
You'll get access to unique job openings

Often, when companies have a job opening, they won't post it on public job boards. After all, recruiters exist to save hiring managers from poring through piles of resumes. So, there are some job opportunities that you can only access through a recruiter.

They're only paid if you're successful

Because recruitment agencies work on commission from hiring companies, they're invested in placing you in the right job. Payment structures now are often arranged so that recruiters are only paid once you've been settled in the new job for a couple of months. For this reason, recruiters pursue outcomes aggressively.

You might get some brilliant career advice

Specialist recruiters are very knowledgeable about their field, and they know the ins and outs of the hiring process in your industry. As verified CV wizards, they can often transform a lacklustre resume into a dazzling document, and give you expert coaching on how to behave in the job interview.

You can save a lot of time

A great recruiter can reduce the amount of time you spend in the recruitment process since they pre-filter companies and candidates that will fit each other. So you are matched with the right company, and they get qualified candidates.
Cons of Using Recruiting Agencies
Too many interviews

If the recruiter is desperate to fill a position and close the hiring loop, they may push you into doing too many interviews – which can be exhausting. And you might not even be interested in some of the jobs you're interviewing for.

Not in your best interests

Again, watch out for desperate recruiters. There's a dark side of the commission structure. If they're paid right after they place you, they don't have a good reason to make sure it's a good match. You may feel pressured to take a job that's not quite right.

Hidden salary cost

Recruiters charge companies, not job candidates. However, sometimes recruiters make arrangements with hiring companies to offset business costs. They can negotiate a salary they know is lower than what the candidate is worth, so do your research. Don't take their word for it if they're telling you that the salary offer is a good one.
So, who should use recruiters?
Recruitment agencies are generally employed to find talent when it's difficult for the employer to find the right person. For instance, in an industry with a talent shortage.
The implication of this is that recruiters generally focus on quality candidates with rare, valuable skills and experience.
Career changers and people in entry-level positions probably won't have much luck with recruitment firms.
You should use a recruiter if you are
A specialist or expert with rare and valuable skills
An experienced manager or executive
Working for a company known for hiring top talent (eg. Google or Facebook)
---
Alternately, if you're a consultant or looking for contract/temporary work, a recruiter who hires explicitly for those positions might be perfect for you.
Tips for working with recruiters
What should you take away from all this?
If you're in the midst of the job search, it can't hurt to get in touch with a recruiter or two.
Just don't count on them to find a job for you, especially if your skills are not exceptionally rare and valuable.
The best strategy is to send them your resume, and then act as if you hadn't. Continue in the job search. If you hear from the recruiter, think of it as a nice bonus.
By knowing and using the basic building blocks of resume creation, you'll be able to craft a tailor-made document. You can then tailor it to specific jobs and fields with a few quick alterations.
Before you apply for a job, study the job requirements and do some research on what others within the industry value. Read the resumes of people working within the field and take notes. Then, take your standard resume document and shape it accordingly.
After that, we wish you the best of luck!