Published 10 Mar 2021
5 Steps to Conducting an Effective Training Needs Analysis
---
Choosing the right training for your people can be a challenge. For starters, there is no one-size-fits-all solution. And, unfortunately, guesswork and assumptions won't cut it. 
For learners, badly designed training programs can be a huge source of frustration. It's hard to sit through irrelevant, boring training — and even more so when it's taking you away from doing your actual job. 
So how do you make sure your team gets the right training, at the right time?
That's where the training needs analysis (TNA) comes in. TNA is a process that enables you to accurately identify upskilling opportunities, and:
---
Plan
Get organised and plan your L&D for the next quarter, year, or more.
Optimise
Efficient use of resources will save your organisation time and money.
Engage
Increase employee engagement, retention and satisfaction.
What is training needs analysis?
Training needs analysis (also called a training needs assessment) is a process for identifying what training is needed, when, and by whom. It is the critical first step in designing an effective training program. TNA aims to support strategic goals by enabling teams to do their jobs effectively and fostering individual career development. 
Good analysis starts with the big picture and progressively zooms in to each layer of detail.
TNA benefits organisations and individuals in several ways:
Invisible problems become visible — and solvable.
Hidden opportunities can become secret weapons.
Skills gaps that might swallow an organisation (or even sector) are easily bridged.
---
Now that Industry 4.0 and the future of work are no longer on the horizon, but right on top of us, training is an urgent necessity. With TNA, you can make sure it's the right training.
---
"Australian employers across all industries need to prioritise training and upskilling to transform, survive and thrive in the post-COVID world. This includes shifting their perspective on training to consider it as a core business activity rather than a nice-to-have."
How to conduct a training needs analysis
To conduct a training needs analysis the right way, start with big-picture, organisational goals. Then work your way down through each level of detail, gathering data and listening to your people. This will help you get to the root causes of performance gaps, and spot opportunities for improvement.
The five steps of the TNA process include:
What are the three levels of training needs analysis?
The three levels of training needs analysis are the Organisational, Task, and Person level. This is called the OTP framework for training needs analysis and aims for alignment between all levels. Although not the most widely-practised method, it's the most researched and evidence-based approach recommended by experts.
---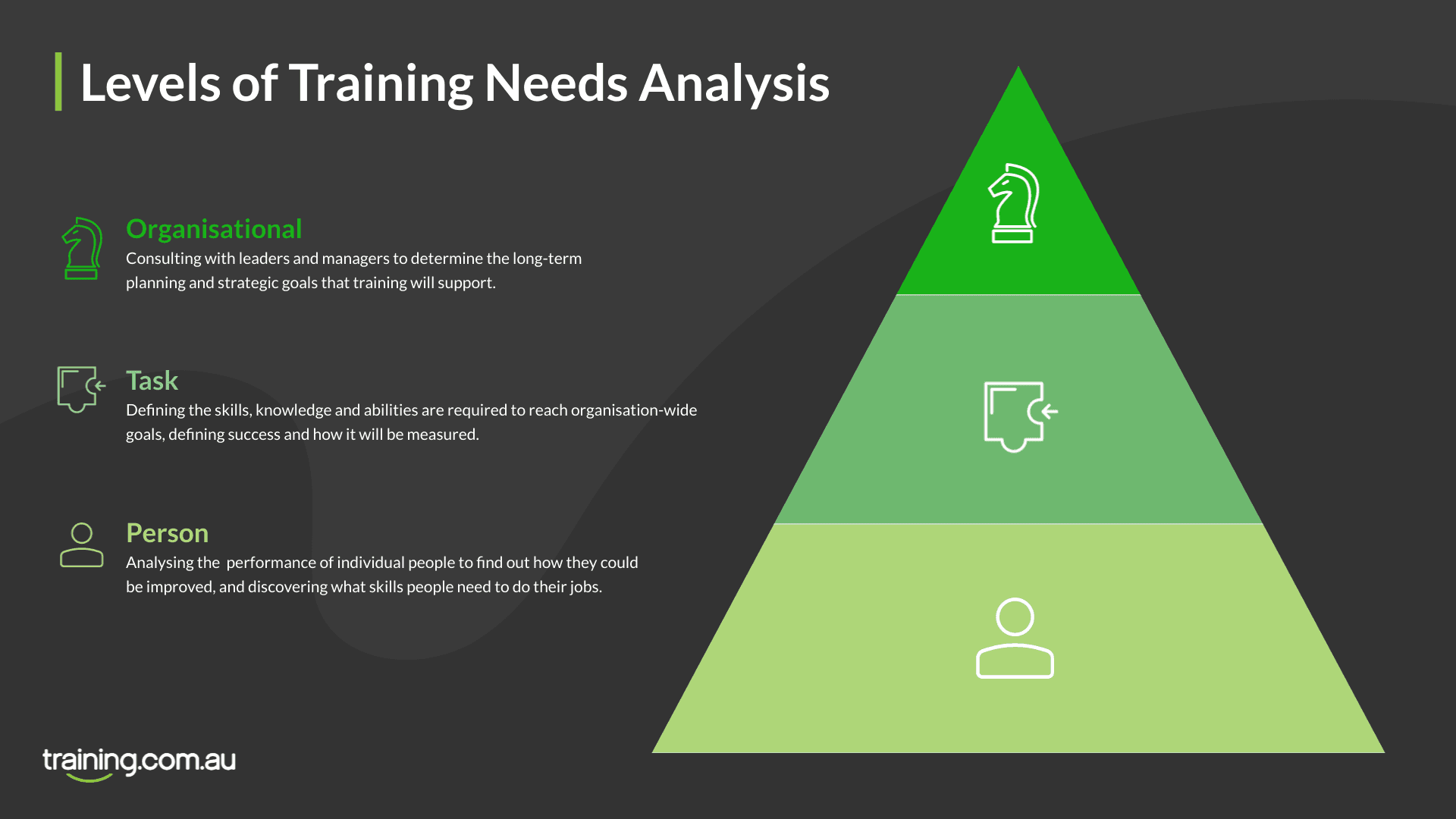 The nature of your organisation will inform the kind of TNA you conduct. Will it be more compliance-focused, or people-centric? It is reacting to current performance problems, or anticipating future needs?
The biggest factors here are:
The size of your organisation
The structure of your organisation
The culture at your organisation
The nature of HR tools at your disposal
---
For instance, the resources you can consult will be very different at a large government-funded nonprofit to the ones you'll have at a smaller tech company in a rapid growth phase. 
1. Define strategic goals
Organisational level
Traditional TNA approaches often skip the big why. They jump straight to the next question, instead, asking "what are our training goals?" The result? Training that doesn't make an impact in the right places. Training for training's sake.
In contrast, the new-school approach asks, "What are our organisational goals?" Then, it traces a clear line of cause and effect: connecting organisational goals, tasks, and people. 
Firstly, you'll need to get some clarity with a high-level strategic analysis. Meet face-to-face with the key decision-makers — such as managers and team leads — to discuss organisation-wide goals and strategic priorities. Ask them to describe what success looks like, from their perspective.
From there, you should be able to get an idea of the organisation's pain points (problems) and desires (goals). These usually fall into one of three broad categories:
---
Financial performance

This can include revenue, profit, return on investment, growth, and share prices.

External relationships.

This can include revenue, profit, return on investment, growth, and share prices.

Internal relationships

Includes organisational culture, resilience, employee retention and engagement.
---
---
You may notice that conversations drift toward operational goals, such as workflow efficiencies or lead times. But these are not ends in themselves: they can usually be traced back to one of the above goals. Try to discover why your interviewee wants to improve this area of operations. For instance, do they want to eliminate inefficiencies, thereby improving profits?
2. Outline required skills and knowledge
Task level
Now you need to discover the knowledge, skills and abilities (KSAs) that the organisation, as a whole, needs to achieve its goals.
---
Define KPIs

To start with, speak with the managers and team leads to decide on Key Performance Indicators (KPIs) for each department and team.

Ensure compliance

If you work in a highly regulated sector, you may need to ensure standards of compliance are met. This includes mandatory training schedules, codes of conduct, and competency frameworks. In Australia, units of competency are skill sets that must be demonstrated to meet an industry-defined benchmark.

Create a job behaviour and description table

Then, use a table to break down the behaviours that lead to fulfilling the KPIs, and the skills, knowledge and abilities each one draws on. For instance, you may need an account manager to:
| Job behaviour | Description | Skills, knowledge and abilities |
| --- | --- | --- |
| Following up on warm leads | Send an email immediately following a phone conversation, summarising key points discussed and listing next steps. | Writing effective sales emails, relationship building, time management |
| Record keeping | Entering client details into the CRM quickly and accurately, and updating as needed. | Using CRM software, digital literacy, attention to detail |
| Closing deals | Conducting a conversation with a lead over the phone, handling any objections, asking for the sale | Closing techniques, active listening, objection handling |
---
Measuring success

Your next step is to talk to stakeholders about how you'll measure results. What are the metrics you'll use? Existing documentation can be a great aid in this process. So go and dig up the manuals. Look at job ads to find job descriptions and lists of job duties. As you go, ask: are these metrics aligned with our strategic goals? As for compliance, mandatory training schedules, and codes of conduct, you'll need to factor these into your measurement plan.

Get feedback

Now it's time to start gathering feedback, and to check that you're aligning the organisational level with the people level. The addition of more perspectives can only make your analysis stronger and expose any weak points, or hidden assumptions.
Talk to the people who do the work. Ask them: will these skills, knowledge and abilities help you do your job better?
Talk to the people who asked for the TNA. Ask them: do these skills, knowledge and abilities align with the strategic goals?
---
Following these steps will enable you to draw a strong connection between organisational goals and the needs of individual people who work there.
---
---
Guiding questions:
Do we actually have the right team? Do we need to hire or outsource?
Would providing training on those skills, knowledge and abilities improve employee job performance?
Are the desired skills, knowledge and abilities aligned with KPIs, job descriptions and strategic goals?
3. Evaluate current skills
Person level
Once you know what's required, it's time to figure out where you are. Compare job role requirements to current performance to find current skills levels.
Look at the state of your current training. What's currently working well? What could do with improvement? And what needs to go?
Find out how people are actually doing their jobs. You'll need to spend some time with your people, and gather a few different kinds of data around performance. Go out and observe people while they're working — no amount of theorising can replace seeing the real thing.
This is where you may find some glaring discrepancies between what management says they want, and what is actually happening in people's day-to-day jobs. Just make it clear to employees that you're purely gathering information to help improve and personalise training — not evaluating them, or conducting surveillance.
---
Using HR Analytics to add insight
If you have data available, you can use it to help you get quantitative insights and bolster your analysis. Try the following data collection methods:
Job description text mining
Personal development plan text mining
HR data mining
---
Then, measure the results against KPIs and create data visualisations.
---
Pros
Cons
Questionnaires
Get direct feedback from team members
Self-reporting is unreliable
Observation
More accurate than self-reporting
Can put employees on edge — need to reassure them it's not surveillance
Interviews
Centres employee agency
Get the lay of the land
Conversations can unearth deeper insights
Qualitative information can be more difficult to collate
Examining work
Evidence-based
The proof is in the pudding
Causes can be unclear or hidden
Competency assessments
Can be delivered online in a flexible time-frame
Good for ensuring compliance
Standardised competencies can be overly prescriptive
Disconnected from strategic goals
Competitive analysis
Gives context for your industry
Can give you new ideas
Cannot always access opaque internal processes
Differences in values, size and structure mean your mileage may vary
4: Locate performance gaps
Person level
Now you can see that there's a gap between where you are, and where you need to be. This stage of the analysis process asks: Where does the gap come from?
---
Techniques to use for analysis
Learning evaluation programs
Surveys
Reviews
Assessments
---
The cause of the gap may well be clear: a lack of knowledge, skills, or abilities. Or it may turn out to be caused by something else altogether. 
Factors that can influence performance:
Knowledge, skills, and abilities
Previous training
Motivation
Incentives
Capacity
Management style
Tools, equipment, and software
---
5. Establish training needs
In the end, a properly executed TNA asks if training is truly the right tool for the job. Will training achieve the desired outcome? Or do you need a non-training solution? 
Only suggest a training solution if the gap is caused by a lack of knowledge and skills.
If a training solution is the answer, prioritise training by impact on strategic goals — in other words, the return on investment (ROI) of each kind of training.
Look at the data you've analysed in steps 2, 3 and 4. 

Which skills would have the biggest impact on the big-picture goals? If you're not sure how to measure this, try rating on a simple scale of 1-5.

Where are the biggest average

skills gaps

?

Combine the impact and skills gap ratings to come up with the most urgent skills across the company.
When it comes to making training recommendations, you can take a broad or a narrow focus. There is also a range of delivery methods available. Each approach suits a different kind of skills gap.
---
Get targeted

For technical skills, make your training plan targeted. Weight your peoples' responses more heavily, and try to respond directly to stated needs.
Ask: can this be taught internally? For instance, with skill-sharing workshops or collaborative learning?
If not: Look into a learning experience platform that can integrate with targeted short courses or micro-credentials, potentially delivered through flexible eLearning, aiming to teach a specific skill.

---
Get tailored

For new ways of working (eg. Agile methodologies, consensus-based decision-making) or soft skills challenges (communication skills, leadership), the super-targeted solution may not work. That's because you need to get everyone on board, learning the same general principles at the same time.
This learning approach is more likely to take the form of a larger blended learning program, and combine eLearning and on-site, face to face training.
---
What are some examples of training needs?
Technical staff members may require communication training for providing feedback to external stakeholders. Production workers may need regular safety training to meet industry standards. New managers may need leadership training and coaching to adapt to their new role.
What can go wrong?
Focusing too much on what learners want to learn
Focusing too much on what managers want
Not aligning with strategic business goals
Relying on self-reported data too heavily (misperception of own skills vs reality)
Recommending training as a solution to a problem not caused by knowledge, skills and abilities
A best-practice training needs analysis starts with impact and works backwards. It centres on strategic goals rather than competence analysis. It makes effective use of data while valuing the perspectives of the people who do the work.
Conducting a training needs analysis is certainly worthwhile, but it can also be a lengthy, involved process. Depending on your organisation, it could be worth outsourcing. Training providers can partner with your department to conduct a training needs analysis and deliver customised training.
Read about how a major Australian bank solved their soft skills challenge with customised training.
Read more