Published on June 2, 2020
What Does a Creative Director Do? 7 Industry Insights from a 30-Year Career in Graphic Design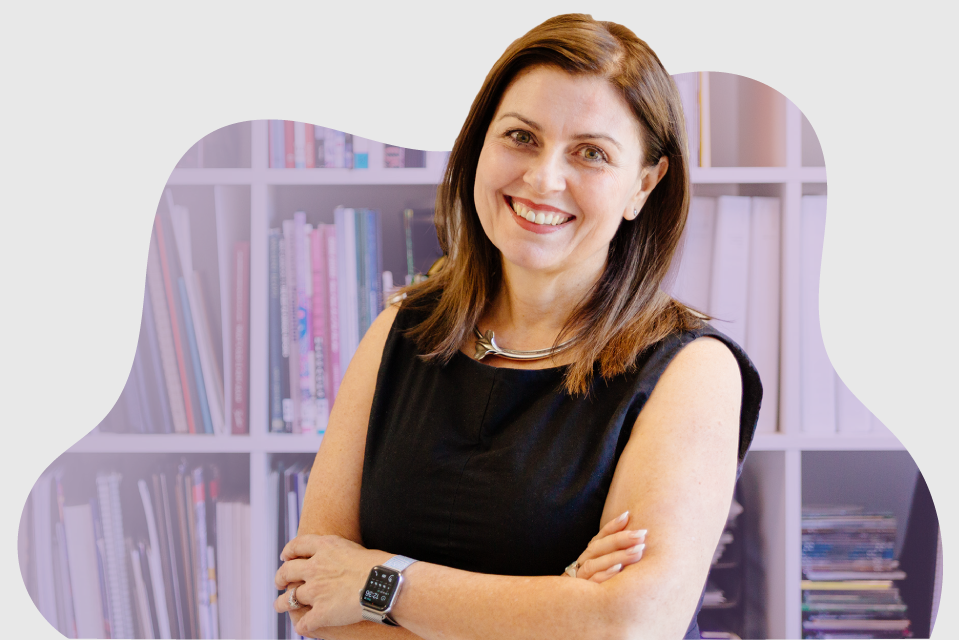 Wondering what it's like to be a graphic designer? Industry insider Helen Watts of Watts Design shares wisdom won over 30 years in the graphic design game.
---
Helen Watts is never one to shy away from a challenge. Presiding over graphic design agency Watts Design for 30 years with husband Peter, she has weathered stormy economic conditions, raised a family, and adapted to industry transformation with aplomb.
On the day we visit her South Melbourne art-deco-meets-contemporary studio, eight designers are sitting quietly, deep in concentration. Late morning light filters through the translucent walls of Helen's office and into the white space of the studio. Behind them, a library of design books, successful branding projects, and industry awards line the walls.
---
Tap below for a look inside their design studio.
When Helen and her husband Peter started the studio, she hired an office for $50. It was joined by an advertising agency. This was in the midst of a recession, before the digital age. "We didn't know the good old days," Helen says. They had a huge mortgage and a baby, but took the risk, worked hard, and brought the work in.
Helen gave us a glimpse into her design studio, covering the full spectrum of creative communication – from branding development to social media, publication, packaging and more.
"The reason we're still in business is that we still love what we do."
With a wealth of knowledge and experience behind her, she is well placed to see the industry as a long game. "We want to pass that baton on to our designers, and make sure they're the best that they can be," she says. And she has a word or two of advice for the young grads coming out of design school, eager to break into a flooded industry.
---
1. Keep Moving Forward
A steady influx of new projects, ideas and challenges flow through the door of Watts Design, keeping Helen on her toes as she moves through the day. As Creative Director, she conducts the moving parts of her studio, keeping them in rhythm.
The sheer diversity of clients and projects keeps things interesting. "Because I love what I'm doing so much, it's just easy," she says. "One day, I might be working on a builder's branding. The next day might be packaging for popcorn, and after that, I'll be working out a corporate communication challenge for a bank."
"I learn so much about new services and products, and get to see, first-hand, the new innovations that are about to hit the general public."
Branding, a Watts Design speciality, requires striking visual communication, but also strategic vision and guidance. You must be able to handle constructive criticism. "Egos, we don't want you here," declares Helen. "When you get work out on the table, it's about what's relevant." Sometimes, the best design solution may involve combining the best of two designs. She stresses that, as a designer, you can't take it personally – and you have to keep moving if you're going to resolve a project.
---
A Day in the Life of a Creative Director
Overseeing Designers
Shaping Strategies
Developing Designs
Directing Photoshoots
Proposals and Presentations
Answering Client Emails
---
2. Challenge Yourself, Challenge Your Clients
When it comes to sitting down with the client to present finished work, Helen won't bring anything to the boardroom she doesn't one-hundred per cent believe in – even if it means continuing to rework a project when the budget is exhausted.
This dedication to quality pays off. When a design project truly connects with the target, the response can be one of instant, joyful recognition: "That's me! I can't believe it!". Other times, a client can be hesitant and unsure at the beginning of a meeting, ("Can that be us?") only to leave with the hard copy clutched to their chest in ownership.
"I love that part of the process," says Helen. "Presenting a new brand name, logo, packaging, whatever it is. I love the connection with the client in the boardroom."
Helen sees her role as more than producing visuals; it's also about providing strategy, overall marketing direction, and value for money for the client.
"Because it's about challenging clients, too. It's not about giving them what they want, it's about giving them what they need."
---
3. Make Honesty Your Foundation
Potential clients sometimes come in with abundant enthusiasm – but a threadbare business plan. "I tell them to go home," she says. "I don't want to take their money."
"I learned a valuable lesson early in the piece," Helen says. When her business was younger, she took on a project for an ill-conceived business venture. The client didn't take her advice on product distribution, then blamed the design when the business failed. "And that's when I realised, as a marketer, I had to be quite honest."
"I think people love my frankness. It hurts, but they appreciate it."
Helen's employees get to overhear the conversations in the boardroom, which can aid them to design with business objectives in mind. "It helps them develop as designers," she affirms.
---
4. Relevance is Not (Necessarily) About Trends
During the 30 years that Watts Design has been in business, Helen and Peter have seen many agencies go under. Staying afloat in an ever-changing industry requires you to reinvent yourself and make tough decisions.
Staying current means Watts Design can form long-term relationships with clients. "Our clients have become part of the family," she says. But, she insists, staying relevant to your customer is not the same thing as following design trends.
And, of course, the industry has seen some dramatic transformations over 30 years. Relevance, for the Watts Design team, means adapting to what the market needs while tailoring each project to the client. When the industry pivoted to digital fifteen years ago, the studio took web in-house, including producing websites, running social media, and SEO strategy.
"Don't be scared to knock on doors, make phone calls. Try and get into a studio just to show them your portfolio. What can it do? It can get you a position. Just by your perseverance."
---
5. Show Me That You Want It
So much has changed in the design industry, but some things stay the same. If you've studied graphic design, and you want into the industry, Helen has this advice: "Show me that you really want to do it."
When she started out, she "marched down St Kilda Rd and visited every agency possible." Freshly-graduated Helen was shy but believed in her ability, and she considers perseverance as one of the most important qualities a young designer can have.
"Don't be scared to knock on doors, make phone calls. Try and get into a studio just to show them your portfolio. What can it do? It can get you a position. Just by your perseverance."
She would show art directors her portfolio, and they would send her home with projects to complete. She now does the same for new graduates: if you show Helen your work, she will zone in on a project, and set you a task, encouraging you to send it back. "It rarely happens," she says, "and that really disappoints me."
"Only one has ever come back in 30 years," she says, "and I employed her."
Graphic design is enjoying a boom in popularity, but that makes for a flooded industry. Many young designers struggle to get the right experience early in their careers. "You've got to fight hard to get into a big agency or studio," she says. She urges young designers in this position to apply their skills in creative communication to the project of their careers. "This is our work," she says. "Show me why you stand out."
Look at a product on the shelf, and re-do it. Next time you visit, pull out some extra work. That shows me you're keen. Shows me what your interests are.
---
6. No Designer is an Island
The difficulty of getting your foot in the door at a big agency often leads young designers to strike out as freelancers, working out of a bedroom or the spare room. But this can lead to a sense of loneliness and anxiety.
Helen says that, early on, she felt very isolated. In her experience, that can lead you to question your decisions and your direction. Was she being creative? Was she doing the right thing? Then she joined a professional network called AGDA, or the Australia Graphic Designers Association, and started meeting like-minded designers.
Not only did she find inspiration from leaders in the industry, she realised that the feelings she was experiencing were shared.
"When you start connecting, you learn so much more about your ability," she says.
Since the challenges they faced were similar, they could support each other in navigating their early-career conundrums.
"The more we connect, the more we can be stronger," Helen emphasises, and urges designers to stick together as an industry. "We undervalue our own creative, communicative ability," she says. Though that ability may come quite naturally to you, it's not available to everyone. If you put a value to what you do, others will too.
---
Roles in the Graphic Design Industry
---
7. Don't Be Afraid to Play
For many young designers, Helen says, the biggest fear is, "Am I getting it right? Am I coming up with the goods?" This can be one of the hardest things to deal with early in your career, and having a springboard to bounce ideas off can be invaluable. "With my designers, they can approach me and discuss what is working on a piece," she says.
"Nothing is right or wrong in the initial stages of solving a creative challenge – it's about exploration."
Exploration is your best weapon to combat self-doubt. When it comes to confidence in yourself as a designer, nothing beats experience. So try things out. This is especially important when you're studying. "Those three years are your playtime. You're allowed to make mistakes." When you do enter a studio, you have less room to make mistakes, so it's crucial to take advantage of that freedom while you study..
Helen also emphasises that a studio is not the right place for everyone. There are many niches in the design industry to cater for different stages of the process.
When you're out in the industry, and you're working towards an end goal, Helen invites you to find that sense of play and exploration again. "You don't have to show anyone until you're at a point where you feel comfortable with it. But sitting on something, not knowing where to go, doesn't help you grow as a designer."
"So exploration and play, I'd say to any designer: don't fear it, even when you're in the real world."
Discover your design path.
Intrigued by Helen's journey and keen to start your own? It all starts with the right training. Research which courses are available, think about what jobs interest you in the industry, and start designing that career you've been dreaming of.