Published on September 5, 2018
How to Create the Ultimate Study Space in Your Home
Studies show that having a lovely, inviting study space can encourage you to work more, and boost mental efficiency. It does make sense, who wouldn't choose to work in a beautifully decorated study space, over a cramped, tiny desk in the corner of a musty bedroom, paperwork and homework spilling over the edges of the desktop.
Should you want the first option, how do you achieve it? Do you have to buy a super fancy study desk and change your entire floorplan to finally discover your optimum learning efficiency?
Turns out you don't.
Here are some easy, free, or affordable changes, you can make to your study area that will boost your learning whether you are a high school, bachelors, postgraduate student, anything in between.
---
Positive Imagery
Finding it hard to get the positive energy and motivation you need to study? I recommend placing images of your family or friends up around your study space, to boost your mood when you feel yourself getting a bit down in the dumps. Familiar imagery can be extremely effective for international students, missing their loved ones back home. How about motivation? A picture of a role model from your university or high school alumni network will help you feel that drive to achieve what they did.
However, it is good to limit how excessive you get with the photos, as they can also be distracting.
Positives
Can inspire a sense of motivation
Helps you feel more comfortable in your study space
allows you to stay positive throughout the day
Negatives
Allows distraction to occur more easily
If too messy can pull attention away from one work or study
Can increase a sense of casualty and relaxation in the workplace
---
Choose a Quiet Place
When it comes to your study space, choosing a quiet place away from the hustle and bustle of everyday life is possibly the most critical factor. Honestly, who can expect you to get down and work when there are car horns outside, or a TV playing loudly in the background.
If you can't avoid a little bit of noise from other rooms in your living space, then try playing some calming, ambient music in the background in order to cancel out that background noise.
However, if you can't seem to escape the annoying sounds in your own home, then there are other options you can choose from.
Public Library
Whether you live in London or Australia, there is bound to be a library nearby, or on your campus map that you can go to, to complete your studies. Plus, you can be sure that the library staff and other current students hard at work, won't be making any distracting noise.
Venue Hire for Group Study
If you are not a fan of libraries and wish for a small group learning environment, then there are options for you to join a study group. Though you may have to pay a small fee for room booking for your groups' study room, many find that the information services offered by other research students far outweigh that cost. It is a productive environment that you can cover all your main content and more.
---
Natural Lighting
The fact is that humans love natural lighting. If you have ever tried to get work done in a room with only artificial lights, you will have experienced this in the form of headaches, tiredness, or just general dullness and boredom in general. How to fix this problem?
Simple! It's all about where you place your desk. You don't want the blaring sun bouncing off your computer screen, so make sure you don't have your back to where the sunlight enters your room. Ideally, to ensure you have ample natural light, your room has a reasonably sizeable window, and no obstructions to get in the way of sunlight filtering in.
Here are some more benefits of studying with natural light:
Vitamins
Natural light increases your Vitamin C and D levels. Whilst it is common knowledge that sunlight increases Vitamin C in your body, it's a little-known fact just how much Vitamin D levels increase with exposure to sunlight.
Mental Health
Studies show that spending at least 20 minutes in the sun every day, can possibly decrease your chances of developing mental health conditions such as depression or anxiety, and if you already have these disorders, to improve the state of them
Productivity
Many businesses have reported that workers working next to windows or under skylights, stay more productive and positive throughout the day of work. Due to this, many companies are beginning to change the layout of their workspaces to increase the natural lighting in meeting rooms, office spaces, and even bathrooms!
---
Have the correct desk/desk setup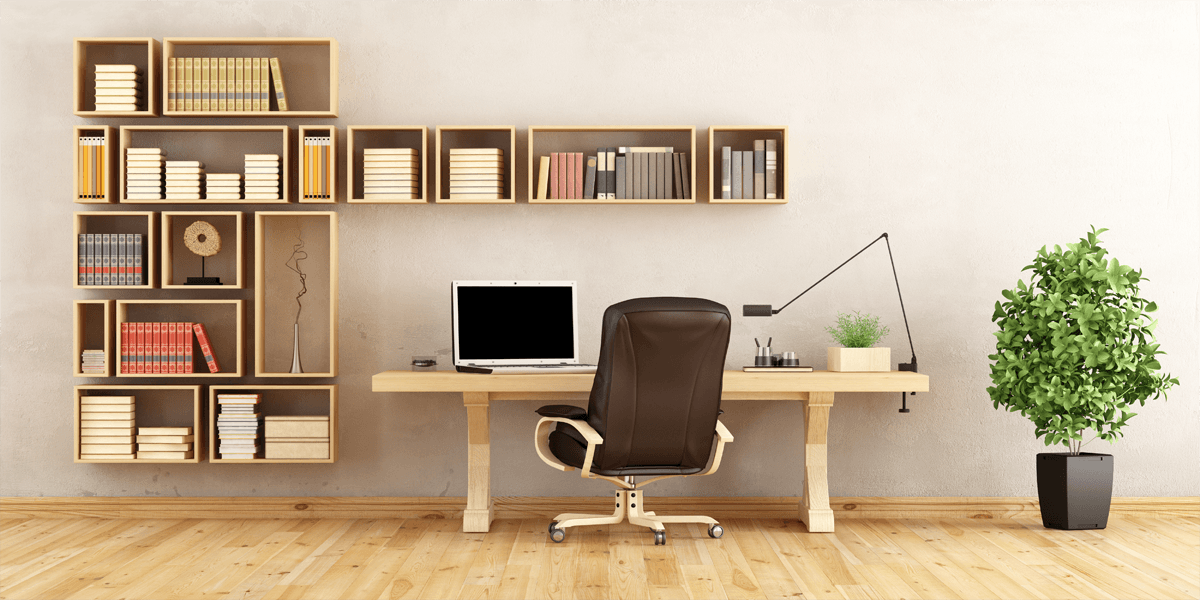 Though many companies and businesses try to sell multiple expensive desk organisation items, or study apps to increase your working efficiency. Tough they might help, these are not really necessary. Here are a few quick tips to turn your desk into a study haven.
House-Plants
A study by NASA shows that having plants in your house helps filter out toxic chemicals and keeps your air feeling clean and refreshing. Not only this, but they were able to find the plants that are most effective at doing this.
Red-Edged Dracaena

Filters
4
Chemicals
Florists Chrysanthemum

Filters
5
Chemicals
Peace Lily

Filters
5
Chemicals
English ivy

Filters
4
Chemicals

Desk height
Everyone prefers different setups for their desk that help them stay organised, but there is a basic guideline you can follow. The best desk height should allow your forearms to rest on the desk at a 90-degree angle, with your back remaining straight. If you're hunched over, your shoulders are drooped or if there's a strain on your neck; the desk is the wrong height.
It's also important to note that your screen should be further than 30cm from your face, any closer and it can cause strain on your eyes.
Organisation
Your desk should sit between your waist and ribcage, in order to avoid un-comfort throughout the day. Bad posture can also induce headaches, which obviously aren't ideal for productivity and efficiency.
Don't have loose stationery, invest in some super cheap pencil holders or folder holders. Secondly
Limit things that are on your desk to strictly work-related items, so try to keep your laundry in the basket, and that great novel you are reading at the moment on your bedside table.
Try not to clutter your items and keep everything fairly spaced. If your desk is too small to accomplish this, then perhaps it is time to invest in a larger or more competent desk.
Curious to learn more about how spaces can affect mood and productivity?
Maybe there's an interior design course with your name on it.