The 10 Best Zoom Background Ideas to Spice Up Your Remote Meetings
---
Published 25 Mar 2020
The 10 Best Zoom Background Ideas to Spice Up Your Remote Meetings
---
---
Published 25 Mar 2020
The 10 Best Zoom Background Ideas to Spice Up Your Remote Meetings
Due to COVID-19 the time for remote working has officially begun.
For our team, it's week two of working from home, so we're all starting to slowly slip into madness. But our saving grace has been the wonderful world of Zoom meetings, where you can easily communicate with multiple members of your team on a semi face-to-face basis through video conferencing.
The beauty of Zoom meetings is that you can dial in from anywhere you have an internet connection and a working computer or phone with the Zoom app, it's magic! Another magical feature of this beautiful software is the ability to change your virtual background.
And boy, oh boy, has our team been taking full advantage of it during the coronavirus pandemic.
Here is a series of hilarious, innovative, unusual, creative and just downright extremely productive Zoom background ideas that you can use to spice up your next Zoom meeting.
1. The Andromeda Galaxy
---
Let's start with the basics, want to be able to take a meeting from space, but your rocket ship is currently not operating? Zoom gives you the option to take that important zoom call from the Andromeda galaxy:
---
2. When Zoom malfunctions
---
Want to know what's even better than visiting the Andromeda galaxy? Becoming the Andromeda galaxy. Creativity is best served when the virtual background feature malfunctions:
---
3. The "this is fine" meme
---
Are you looking for an image that can help you to truly express your feelings about the current pandemic? The 'this is fine' meme is a great background to help you subtly convey your emotions:
---
4. The virtual boyfriend
---
Has the loneliness of being single during social isolation begun to sink in? A great way to combat those feelings is by giving yourself a handsomely attractive virtual partner:
---
5. The tropical holiday
---
Had to cancel your relaxing tropical holiday? Well, don't fret! Take the extra step and put on a costume that best reflects where you'd rather be during your Zoom call:
---
6. The make believe background
---
Unable to get to the zoo? Bring the zoo to you by feeding some extinct mammoths:
---
7. The "famous friends" background
---
Pretending that you have famous friends has never been easier:
---
8. The 'realistic' video background
---
Want to make your background as realistic as possible? The Zoom virtual background feature also gives you the option to upload a video as your virtual background:
---
9. The presidential background
---
Want to show your team exactly who's boss? Our CEO took his Zoom meeting from the oval office today:
---
10. The imitation game background
---
You know what they say, imitation is the sincerest form of flattery. So why not take a picture of one of your co-workers and use that as your Zoom background:
---
BONUS: The toilet paper hoarder
---
Become the most popular (or unpopular) person in the office by showing off your impressive toilet paper hoarding collection – extra points for actually sitting on your toilet seat during a Zoom meeting: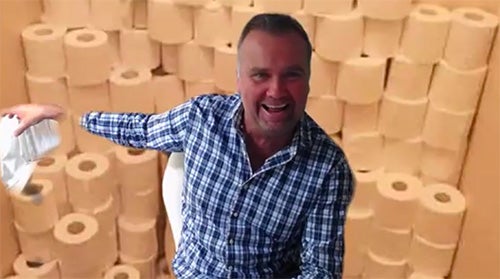 These are just some of the innovative ideas from our team, but there's a range of other humorous and creative ideas you can use as well, these include:
---
Taking a screen recording of yourself sitting at your desk and setting that as your virtual background, so your boss won't know if you've left.
Dressing up in a range of costumes and setting your background accordingly. For example: dress up as a pilot and set your background as a cockpit, put on snow gear and set your background as the mountains, dress up as a gorilla and place yourself in a jungle.
Using your Zoom meetings to play your team a musical instrument.
Setting your background up as an office space to help you feel like you're actually being productive, rather than searching for other humorous Zoom background ideas.
---
You can find these backgrounds on free stock image sites or on google images and you can change them in real-time.
This is a great way to hopefully bring some positivity and a bit of fun to your team during this stressful time. Whether you're using Zoom for university, personal training or for work, it's a great way to get that much needed social interaction that you may be yearning for. It might also be a good opportunity for you and your team to upskill. Check out some online courses that you can take from the comfort of your own home.
Browse Online Courses