In this post
Published on May 18, 2020
Nursing Cover Letter Example
A sample to use when building your nursing cover letter. Use this example as a base and adapt it to your own needs.
When creating a nursing cover letter, it's crucial that you tailor it to the role or medical facility you are applying for. You must show your passion and share your goals and visions relative to the company.
Keep your cover letter concise and make sure you highlight your strengths, qualifications, and accomplishments. Each nursing cover letter you write should demonstrate your nursing talents and your own unique set of skills and experience if applicable.
This sample cover letter will cover working in a doctor's office or healthcare facility. The first paragraph of a professional cover letter will explain why you are a perfect fit for the role and draw on relevant years of experience or related education obtained in the industry throughout the cover letter. Below is an example of a nursing cover letter template for an entry-level nursing position.
---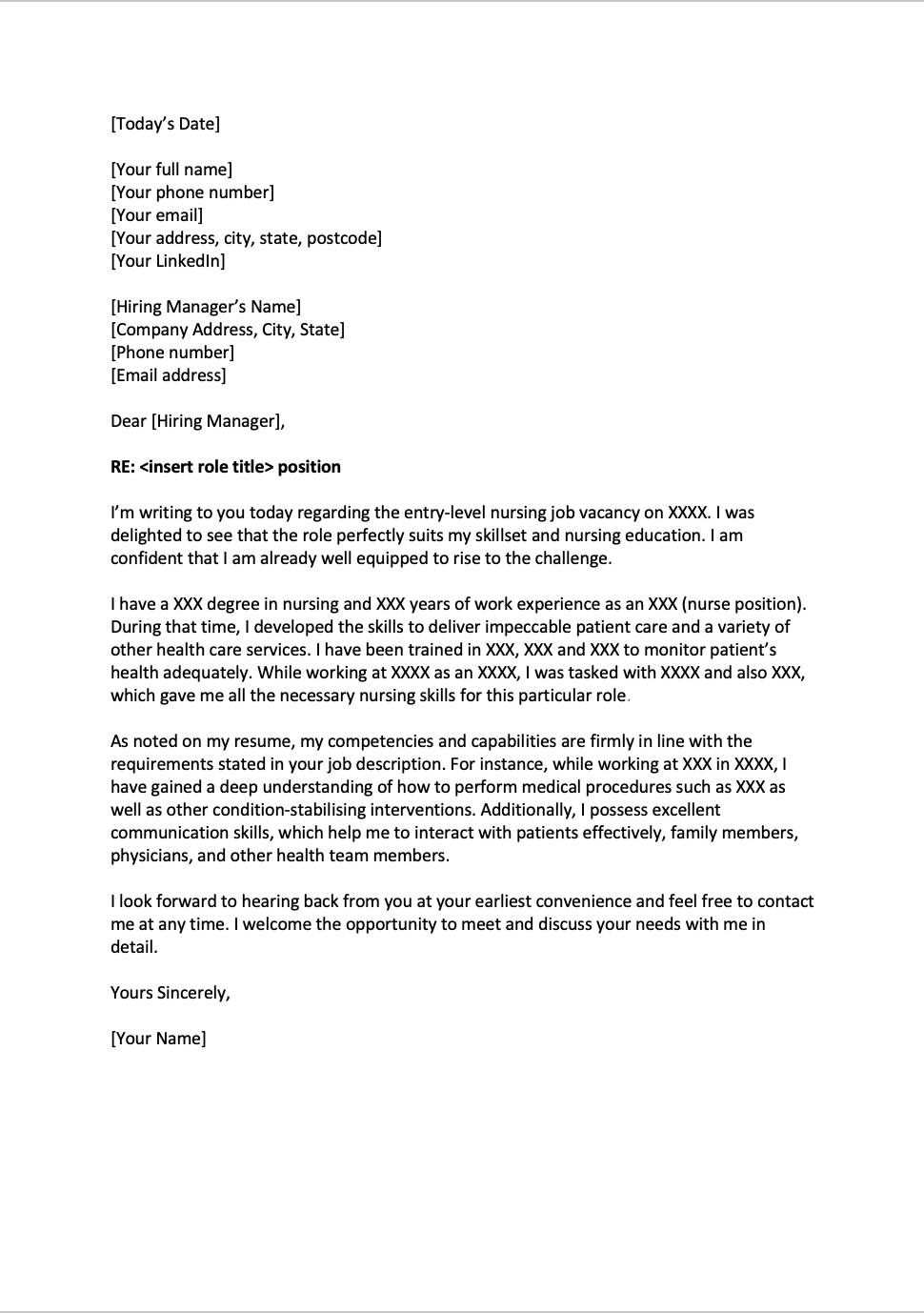 Nurse Cover Letter Template
This template is created for entry-level nursing roles. All you need to do is input your own information!
Download
Once you've downloaded and edited your cover letter, make sure to save it with a new name (try: <Your name> Cover Letter — <Position you're applying for>). Then, export the document as a PDF and you're ready to submit it.
---
Nurse Cover Letter Example
[Today's Date]
[Your full name]
[Your phone number]
[Your email]
[Your address, city, state, postcode]
[Your LinkedIn]
[Hiring Manager's Name]
[Company Address, City, State]
[Phone number]
[Email address]
Dear [Hiring Manager],
RE: <insert role title> position
I'm writing to you today regarding the entry-level nursing job vacancy on XXXX. I was delighted to see that the role perfectly suits my skillset and nursing education. I am confident that I am already well equipped to rise to the challenge.
I have a XXX degree in nursing and XXX years of work experience as an XXX (nurse position). During that time, I developed the skills to deliver impeccable patient care and a variety of other health care services. I have been trained in XXX, XXX and XXX to monitor patient's health adequately. While working at XXXX as an XXXX, I was tasked with XXXX and also XXX, which gave me all the necessary nursing skills for this particular role.
As noted on my resume, my competencies and capabilities are firmly in line with the requirements stated in your job description. For instance, while working at XXX in XXXX, I have gained a deep understanding of how to perform medical procedures such as XXX as well as other condition-stabilising interventions. Additionally, I possess excellent communication skills, which help me to interact with patients effectively, family members, physicians, and other health team members.
I look forward to hearing back from you at your earliest convenience and feel free to contact me at any time. I welcome the opportunity to meet and discuss your needs with me in detail.
Yours Sincerely,
[Your Name]
---
A perfect cover letter will highlight all your relevant skills and qualifications tailored to the nurse job/company a to which you are applying for. Ensure that you proofread your cover letter to avoid grammatical errors to increase your chances of receiving a job interview. Finally, be sure that your nursing resume and nurse cover letter match to ensure transparency in your job application.
The job search and job market can be hard to navigate. However, it is imperative that if you do use cover letter or resume templates, to modify it to suit your own needs – after all, your cover letter is your chance to show them why you're uniquely suited to the role.
Cover Letters: A Comprehensive Guide [With Templates and Examples]
Learn how to create a polished, professional and personal cover letter that will grab the hiring manager's attention for all the right reasons.