Published on March 28, 2023
Science Careers: How You Can Be a Part of the Future Without a PhD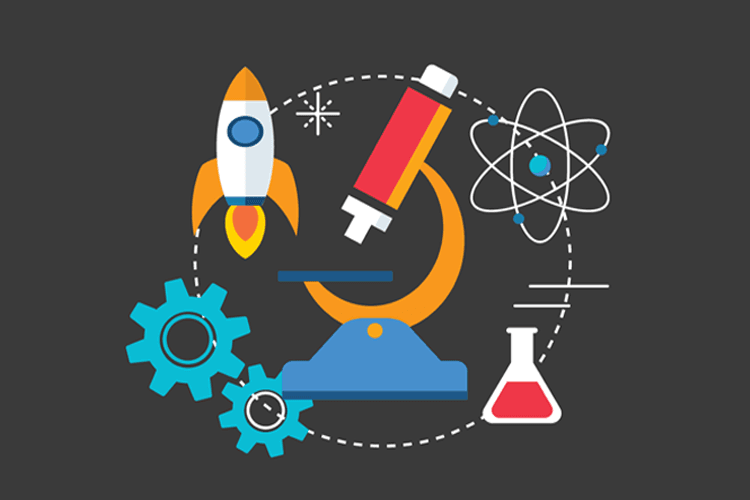 ---
Science: Answering the Secrets of the Universe
Do you marvel at the stars above you at night, wonder what brought life into existence, or find experiments fascinating? There's no reason why you can't turn this genuine passion into a science career filled with discovery, innovation and wonder.
It may be hard to believe but you don't need to be Einstein and have a PhD to be successful in an area of science. There are dozens of science specialities including sports science, animal science and more.
But should you study a science course and pursue a career in science? To continue our STEM series, we've asked two industry leaders the key questions any budding scientist might want to be answered.
Natural Sciences
Chemistry
Earth Science
Geology
Ecology
Meteorology
Astronomy
Life Sciences
Biology
Zoology
Human Biology
Botany
Psychology
Formal Sciences
Physics
Mathematics
Statistics
Computer Science
---
Professor Alan R. Duffy
Alan Duffy will be a familiar name and face to anybody who watches Ten's The Project, and a familiar voice for anybody who listens to TripleJ's Hack. He's also the lead scientist on Australia's Science Channel. In fact, Duffy gets all over the place informing the Australian public of all news science-related. Born in the UK, raised in Ireland, and now an Aussie citizen, science has taken Duffy across the globe.
Associate Professor in Astrophysics at Swinburne University
Lead Scientist for Australia's Science Channel
Physics lecturer
---
Kim Ellis
Kim Ellis is a 'Space Lawyer, Science and Technology Expert' and Director of Earth Space Technology Pty Ltd. She has had a long and varied career in the Science sector as a research scientist, lawyer and Adjunct Faculty member for the International Space University.
International Law PhD candidate
NASA Postdoctoral Program Reviewer
Member of the American Bar Association Forum on Air and Space Law
---
What is Science?
Science is a broad term covering a wide range of subjects and specialisations, courses and careers. Just as STEM denotes four fields – Science, Technology, Engineering and Maths – which can be broken down into far more specific areas of knowledge, science alone encompasses everything from the study of life and living organisms, to matter and energy, to the very furthest depths of outer space. What unites all of these things under the umbrella of 'science'? In 2016, Innovation and Science Australia, an independent body that advises the Government on all things scientific helpfully defined science as such:
Historically, science was the study of individual natural systems, from which we came to understand the fundamental characteristics of our world such as the nature of light, movement and chemical reactions. Today science is dominated by the need to understand complex systems and to predict their behaviours…
As this simple definition shows, science has always been concerned with observing the world and discovering why it is the way it is. But scientists don't simply say that something is the way it is because it looks like that is the case, or because we have always thought it is that way, they use scientific methodology to prove that their theories are true. Over the centuries, humans have developed science into the highly structured, complex system we know today, but at its core it is still about answering the essential questions of life.
What inspired you to pursure a career in Science?
Alan Duffy: I have always been fascinated by the world around me, my earliest memories are of trying to understand how it worked but it wasn't until I read Hawking's A Brief History of Time that I realised there was a career out there where you could follow your curiosity as your job!
Kim Ellis: I have always been passionate about the Why of things. I want to explore our universe, I want to know what is over the horizon to secure a sustainable future for humankind. I see space and science as a real opportunity to help create a world that does not have borders, which provides for everything that each individual on our earth needs in an equitable way.
---
What are the main types of Science?
Physics
Chemistry
Biology
Mathematics
While there are many forms of science, most fall under the main categories of physics, chemistry, biology and maths.
Other popular areas of science include:
Ecology
Geology
Astronomy
Oceanography
Botany
Life Science
Zoology
Meteorology
What makes Science such a good career path?
Alan Duffy: Science is so broad and allows you to have an amazing career investigating something equally and wonderfully bizarre. Or, it could be something familiar to billions of people that you make work a little better to everyone's benefit, like a new component for a smartphone or app. Science is broad. That's why I love it. I can be running from a TV studio early morning, lecture physics through the day, work on simulated galaxies with my PhD students then fly off to have discussions with government and policy experts.
Kim Ellis: My job has allowed me to show my children (and others) that no matter what it is that you are passionate about, you can achieve anything – if you put your mind to it. I have been able to contribute to shaping the global conversation about how space activities should be conducted. Of course the opportunity to travel and work alongside some amazing individuals in some amazing places. One of the best things I ever did was having the opportunity to sit in the Captains seat of the Endeavour Space Shuttle in 2012.
---
How can you begin a career in Science?
A career in science is not as clear-cut as in other professional areas: if you see yourself wearing a lab coat and want to conduct experiments all day you will have to pursue a role in research science. Research science roles vary wildly depending on your area of specialisation, and the area you study within that branch of science – if it's Chemistry, you might become an Agrochemicals Chemist or an Explosives Chemist; if it's Physics, you might work in Nuclear Physics or Atmospheric Physics, the options are almost endless!
However, reaching a point of being able to work in research science is difficult and demanding: a Bachelor of Science alone is not enough, with a PhD typically being required, and positions are highly competitive and dependant on funding. Positions in research science are typically stable and well-paid, but there is rarely a growth in demand for research scientists.
If you're after a more realistic science career then there are a lot more options than you'd think. Science is incorporated into virtually every industry and normally plays a key role in areas such as health, technology, sports and agriculture. If you've always been interested in the inner workings of the human mind or body, how plants reproduce or simply want to better understand the world around you; these professionals aren't out of your reach. The best part? This isn't an unusual path to consider for career changers or those that simply don't have five different Degrees and a Doctorate in their arsenal. 68% of all STEM trained professionals got their qualifications through VET providers like TAFE, instead of going to University.
Areas such as technology and health are very popular options, with many science enthusiasts pursuing careers in pathology, data science and many more.
---
Pathology & Laboratory Assistant
Qualification
31% of laboratory assistants and technicians have a Certificate III or IV qualification such as the Certificate III in Pathology which is a popular option in this profession
Job Outlook
Pathology and laboratory assistants are in very high demand which will continue over the next five years, with up to 30,000 job openings expected by 2020
---
Exercise Scientist
Qualification
Most exercise scientists have a Bachelor degree qualification or above. One popular course to start this career includes the Certificate IV in Fitness
Job Outlook
The job outlook for exercise scientists in Australia is very stable, with the demand expected to grow with the need for these professions with the ageing population
Why are Science careers so important for the future?
Alan Duffy: We live in an age of increasing technological sophistication where the solutions to some very serious challenges in our future will require more science, not less. We need the best and brightest to go into designing, creating or implementing these future technologies. To have our best means we need to have all young Australians feel there's a place for them in science, and that means encouraging more to pursue these careers, especially women.
Kim Ellis: There are not enough people overall in STEM careers to support future growth. The issues created by population growth over the next few hundred years will require a huge commitment by the entire world to contribute to solving issues caused by environmental degradation, climate change and a way to transform current energy, water, food consumption through conservation and green technologies.
---
The Future of Science in Australia
Australia is ranked
6th
in the world for science education
In 2017
26K
Science qualification were complete below a Bachelor
In Australia
$28bn
is spent on science R&D every year
Science is such a widespread subject, with so many areas of specialisation possible. Areas in IT, engineering and Agricultural sciences are going to be crucial in the future, with thousands of jobs needed in these professions. Currently, health sciences remain the most widely chosen science field in Australia, with health careers in laboratory technicians, pathology, allied health and more all popular.