Published on March 29, 2022
A Career in Admin? Here's Where it Can Take You
Administrators play a vital role in any organisation. In your administration career, you might manage office paperwork, schedule appointments and meetings, ensure an efficient environment, and answer enquiries. As you gain more experience, you'll also earn a higher salary and complete tasks with higher levels of complexity and responsibility.
Beginning a course in administration can be overwhelming. This article will show you where an admin career can take you and the skills you'll need for relevant jobs.
Great administrators are sought after in every field. People with a strong clerical skill set can expect strong growth in future job opportunities.
---
Why you should consider a career in administration
Administrative skills are highly valued. Organisational success depends on having a solid administration staff. Successful organisations know that administrative professionals are their backbone which keeps business tasks running smoothly.
Administration is a great career choice for people who have:
Strong attention to detail

Problem-solving

skills

Time management

skills

Confidence with computers and different software packages

Excellent

communication skills

Excellent project management skills (especially for senior roles)
---
Types of careers in administration
Administration can also lead to varied career options and opportunities for career progression. Admin roles include:
Admin assistant – performing general and vital office duties.

Data entry officer – inputting, managing, and exporting database information for organisational processes.

Payroll and account administrator – making sure that everyone gets paid and that businesses meet their legal obligations.

Specialist administrator – using specialised knowledge and skills to support professionals such as lawyers or doctors.

Office manager – being in charge of your office environment and processes.

Executive assistant – providing specialised support to organisation executives.

Business manager – defining the strategic business goals for your organisation and taking responsibility for administrative and business processes.
Admin assistant
Admin assistants are required in all industries and in a range of office sizes. As an admin assistant, you'll ensure that basic business operations get done so that the organisation can run smoothly. An administrative assistant could go by a number of job titles, including admin officer or receptionist.
Your tasks could include:
Answering enquiries about the business over the phone and via email

Sending and receiving post

Coordinating meeting times and places

Taking meeting minutes

Preparing agendas and budgets

Booking travel and accommodation

Processing invoices

Getting quotes for business services and supplies

Building strong, friendly relationships with clients

Maintaining client contact details
You'll gain a good understanding of how the industry operates while you work. Over time, you'll become more efficient with these daily tasks and ready for new challenges. Once you have some experience under your belt, you may consider upskilling to move from an entry-level assistant role towards more senior roles.
Admin assistants don't necessarily require any formal qualifications. However, vocational training in areas like business administration, secretarial or clerical work is a great way to expand your knowledge on how businesses operate and how to complete key admin tasks. Not to mention, it will boost your job prospects and employability.
The median/average salary for an admin assistant is $67,602.
Data entry officer
Data entry officers update, maintain, and retrieve information relevant to their organisation. They may also transfer information given to them on paper to a digital database.
The types of data you could be managing can vary depending on the organisation. For instance, you could be keeping track of customer orders, client or patient information, student enrolment information, and/or a database of contact details.
Your key responsibilities may include:
Creating and updating records for clients

Searching for existing records to update or change them

Merging duplicate records

Reporting on data (for example, how many new clients your organisation gained in the last quarter)

Digitising paper-based forms and information

Upholding the privacy and confidentiality of sensitive information

Other administrative duties, potentially similar to those undertaken by an admin assistant
Data entry officers need to have strong computer skills. While the job doesn't require any formal qualifications, a course in IT, information systems, or business management can really boost your job prospects and help you hit the ground running. Some specialised roles may also require a good understanding of the industry you're in. For example, studies in science may help you as a medical data entry officer.
The median salary for a data entry officer is $64,647.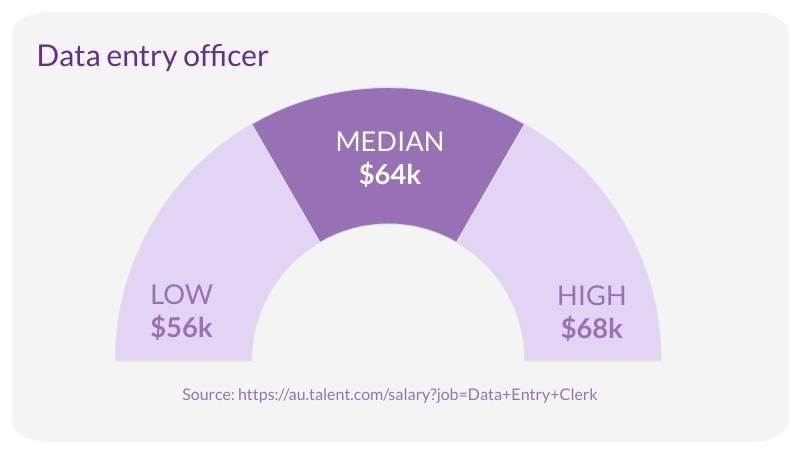 Payroll and account administrator
If you like all things numbers, payroll and account administration may be for you. As a payroll officer, you'll be responsible for preparing payrolls and similar tax, superannuation, and HR records. These duties are important to ensure everyone gets paid and that the organisation is following the necessary legal, financial, and taxation guidelines.
Your key responsibilities may include:
Calculating the hours worked by employees

Calculating payment rates based on the relevant award wages

Calculating relevant employee deductions like childcare or union fees

Double-checking calculations to ensure pay is accurate

Manually processing payrolls

Processing and reconciling corporate credit card expenses

Data entry and reporting (for example, how much labour costs were in the last quarter)
You're likely to receive on-the-job training on the processes and software relevant to your organisation. While a formal qualification is not necessary for this position, a course in bookkeeping, accounting, or business administration would be beneficial to boost your knowledge and expertise.
The median salary for a payroll administrator is $70,200.
Specialist administrator
Some industries require administrative staff with specialised knowledge and skills to provide effective support. In industries like law and medicine, administrators need to have a basic understanding of how different procedures work, the meaning of technical terms, and how to prioritise or escalate different cases. Roles like legal secretary or medical secretary include general administrative tasks which often require you to draw on that specific knowledge.
Your key responsibilities may include:
Preparing relevant documents (for example, in a legal setting, this may involve preparing contracts)

Drafting correspondence

Communicating with clients/patients both verbally and in writing

Liaising with colleagues to understand what tasks are needed and what to prioritise

Managing diaries

Transcribing dictated notes

Providing an estimate of fees and invoicing accounts

Filing, photocopying, and similar general administrative duties
To become a medical secretary (also known as a medical receptionist or medical personal assistant), on-the-job training may suffice. However, without previous experience, it may be difficult to get a job without a qualification. Appropriate studies include courses in health administration or medical business administration.
The median salary for a medical secretary is $61,986.
Similarly, a legal secretary may go by a range of different job titles, including legal assistant and legal receptionist. While no specific qualifications are needed, a TAFE course in legal studies may be beneficial. People studying degrees like a Bachelor of Law or a Juris Doctor may also benefit from working part-time as a legal secretary alongside their studies. This will help them gain a greater understanding of how law firms work.
A paralegal is another specialised administrative job. Paralegals also provide administrative support to lawyers, but work more autonomously than legal secretaries. They draft more complex documents, arrange mediations, and undertake legal research. You may progress from legal secretary into a paralegal role. Alternatively, you could get a job as a paralegal after attaining a qualification in legal studies.
The median salary for a legal secretary is $70,000 while paralegals earn a higher median salary at $76,085.
Office manager
An office manager is responsible for overseeing the administrative tasks for the overall office. Office managers might manage several administrative assistants and people in other admin roles. They also may be responsible for maintaining the overall office environment, including working out where everyone will sit, and making sure the printer toner never gets too low.
Your key responsibilities may include:
Managing the

office administration

budget

H

uman resources

tasks such as training, hiring, and supervising other administrative staff

Finding ways that your organisation can improve on administrative processes and efficiency

Clearly instructing people and providing documentation on administrative procedures

Ordering and distributing

office supplies
People are typically promoted into the role of office manager after they've amassed administrative experience in more junior roles. Although a formal qualification may not be necessary for the role, a qualification in business administration will be useful in refining your expertise.
The median salary for an office manager is $85,000.
Executive assistant
Executive assistant is another senior administrative role. You'll work closely with one or more executives in your organisation to manage their day-to-day administrative responsibilities. You play a fundamental role in representing the person you're assisting, making sure they're where they need to be and are on top of their tasks.
Your key responsibilities may include:
Carrying out correspondence on behalf of the executive

Scheduling meetings and coordinating the executive's calendar

Devising the executive's daily schedule and to-do list

Booking flights, accommodation, and other travel arrangements

Undertaking research and writing briefings to support the executive's understanding of different issues

General

administrative tasks
Executive assistants may have previous experience in roles like administrative assistant. They may have even gained experience as an assistant to an executive assistant in large, complex organisations.
Although formal training may not be necessary for the role, it's common for executive assistants to hold business administration qualifications, or even a Master of Business Administration.
The median salary for an executive assistant is $85,504.
Business manager
A business manager oversees the administration and finances of an organisation. Business managers have a leadership role in their organisation which is focused on setting priorities and procedures, in line with a big-picture organisational strategy and values.
Your key responsibilities may include:
Overseeing the budget for the entire organisation

Taking a lead on setting administrative priorities

Overseeing

human resource management

, recruitment, and occupational health and safety

Taking responsibility for your organisation's finances
Business managers may have accrued previous administrative experience in more junior roles. Typically, they will hold formal qualifications in business administration or in management. They may even hold a master's-level qualification such as a Master of Business Administration or a Master of Management.
A more senior role that people with business management experience may move towards is Chief Operating Officer (COO). COOs do similar tasks to business managers but with additional responsibilities in setting an organisational vision and overseeing managerial-level staff.
The median salary for a business manager is $120,041 while the median salary for a COO is $150,640.
There are many varied roles in administration. These roles are well-suited to detail-oriented, efficient people who are computer literate and communicate well both verbally and in writing.
Administrators have options to grow their responsibilities and salaries over their career and pick up vital skills that every organisation needs to be successful.
There are a range of career pathways suited to your career goals, no matter where you'd like to work in the administration industry.