Published on May 18, 2020
Administration Cover Letter Example
In this post
A sample cover letter for an administration position, with tips and tricks on how to stand out from other job applicants. Use this example to build your own cover letter.
Before you start writing your cover letter, review the job ad to find a list of qualifications and skills sought after by the employer.
It is imperative to distinguish your cover letter from others to increase your chances of landing a job interview. Each administration cover letter that you write should demonstrate your work experience and professional skillset, as well as your unique qualifications and accomplishments before applying.
Usually, the first paragraph of a professional cover letter will explain why you are the perfect fit for the role, drawing on relevant experience or educational background. Below is a cover letter template for an office administrator, which could be applied to similar roles such as an administrative assistant job or assistant position.
---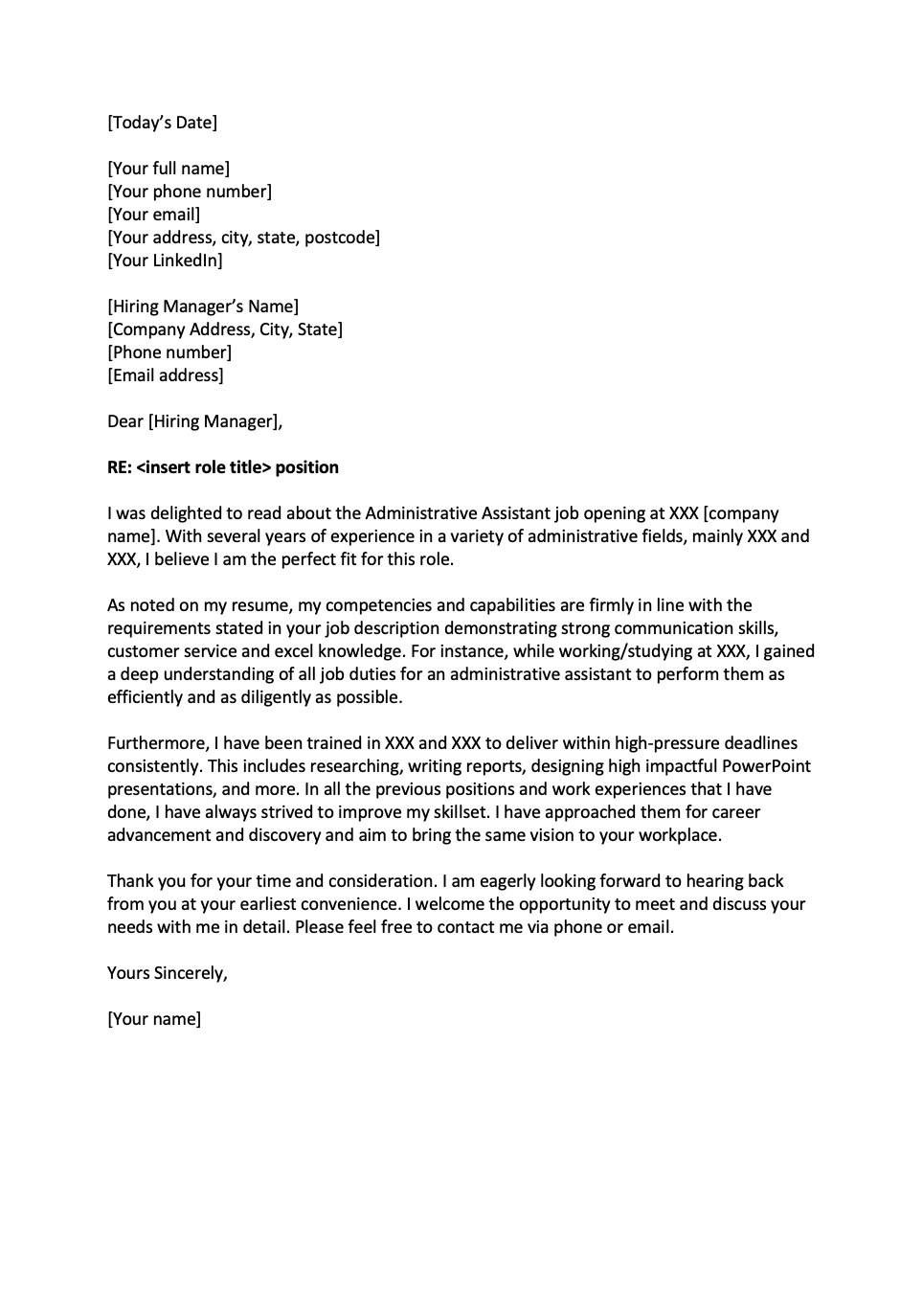 Administrative Cover Letter Template
This template is created for administration roles. All you need to do is input your own information!
Download
Once you've downloaded and edited your cover letter, make sure to save it with a new name (try: <Your name> Cover Letter — <Position you're applying for>). Then, export the document as a PDF and you're ready to submit it.
---
Administrative Cover Letter Template
[Today's Date]
[Your full name]
[Your phone number]
[Your email]
[Your address, city, state, postcode]
[Your LinkedIn]
[Hiring Manager's Name]
[Company Address, City, State]
[Phone number]
[Email address]
Dear [Hiring Manager],
RE: <insert role title> position
I was delighted to read about the Administrative Assistant job opening at XXX [company name]. With several years of experience in a variety of administrative fields, mainly XXX and XXX, I believe I am the perfect fit for this role.
As noted on my resume, my competencies and capabilities are firmly in line with the requirements stated in your job description demonstrating strong communication skills, customer service and excel knowledge. For instance, while working/studying at XXX, I gained a deep understanding of all job duties for an administrative assistant to perform them as efficiently and as diligently as possible.
Furthermore, I have been trained in XXX and XXX to deliver within high-pressure deadlines consistently. This includes researching, writing reports, designing high impactful PowerPoint presentations, and more. In all the previous positions and work experiences that I have done, I have always strived to improve my skillset. I have approached them for career advancement and discovery and aim to bring the same vision to your workplace.
Thank you for your time and consideration. I am eagerly looking forward to hearing back from you at your earliest convenience. I welcome the opportunity to meet and discuss your needs with me in detail. Please feel free to contact me via phone or email.
Yours Sincerely,
[Your name]
---
Note: Be sure to include all relevant contact information and personal data for the recruiter/hiring manager.
A perfect cover letter for an administrative job will highlight all your relevant skills and qualifications tailored to your administrative position. These cover letter tips should make your job application stand out from the crowd. Be sure that your administrative resume and cover letter match to ensure transparency in your job application.
The job search can be hard to navigate, and templates can help you get started. It is imperative, however, that if you do use cover letter or resume templates, to modify it still to ensure it differentiates between another administrative cover letter samples.
Cover Letters: A Comprehensive Guide [With Templates and Examples]
Learn how to create a polished, professional, and personal cover letter that will grab the hiring manager's attention for all the right reasons.