Published on March 23, 2023
How to Become a Childcare Worker: 5 Things You Need to Know
Love working with kids? Being a childcare worker could be perfect for you. The early years of a child's life are critical: they develop motor, sensory and social skills and learn about the world. In childcare, you have the chance to support and nurture children through the stages of their childhood development.
Working in childcare is an attractive career choice for many reasons — it's fulfilling, constantly in demand, and an easy career to get started in. By building on your initial experience, you can grow an inspiring career in early learning and teaching. And with so many childcare providers to choose from we're confident you can find a course that's exactly what you're looking for.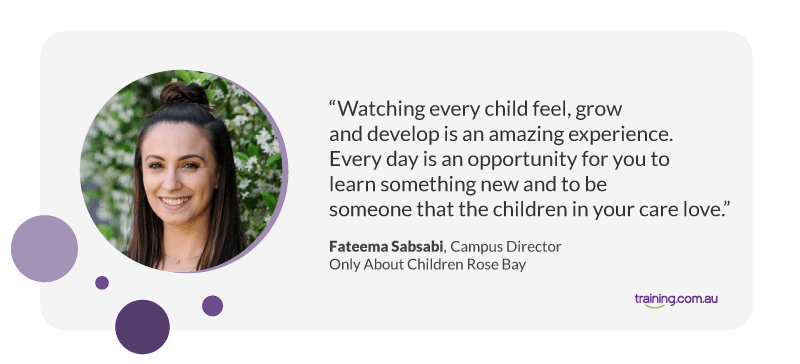 ---
How to become a childcare worker
1
Get your checks
You'll need to gain the following checks, usually before starting your course:
Working with Children check

Police check
Depending on where you're applying to work, you may also need to register with the Department of Human Services.
2
Get qualified
The level of qualification you hold allows you to work in different settings or progress into more senior roles. Qualifications are stackable, so you can start with certificate III and add more training later. The childcare qualifications you can choose from include:
Complete your course through a VET provider, such as an RTO or TAFE, or through an on-the-job traineeship. During your course, you'll be required to learn about children's emotional, physical, mental and social development, as well as how to plan and carry out activities for children and the code of ethics in childcare. With your qualification, you can work anywhere in Australia.
3
Complete 120 hours of work placement
All nationally recognised childcare qualifications in Australia require you to complete a work placement. For the Certificate III, you'll need to complete a minimum of 120 hours. This is a fantastic opportunity to make connections and can often lead to your first job out of study.
4
Get your first-aid certificate
Although not always required, it's a good idea to get your First Aid certificate (including CPR, Anaphylaxis, and Asthma Awareness training).
That's because the Australian Children's Education and Care Quality Authority (ACECQA) requires at least one staff member or supervisor on-site at all times with these qualifications. Employers are more likely to hire you if you have them since it will make staff scheduling easier. If you're planning to work in family day care, you must have all three. You'll need to renew your training every three years and take a refresher course in CPR each year.
Need more information on the rules and regulations in childcare? It's a good idea to check out the ACECQA (Australian Children's Education and Care Quality Authority), which assists governments in administering the National Quality Framework for children's education and care.
---
What is a childcare worker?
Childcare workers (also referred to as daycare workers) provide care services for young children when their parents aren't able to care for them — usually during working hours. They help children through their daily routines, social and educational development, and encourage healthy development with play and activities. They can work in various settings, like after-school programs, nurseries, creches, family daycare, and private homes.
Roles and responsibilities
A typical childcare worker's responsibilities include:
Providing care and statisfying basic needs for toddlers and young children
Planning and implementing early learning educational programs
Organising games and recreational activities
Preparing food and snacks
Monitoring kids' hygiene
Encouraging interpersonal skills through mediating social interactions
Taking legal responsibility for children's health and safety
Supervising kids on play equipment
Working as part of a close-knit team of carers
Safeguarding the health and safety of children is a big part of the job, and you should be familiar with Early Childhood Australia's Code of Ethics.
What skills do you need to be a childcare worker?
These skills are essential to any child-caring role:
Verbal communication skills
Planning and running activities
Relating to children
Critical thinking and decision making
Compassion and patience
Monitoring and evaluating children
Problem-solving skills
Fitness and stamina
An understanding of the code of ethics in childcare
Working in childcare
Outside of formal childcare facilities, you can be employed privately for in-home care as a nanny in which you may only be required to take care of a few children. In the long run, you may even be able to run your own home or family daycare.
As a childcare worker, you will also work irregular hours. Shift work is typical in childcare as they need people who are available to take care of children both before, after and during school times.
Childcare centres are very noisy, busy places, so be prepared to wrangle some chaos! Because the job is very active, you'll need to be fit and healthy, with plenty of energy, to thrive in this work environment. You'll be on your feet all day, there is heavy lifting involved, and the environment is fast-paced.
Childcare workers are employed in a range of different environments, including:
Child care centres
Schools
Hospitals
Offices
Outside school hours care
Preschool education
Early learning centres and creches
---
What careers can a childcare course lead to?
Completing a childcare course in Australia opens up a range of career options in the childcare industry.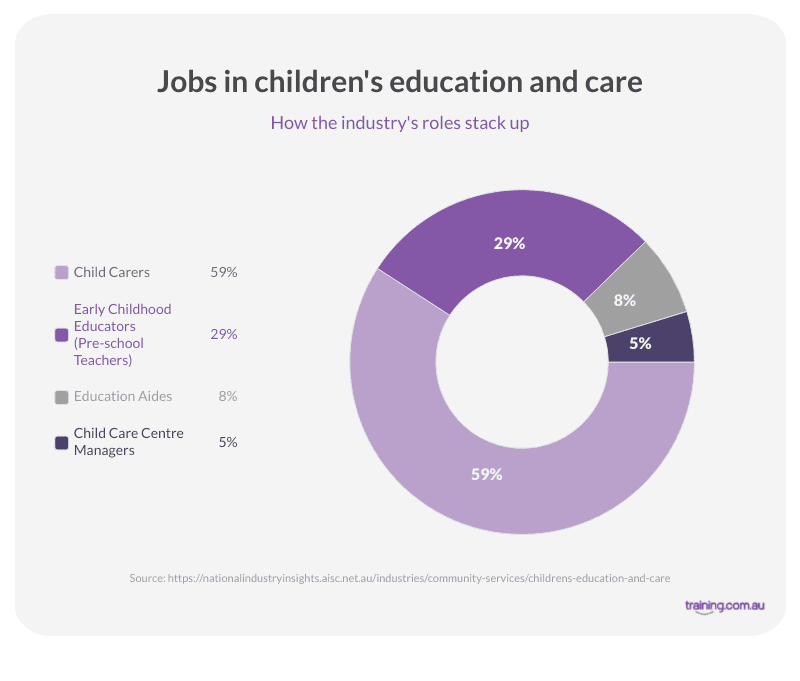 Certificate III in Early Childhood Education and Care
A Certificate III in Early Childhood Education and Care teaches you the skills and knowledge required to work as a childcare educator or assistant. This course covers topics such as child development, safety, nutrition, and learning through play. Graduates can work in a range of settings, including childcare centres, family day care, and before and after school care services.
Diploma of Early Childhood Education and Care
For those looking to advance their career in childcare, a Diploma of Early Childhood Education and Care is the next step. This course gives you the skills required to work as a lead educator, managing and supervising other staff members. This includes managing the day-to-day operations of a childcare centre and designing and implementing educational programs for children. Graduates of this course can work as centre directors, lead educators, or educational leaders.
Advanced Diploma of Community Sector Management
In addition to these courses, there are also higher-level qualifications available, such as the Advanced Diploma of Community Sector Management. This course is designed for experienced childcare professionals looking to take on management roles. Graduates of this course can work as childcare centre managers, overseeing the operations of multiple centres and leading teams of staff.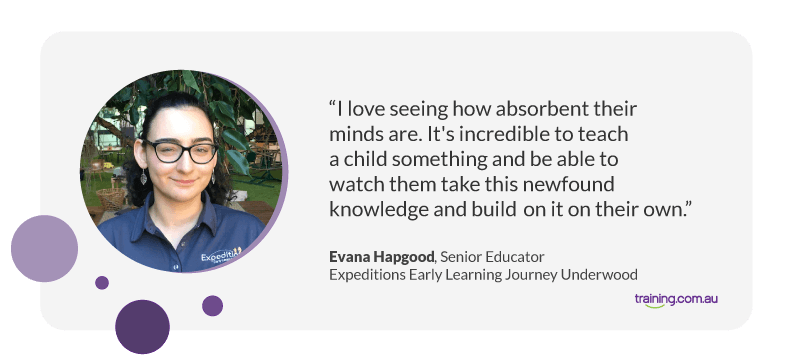 If you're wanting to upskill more in the area of education and pursue high-level jobs, there are a few courses you can complete.
Certificate IV in School-Based Education Support
A Certificate IV in Education Support prepares you for a career as an education support worker in a range of settings, including primary and secondary schools, special education units, and TAFE institutions. This course covers a range of topics, including providing support to teachers and students, facilitating learning and supporting students with additional needs. Graduates of this course are equipped with the skills and knowledge required to work collaboratively with teachers to support the learning and development of students. Some of the roles you can pursue with this course include teacher's aide, learning support assistant, special education assistant, or education support officer.
Bachelor of Early Childhood Education
A Bachelor of Early Childhood Education prepares you to work as early childhood educators in a range of settings, including preschools, kindergartens, and childcare centres. This course covers a range of topics, including child development, curriculum planning, and assessment and reporting. Graduates of this course are equipped with the skills and knowledge required to design and implement educational programs that support children's learning and development
Master of Teaching (Early Childhood Education)
Another option for those looking to advance their career in early childhood education and care is to complete a Master of Teaching (Early Childhood Education). This course is designed for individuals who already have a degree in a relevant field and are looking to become qualified teachers in the early childhood sector. Graduates of this course are qualified to teach children from birth to eight years old, and can work in a range of settings, including schools and childcare centres.
---
The Childcare Industry
Massive demand for childcare workers, with an average of 170,100 job openings projected each year from 2021 – 2031
Childcare is a vast industry, employing over 150,000 Australians and growing at an incredible rate of 17% over the last five years. This is most likely due to Australia's growing population and increasing demand for parents to return to work after parental leave.
This is also a career with flexible working hours, with just over half of workers being part-time. So whether you want to be a casual childcare worker, or you want to dedicate your career to children's services, you have the choice.
In Australia, New South Wales has the biggest share of childcare workers at 32.2%, closely followed by Victoria with 26.8% and Queensland with 21.5%.
Childcare worker salary and expectations
Most childcare workers work part-time and are paid hourly, at an average of $30.82/hr.
The typical salary for a full-time childcare worker is $60,091, with a range of $51,612 to $81,050. Pay tends to increase with experience and higher qualifications and jumps significantly when people move into more senior roles.
$30.82/hr
average hourly wage
---
Is being a childcare worker right for you?
Thinking kids are awesome goes without saying if you're working in childcare, but there are many other important traits to have if you want to become a successful childcare worker.
1
Do you love everything about kids?
Working in childcare can be fun and rewarding, but there are times when kids can become draining, frustrating and challenging to deal with. You will have to deal with tantrums, dirty nappies, hyperactivity, crying and screaming. As a childcare worker, you need to love everything about kids – the good, the bad and the ugly.
2
Can you communicate with both old and young people?
Throughout your career as a childcare worker, you will be required to communicate with both children and parents. Though most of your day will involve playing and caring for the children, you're also required to observe and report on their behaviour. That includes talking to the child's parents about their development, their achievements, their struggles and their education.
3
Can you be patient and flexible?
It may seem obvious, but patience and flexibility are probably the most important traits you should have in childcare work. Children's behaviour is constantly changing and you need to be flexible enough to understand that while a certain method may work for some children, it won't work with all of them. Also, they aren't your children which means you have to be patient and calm with them even when they drive you insane!
4
Are you willing to pursue further education and training?
In any education role, if you want to be successful, you need to have the willingness to learn. It's not only required as part of your employment but it's important for refreshing your memory and stay up-to-date on important training — such as first aid and meeting the national quality standard.
5
Are you the dependable type?
A child's safety is of the utmost importance when working in childcare. Parents and employers trust you to both look after the wellbeing of their children and their safety. You also need to be appropriate and responsible at all times — these children will look up to you as a guardian and a role model.
---
Although it's a tough and sometimes testing role, childcare is an incredibly rewarding and fast-growing industry that's perfect for anyone with a love of children and a good ability to multitask.
You can begin building the starting blocks to your career in childcare by becoming qualified, continually upskilling and gaining hands-on experience in a child-caring role. Become a part of children's development and help them both learn and grow by diving into a childcare career.
Working With Children With Disabilities: What You Need to Know
Becoming a Male Childcare Worker: What You Need to Know
Childhood education is an extremely female-dominated industry — but male childcare workers are becoming more common.