Updated on July 30, 2021
How to Become a Child Care Worker: 5 Things You Need to Know
Published on October 17, 2020
Love working with kids? Being a childcare worker could be perfect for you. The early years of a child's life are critical: they develop motor, sensory and social skills and learn about the world. In childcare, you have the chance to support and nurture children through the stages of their childhood development.
Childcare work is incredibly rewarding, and it's also essential to society. We'd be stuck without our daycare workers, after school care providers and early childhood educators. Parents would be totally on their own, and single-parent families would find it impossible to make ends meet.
Childcare is an attractive career choice for many reasons, including:
Fulfilling — You'll form strong bonds with each individual child, and watch them learn and grow.
In demand — Demand for childcare workers is skyrocketing — you'll have no trouble finding work.
Easy to access — Basic qualifications are quick to complete, with flexible study options (including traineeships).
There's also plenty of room to dream bigger! If you discover you love helping the next generation get a great start, further training can open lots of doors. By building on your initial experience, you can grow an inspiring career in early learning and teaching.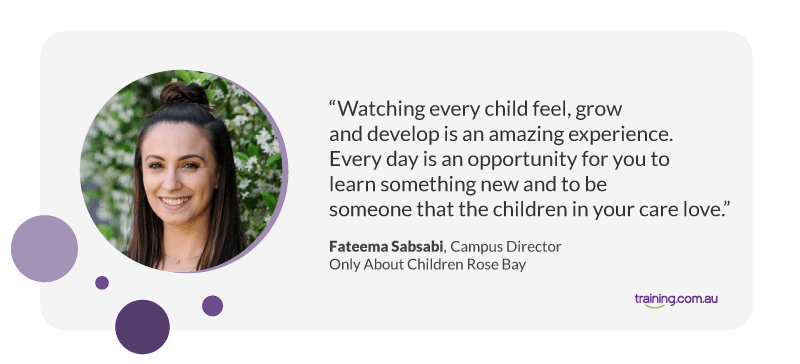 Fateema Sabsabi, Campus Director at Only About Children Rose Bay
---
---
1. How to become a child care worker
At a minimum, child care workers in Australia need to have (or be actively working towards) a Certificate III in Early Childhood Care and/or Children's services, including a mandatory 120 hours of work placement. You'll also need a clean background check, and to hold any related first-aid training for the setting you'll be working in.
1
Get your checks
You'll need to gain the following checks, usually before starting your course:
Working with Children check

Police check
Depending on where you're applying to work, you may also need to register with the Department of Human Services.
2
Get qualified
The level of qualification you hold will allow you to work in different settings or progress into more senior roles. Qualifications are stackable, so you can start with a Certificate III and add more training later. The childcare qualifications you can choose from include:
Certificate III in Early Childhood Education and Care (CHC30113)
Certificate IV in School Age Education and Care (CHC40113)
Diploma of Early Childhood Education and Care (CHC50113)
You can take your course through a VET provider, such as an RTO or TAFE, or through an on-the-job traineeship. During your course, you'll be required to learn about children's emotional, physical, mental and social development, as well as how to plan and carry out activities for children and the code of ethics in childcare. With your qualification, you can work anywhere in Australia — from Melbourne to the NT or Adelaide.
3
Complete 120 hours of work placement
All nationally recognised childcare qualifications in Australia require you to complete a work placement. For the Certificate III, you'll need to complete a minimum of 120 hours. This is a fantastic opportunity to make connections and can often lead to your first job out of study.
4
Get your first-aid certificate
Although not always required, it's a good idea to get your First Aid certificate (including CPR, Anaphylaxis, and Asthma Awareness training).
That's because the Australian Children's Education and Care Quality Authority (ACECQA) requires at least one staff member or supervisor on-site at all times with these qualifications. Employers are more likely to hire you if you have them since it will make staff scheduling easier. If you're planning to work in family day care, you must have all three. You'll need to renew your training every three years and take a refresher course in CPR each year.
Need more information on the rules and regulations in childcare? It's a good idea to check out the ACECQA (Australian Children's Education and Care Quality Authority), which assists governments in administering the National Quality Framework for children's education and care.
NaviGator
Course Finder Questionnaire
Step 1 of 5
What is your motivation to study?
2. What is a child care worker?
Child care workers (also referred to as daycare workers) provide care services for young children while their parents are unable to look after them. They help children through their daily routines, and teach social skills and encourage healthy development with play and activities. They can work in various settings, like after-school programs, nurseries, creches, family daycare, and private homes.
Evana Hapgood, Senior Educator at Expeditions Early Learning Journey Underwood
Roles and responsibilities
Child carers are responsible for fostering the development of children in their care, attending to their basic needs and organising daily activities, meal times, and playtime.
A typical child care worker job description will include the following duties:
Provide care

for toddlers and

young children

Plan and implement early learning educational programs

Organise games and

recreational activities

Prepare food and snacks

Monitor kids' hygiene

Encourage

interpersonal skills

through mediating social interactions

Take legal responsibility for children's health and safety

Supervise kids on

play equipment

Working as part of a close-knit team of carers
Safeguarding the health and safety of children is a big part of the job, and you should be familiar with Early Childhood Australia's Code of Ethics.
What skills do you need to be a childcare worker?
These skills are essential to any child-caring role:
Verbal

communication skills

Planning and running activities

Relating to children

Critical thinking and decision making

Compassion and patience

Monitoring and evaluating children

Problem-solving skills

Fitness and stamina

An understanding of the code of ethics in

childcare
3. Is being a child care worker right for you?
That you love kids goes without saying in a childcare career, but there are many other traits that are vital to possess if you want to be a child carer. Before going further, ask yourself these six questions:
1
Do you love everything about kids?
Working with kids can be fun and rewarding, but there are times when kids can become draining, frustrating and challenging to deal with. You will have to deal with tantrums, dirty nappies, hyperactivity, crying and screaming. As a childcare worker, you need to love everything about kids – the good, the bad and the ugly.
2
Can you communicate with both the young and old?
Throughout your career as a childcare worker, you will be required to communicate with both children and parents. Though most of your day will involve playing and caring for the children, you're also required to observe and report on their behaviour. That includes talking to the child's parents about their development, their achievements, their struggles and their education.
3
Can you be patient and flexible?
It may seem obvious, but patience and flexibility are probably the most important traits you should have in a childcare role. All children are different and you need to be flexible enough to understand that while a certain method may work for some children, it won't work with all of them. Also, they aren't your children! This means being patient and calm with them even when they drive you insane.
4
Are you willing to pursue further education and training?
In any education role, if you want to be successful, you need to have a willingness to learn. It's not only required as part of your employment but it's important for refreshing your memory and to keep you up-to-date on important training — such as first aid and meeting the national quality standard.
5
Are you the dependable type?
A child's safety is of the utmost importance in a career such as childcare. Parents and employers trust you to both look after the wellbeing of their children and their safety. You also need to be appropriate and responsible at all times; these children will look up to you as a guardian and a role model.
6
Is your salary level a driving factor in your career choice?
A childcare wage is in the low-to-middle ranges, and it won't be enough to get you rich. If earning money is your main driving factor in choosing a career, childcare probably isn't suitable for you. There are plenty of rewards and highlights in a childcare career that money just can't buy, and it's a job that's guaranteed to fulfil you.
Working in childcare can be a rewarding experience, but it's not for everyone. By taking the time to ask yourself these questions before you commence your studies and career in childcare, you can increase your chances of success.
Christial Arthy, Acting Centre Director at Expeditions Early Learning Journey Underwood
Where you'll work
Childcare workers are employed in a range of different environments where childcare providers can be found, including:
Child care centres

Schools

Hospitals

Offices

Outside school hours care

Preschool education

Early learning centres and creches
Outside of formal childcare facilities, you can be employed privately for in-home care as a nanny in which you may only be required to take care of a few children. In the long run, you may even be able to run your own home or family daycare.
As a childcare worker, you will also work irregular hours. Shift work is typical in childcare as they need people who are available to take care of children both before, after and during school times.
Childcare centres are very noisy, busy places, so be prepared to wrangle some chaos! Because the job is very active, you'll need to be fit and healthy, with plenty of energy, to thrive in this work environment. You'll be on your feet all day, there is heavy lifting involved, and the environment is fast-paced.
3. What to expect in your first job
Massive demand for childcare workers, with 30,000 new jobs
Childcare is a vast industry, employing over 150,000 Australians and growing at an incredible rate of 17% over the last five years. Before the pandemic hit, the Australian government estimated that a whopping 30,100 jobs would open up over the next five years.
This is most likely due to Australia's growing population and increasing demand for parents to return to work after parental leave.
This is also a career with flexible working hours, with just over half of workers being part-time. This makes it an excellent choice for people who'd like time to pursue their interests outside of work, who are returning to work after starting their own family or planning on starting a family soon.
Childcare pay and salary expectations
Most childcare workers work part-time and are paid hourly, at an average of $23/hr.
The typical salary for a full-time childcare worker is $49,556, with a range of $48,000-$61,000. Pay tends to increase with experience and higher qualifications and jumps significantly when people move into more senior roles.
$23/hr
average hourly wage
5. What careers can a childcare course lead to?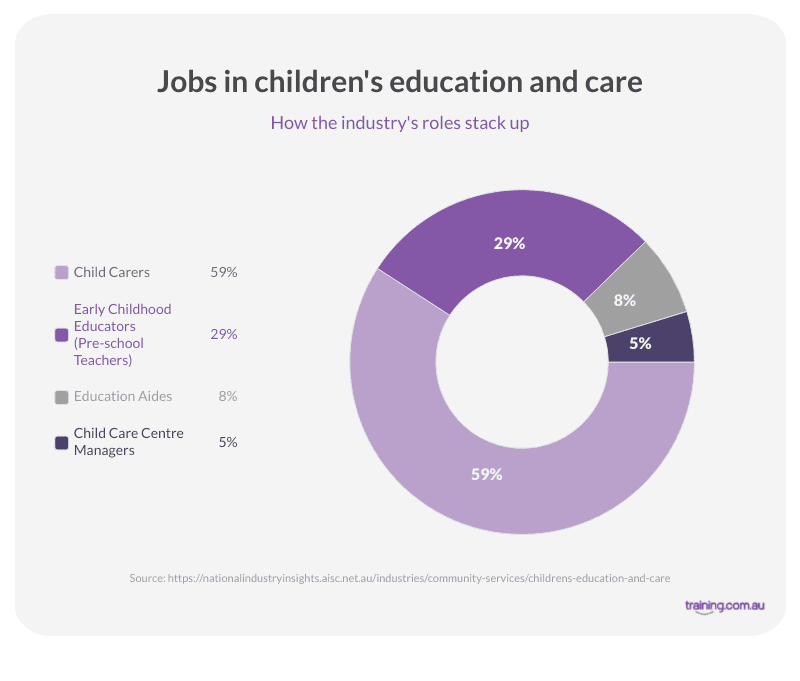 If you wish to take on the role of manager or coordinator, you will also need to obtain a Diploma of Early Childhood Education and Care. You must have a Certificate III before you can study for the Diploma.
If you're interested in moving into an education aide role, you could consider education support. A certificate or Diploma will allow you to become a teacher or assistant in early learning.
To move into teaching, consider taking on a bachelor degree in education. You can choose to major in or more one of the following areas:
Early Childhood Education (Preschool or Kindergarten Teaching)

Primary Education

Disability Inclusion

Physical Education/Sport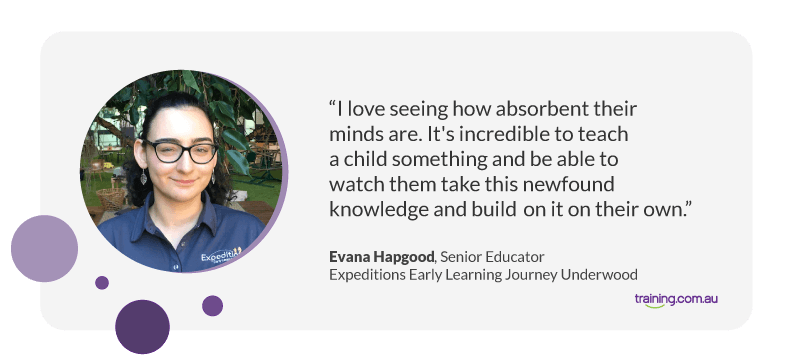 ​​A qualification in childcare can open a range of opportunities for anyone looking to expand their horizons beyond a career as a childcare worker. Once you become qualified in childcare, you can upskill and move up into a more senior management role.
For example, a child care qualification can lead to a career as:
Child care

assistant

Preschool assistant

Education assistant

Outside school hours aide

Childcare centre

manager

Childcare worker

(

Day care worker

)

Nanny

Au Pair

Out of school hours care provider

Childcare

staff supervisor

Children's services coordinator
With further education and training, you could become a:
Primary school teacher

Home

daycare

business owner
If you discover you love the educational aspects of the job, you can look at early learning as a career option and progress into early childhood education. There are also courses available that can qualify you in teaching children with disabilities and educational psychology.
Working With Children With Disabilities: What You Need to Know
Becoming a Male Childcare Worker: What You Need to Know
Childhood education is an extremely female-dominated industry — but male childcare workers are becoming more common.
Although it's a tough and sometimes testing role, childcare is an incredibly rewarding and fast-growing industry that's perfect for anyone with a love of children and a good ability to multitask.
You can begin building the starting blocks to your career in childcare by becoming qualified, continually upskilling and gaining hands-on experience in a child-caring role. Become a part of children's development and help them both learn and grow by diving into a childcare career.