Published on December 18, 2020
Let Your Innate Empathy Grow in These 10 Jobs That Help People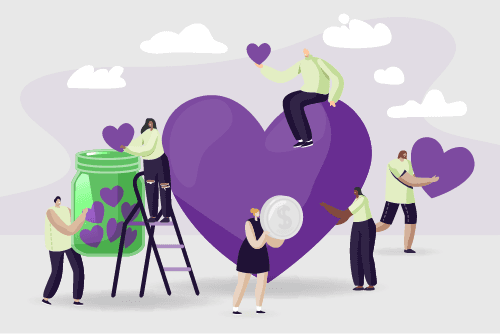 Lean into your innate empathy and compassion by pursuing a career that allows you the opportunity to help others.
If it's the fulfilment you're after, you'll find your perfect role here.
If you've clicked onto this article, I already know the kind of person you are.
I won't waste your time or emotional energy on a romanticised introduction explaining what it means to help others. You already know the value it holds — both personally and within society.
The world isn't always the incredible place we want it to be. There's a crime, abuse, addiction, mental and physical illness. You're the kind of person who sees that, acknowledges it and is drawn to those affected by it.
You're driven by empathy, and because of that, it's likely that "career fulfilment" for you is achievable only through the act of dedicating your life to helping others. Jobs like this are immensely varied and in high demand. From social work to healthcare to youth work, there are roles for every passion and skill set.
---
Why you need passion before a qualification
Despite (or perhaps because of) the necessity of these careers within society, they are the most challenging to dedicate your life to. I don't think there's any point in sugar-coating that. They're emotionally taxing and physically draining, and aren't for those who lack innate empathy and compassion. A qualification in these fields will only get you so far.
Why?
In all of these roles, you'll encounter immense stress. You may find yourself in unpleasant or dangerous situations, and you might bear witness to some of the worst aspects of society. When you come home at the end of the day, you'll need to remember why you do it. You need passion to bolster your skill set.
What these roles — and the people they serve — truly need, is someone with:
Compassion (in spades)
Innate empathy — not sympathy
Inner strength, confidence and assertiveness
An immense propensity to care for others
Genuine passion
If these are qualities you wear as a badge of honour, you'll find that you will thrive as a professional within any of the roles outlined here.
---
Start exploring where you want to make a difference
The roles are divided into fields of passion
Jobs that help people to live healthy lives
Jobs that help children and youth
Jobs that help people in dangerous situations
Jobs that help people and pay well
---
4 Healthcare Careers Where You Can Help People Live Fulfilling Lives
You might have heard of the word "sonder". It's the realisation or feeling that every person, stranger, and the passerby is leading a life as complex and colourful as your own.
This word becomes even more profound in the context of healthcare. Because, as a healthcare professional, every person you help regain health or maintain vitality; they're all people who will get to continue living their complex and vivid lives.
While probably the most obvious jobs listed here, healthcare roles are also absolutely imperative to the individuals they serve. Your impact as a healthcare professional leaves a lasting mark on the people you help, as well as their families, friends, and community.
There are some key roles you can get into without needing to dedicate years and tens of thousands of dollars to a degree. And the best part is, with the healthcare industry booming, you'll have the added benefit of job security on top of career fulfilment.
Nursing
You might think a career in nursing is unattainable without a three-year degree and a HELP debt. However, there are much shorter (and less expensive) courses that can help you enter the field, qualified to help others.
Becoming a nursing assistant will allow you to work under the direction of a registered nurse, providing care and support to patients. Although limited in the duties you can perform, there is still a vast array of tasks you can do that will significantly impact your patients.
Assist with hygiene and personal care needs
Assist with patient mobility and communication needs
Follow therapy plans
Building strong relationships with patients by using your empathy and compassion
These are just a few ways you'll be helping to make a difference in your patients' lives.
Aged and disability support
Working as an aged care worker or disability support worker is incredibly rewarding. You'll be helping individuals to live their lives to the fullest, by assisting them with performing daily tasks that are important to the individual, help them with hygiene and personal care, and undertake tasks for them both inside and outside the home.
On top of that, you'll provide emotional support, and build friendships that will mean a lot to you and the individuals you work with.
Occupational therapy
Occupational therapy assistant (OTA) is another role you can obtain with a shorter TAFE qualification rather than a university degree. There's also not a lot of difference between being an occupational therapist, and an OTA. Jobs in this field are varied, and you could work with a broad range of people at different stages of their life.
The crux of occupational therapy is taking a holistic approach to improving or maintaining an individual's quality of life. As an OTA, you'll use your innate compassion and empathy to build friendships with the people you assist. You need to be physically strong and have great interpersonal skills.
Speech-language pathology assistant
Working closely with a licensed speech-language pathologist, speech-language pathology assistants (SPLA) help treats various communication disorders in individuals. Such disorders include:
Stuttering
Speech impediments
Developmental delays
Hearing impairment
A career as an SPLA will allow you to significantly improve people's quality of life. Communication is such an important aspect of life — it helps us build friendships, voice our thoughts, and project our identity to the world. Imagine the difference you could help make to the lives of people with communication disorders.
4 Healthcare Careers Where You Can Help People Live Fulfilling Lives
Interested in a career in healthcare?
Take a deeper look into all four of these remarkable and fulfilling healthcare roles.
---
2 Jobs Where You Can Make a Positive Impact on Children and Youth
With each new generation of children comes more bright eyes, eager minds and personalities in bucketfuls. As they become more conscious of the world around them, they enter a stage of key developmental years where their perceptions of situations, people and things shape who they will become.
For all children, these developmental years are (in large part) shaped by the authority figures in their lives. Parents, teachers, older siblings. However, not all children get the opportunity to experience these years in a positive way.
That's where you can step in.
Supporting Australia's vulnerable youth
The mistreatment of children is one of society's greatest evils, yet it's more prevalent than even the government is able to accurately assess. In 2015-16, the Australian Institute of Health and Welfare (AIHW) reported that there were 225,487 Australian children suspected of being harmed or at risk of harm from abuse or neglect. This led to 355,925 notifications being reported by state authorities — an 11.2% rise on the previous year.
Youth workers from a branch of social work, specialising in assisting and supporting children and young people who may be in dangerous, volatile or neglectful situations. As a youth worker, you'd be stepping into an active role in helping youth find emotional and physical safety.
Helping children learn and grow
Another role that significantly supports children's development and welfare is childcare workers. Whether in a school, kindergarten or creche, childcare workers take the reins in opening young eyes up to the world in a positive and caring way.
If your love of helping children is beckoning you towards either of these rewarding careers, take a deeper look into each of them in this article. We explore ideal candidate traits, necessary skills and qualifications, and industry statistics.
2 Jobs Where You Can Make a Positive Impact on Children and Youth
If you're compassionate and love children, discover a career in childcare or youth care.
---
Jobs that help people in dangerous situations
For some people, each new sunrise brings with it the threat of danger, volatility and risk. Living in a waking nightmare, and struggling to find an escape
Two groups in the particular struggle within the forces of uncontrollable and potentially deadly situations: domestic
violence victims, and those in the grips of substance addiction. For these two vulnerable populations, their struggles often lead to homelessness or unstable living arrangements, impacted financial security, and a host of other issues that are taken for granted by the more privileged in society.
The insidious health and welfare issue of domestic violence
In Australia, 16% of women (1.5 million) and 5.9% of men (528,800) have suffered physical violence at the hands of a partner since the age of 15. On average, one woman is killed per week by a current or former partner, while one man is killed per month. More than 1 million children in Australia are affected by domestic and family violence.
As a domestic and family violence support worker, you'd be able to take an active role in stepping in when victims can't see an escape and help them break the cycle of abuse. It is one of Australia's most prevalent health and welfare issues because of its insidious nature. Yet, it is possible to help victims start again and live their lives without fear.
The complex and consequential nature of substance abuse
Every year, over 4,186 Australians die from alcohol-related illnesses, injuries and accidents. On top of this, another 1,808 people die from drug-related deaths.
The issue of substance abuse is often complex, deep-rooted and difficult to overcome. For an individual in the grips of addiction, it's a path towards social and family breakdowns; illness, disease and injury; and even death if they do not receive the support they need. Within communities, substance abuse is related to crime, violence, and safety issues.
Dedicating your life to helping people as they struggle with addiction may be one of the more thankless roles listed here. Recovery is a lifelong process, and relapses do happen. This does not mean that recovery — or the work you've done as a drug and alcohol counsellor — has failed. Substance abuse counsellors form a crucial part of the recovery process, and the work you would be doing is integral for both the affected individual and the wider community.
Jobs Where You Can Help People Who Are in Dangerous Situations
Help people start a better, safer life. Find out about how to become a domestic and family violence support worker, or a drug and alcohol counsellor.
---
Naturopathy and Nutrition: Careers that Help People and Pay Well
There is one key anxiety that spans all generations of professionals: financial security. No matter your age, gender or industry, money is something we all worry about.
It makes sense to be concerned about your financial security, especially when it comes to choosing a career. It's a misconception that the highest-earning careers are only in reach for someone with the time to dedicate to a university. In fact, there are many lucrative fields you can get into with a TAFE or VET qualification.
And yes, that includes high-paying jobs that help people.
You shouldn't have to choose between your passion for helping others and financial security. Two such jobs that have massive earning potential are:
Naturopathy
Nutrition and dietetics
Being within the scope of health and wellness, they're also fields that are growing rapidly and can offer fantastic job security.
A holistic healthcare profession
Naturopathy was long thought to be a pseudo-scientific practice, not based in real science or evidence. However, today, the field combines centuries-old techniques with modern science.
Modern naturopathy found its roots in the 18th and 19th-century natural healing techniques. Healing systems like hydro-therapy and dietary principles such as increasing fibre have been brought to the modern world by naturopathy. It's no wonder then, that naturopaths and naturopathic doctors are increasingly becoming the go-to for holistic health and wellness.
As a naturopath, your role won't just be treating individuals — it will be:
Educating and supporting your patients
Not just treating the illness, but identifying and treating the root cause
Assessing and treating the whole person — their body, mind, environment and lifestyle — because you recognise how all these things are intertwined
With so much growth in this area, your earning potential will grow with your experience. Careers on average pay around $58,000 per year, however indeed listings for naturopath roles show these jobs can earn up to $100,000 per year.
Discover more about the role of a naturopath, and read insights from industry professionals.
Bring healthy eating to individuals and communities
The field of nutrition and dietetics is so broad it covers everything from the way we grow and process food, all the way to how individuals and communities consume food. The crux of this health and wellness field is helping people change behaviour patterns when it comes to eating, to allow them to start leading a healthier lifestyle.
The main difference between nutrition and dietetics is that dieticians can treat illness and disease in individuals. They can work in a clinical context, where nutritionists can't work as closely with patients.
Either one of these careers will allow you to change the way food is consumed and help people learn and understand the power of diet and nutrition for their health.
On top of the career fulfilment, you'll also benefit from an above-average salary, with the potential to earn more as you gain experience. Nutritionists typically earn between $44-$90K a year, while dieticians typically earn between $49-$94K a year. With experience and the right qualifications, these jobs can earn upwards of $100,000 per year.
Learn everything about the role of a nutritionist, and read job reviews from people currently in the field.
Naturopathy and Nutrition: Careers that Help People and Pay Well
Naturopathy and nutrition are two lucrative health careers. Learn how you could help people turn their health — and their lives — around for the better.
Ready to make a difference in the lives of others?
These jobs aren't for anyone. They can be emotional, draining, stressful and thankless at times.
But you are armed with passion. You have innate empathy and a desire to help people in need. Despite the challenges of working in these fields, you're someone who can thrive within them and will find immense personal reward dedicating your career to helping people.
You've already taken the first step by igniting your passion and exploring these careers. What's next? Find out about the qualifications that can make this dream a reality.