Published on August 31, 2022
How to Become a Makeup Artist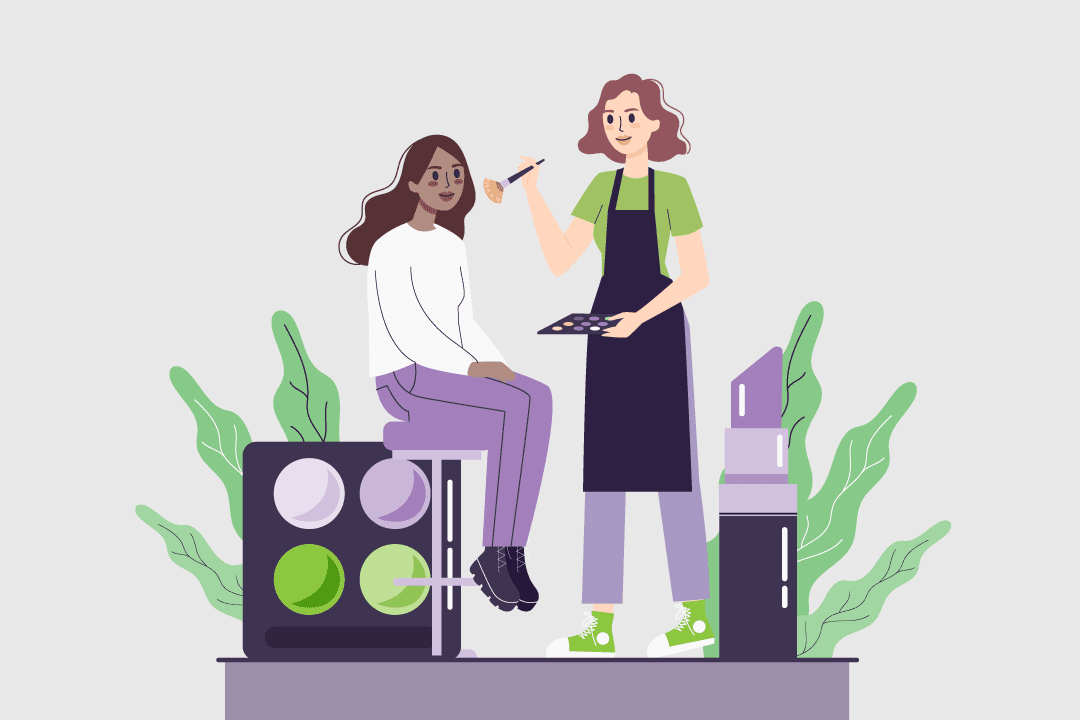 Do you want to learn more about makeup artistry?
Here's what you need to know about becoming a makeup artist.
---
What is a Makeup Artist?
A Makeup Artist is someone who applies makeup on their client's face, and sometimes their body. In consultation with their client, they determine what the client would like to achieve. Often that can include hiding imperfections and emphasising the client's favourite features, although sometimes that also includes creating conceptual looks to express and an idea or creative direction.
A successful Makeup Artist has a steady hand, a good understanding of colour and shading, and knows how to make their client feel comfortable while offering their makeup services.
Makeup Artists often work part-time, and during evenings, holidays and weekends.
A typical Makeup Artist salary is approximately
$24.41
per hour.
There are various types of Makeup Artist positions, from theatrical to cosmetic. Theatrical Makeup Artists often use prosthetics, special effects, and even style hair to change how actors appear, usually very drastically in comparison to a typical cosmetic Makeup Artist. When it comes to cosmetology, a Makeup Artist can help prepare their client for photoshoots or perform bridal makeup for an upcoming wedding. In other words, there's quite a variety of career paths you can take in the makeup industry.
Working hours can be flexible, and for the most part, they are very irregular. Makeup Artists often work during holidays and weekends. Also, it's important to note that you'll be on your feet for most of the time, so you'll need to be physically capable of doing so. It's hard work, but if you enjoy makeup application and beauty therapy in general, you should certainly consider this position.
---
Makeup Artist Responsibilities and Duties
A typical Makeup Artist would perform the following:
Answer clients questions about techniques, products, aftercare, etc
Present and educate clients on products
Maintain safety and hygiene standards
Provide clients with quality makeup knowledge and instructions on how to apply
Develop relationships with clients through small talk
Communicating with the client to ensure you know what the requirements are
Keeping up to date with current trends and techniques
For more specialised Makeup Artists (such as Special Effects Makeup Artists), some of the responsibilities are as follows:
Applying ageing makeup.
Creating blood FX, bruising, etc
Airbrushing
Creating scars, burns, tattoos, etc
---
Skills/Qualities You'll Need to Become a Makeup Artist
Creativity
Attention to detail
Dedication
Works well under pressure
Communication skills
High stamina/fitness
Time management
Customer service
Passion
Punctuality
---
Education and Experience Needed to Become a Makeup Artist
In Australia, no formal qualifications are necessary to become a Makeup Artist. However, it is highly recommended you gain a nationally recognised qualification or at least complete a course in Makeup Artistry if you want to increase your chances of finding a job. Also, it's essential to have one if you're going to start your own makeup business. People want to have their makeup done by a professional, and qualifying in the area will put you and your customer at ease.
Many professionals also advocate for the first-hand experience. If you want to be a great Makeup Artist, then practising widely is crucial. You would want to practice with different face shapes, skin types, and eye shapes. If you can't find people to practice on, you might want to apply for an internship or volunteer at your local beauty salon.
There are specific makeup schools or beauty schools you can attend, however, there are also many universities and vocational training providers that offer a number of specific makeup courses, such as theatrical makeup, character design, and special effects.
Establishing yourself on social media is another step you might consider. Take photos of the people you've applied makeup to and create a portfolio to show to your employers. Even if you decide not to create a social media account, you should still compile photos of your work, to prove to potential employers your understanding of color, shading, lighting, and attention to detail. It's not entirely necessary, but it will definitely increase your chances of securing a position.
Along with promoting yourself on social media, you might also consider networking and making yourself known in industry groups. Try to update your portfolio on a regular basis and maintain your online presence.
Want to make it in makeup?
A professional makeup artistry course is perfect if you're just starting out Explore online makeup courses, short courses, and nationally recognised qualifications.