Published on March 19, 2021
5 Insights on the Challenges and Rewards of Working in Aged Care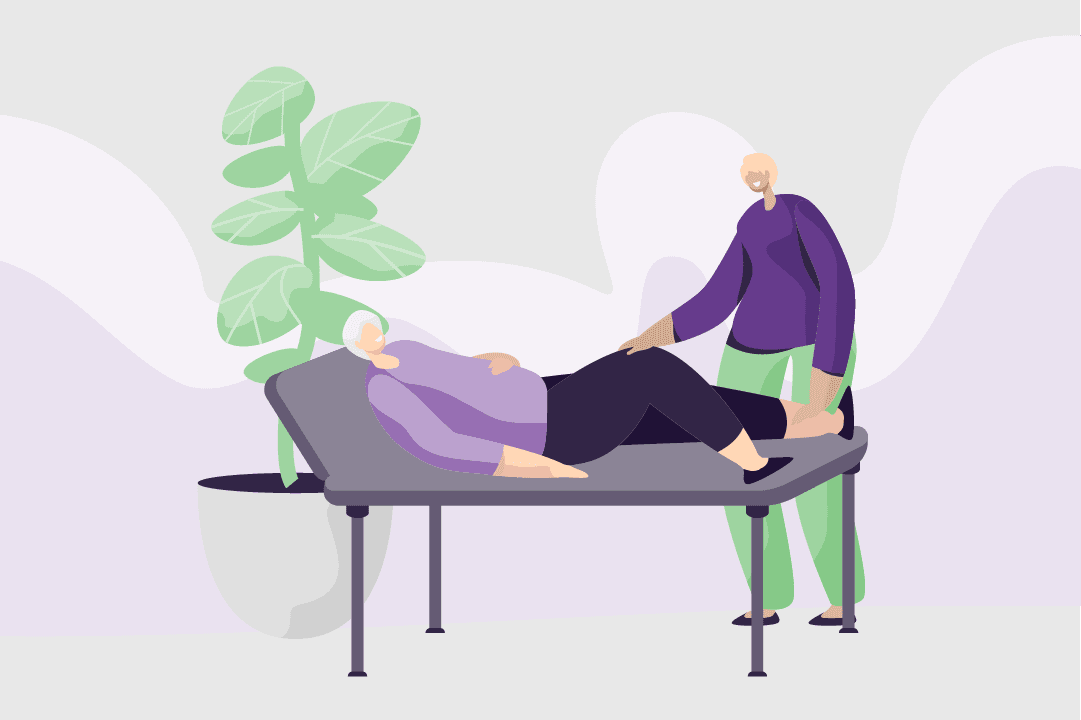 Aged care workers support older people in their daily lives in a number of settings including in-home care and residential aged care.
They holistically provide care services for all aspects of their client's health, including physical and mental health, and cognitive and social wellbeing. Aged care workers come from a range of disciplines including occupational therapy, physical therapy, nursing (including as a registered nurse), lifestyle consulting, or with specific training in aged care services, community services, or individual support services.
Julia Caplan, an occupational therapist at Total Health Physio, shares her insights from her experience in the aged care sector.
---
Meet Julia
Since graduating from La Trobe University in 2016 with a Bachelor of Health Science and Master of Occupational Therapy, Julia has gained a wealth of experience in aged care.
In her role as an occupational therapist at Total Health Physio, she works tirelessly to ensure the lives of her clients are easier and more fulfilled.
These are her insights on the challenges and rewards of working in aged care.
---
The aged population is rewarding to work with
Before Julia started working with the aged population her perception of the role was shaped by stigma around the aged care industry. But she says, "I have learnt that it is so much more than that!"
Julia found that she enjoyed working with older Australians immensely.
She says growing up, "I always enjoyed the relationships I had with my grandparents and listening to their life stories. We were close and as they aged, I wanted to be able to help them if they ever needed help. I also felt that I wanted to be able to care for my parents too, once they become older."
These relationships drew her into aged care. Julia describes how, over time in the career, "I saw how meaningful it was to both myself and my clients to be able to spend time with them and also learn about their lives. As a result, I have heard so many varied and interesting stories from people who come from different walks of life. Stories of love, family, courage and despair — including significant historical events such as The Holocaust.
"I would encourage future aged care workers to listen to their clients' stories as some people have lived fascinating lives. Make sure you take an interest in them, let them know they are important and valued."
---
Your goal is to improve people's quality of life
More than ensuring that basic hygiene tasks are taken care of, Julia discovered that her career "became about ensuring my clients were able to maintain their level of independence.
"It's about giving them agency and dignity whilst assisting them as I work to ensure they are safe in the community. Ultimately, the aim is that they are able to live a long and healthy life."
Aged care workers undertake the following tasks to support clients' independence:
Helping people with daily tasks like showering, or preparing food. This help means that clients can live at home while getting support for things they find challenging.
Ensuring the clients' spaces are clean and free from hazards. This work helps clients stay safe.
Helping clients get around and stay socially engaged. For example, taking them to appointments, shops, or on outings.
Teaching clients to use adaptive technologies. Adaptive tools can help clients do tasks they find tricky like opening jars or climbing stairs.
Giving clients exercises that tailor to their abilities and needs.
Providing companionship and conversation.
These tasks are customised for the client. You work with the client to help them identify their needs and goals. It's a rewarding way to work. "It gives me a lot of satisfaction to help them achieve their goals," Julia says.
---
Deterioration can happen rapidly, which is a huge challenge
When older clients become ill or have a health complication, they are at risk of sudden decline.
"When you have developed a great rapport with a client and working towards achieving their goals, a health complication might impact their progress or unfortunately, they might pass away. That can be distressing. It has impacted me on a number of occasions," Julia says.
Given the emotional challenges of working with a vulnerable population, it's important to prioritise self-care.
It's also important to respond to your client as they are. This may mean having to adapt to changing circumstances, and being patient with both yourself and the client as you both learn to adjust to changes.
Although deterioration can be a major challenge, it's also important to remember that clients can recover from setbacks. As Julia says, "The most rewarding thing is seeing people recover from health complications and seeing them improve their mobility or daily living skills." You can use this time to give clients a realistic sense of hope as they go through challenges.
"Families are generally so appreciative that you are able to be there to assist their family members when they are unable to and ensure they maintain a good quality of life."
Self-care strategies
Having someone you can talk to about the challenges. It can help to vent or debrief about on-the-job difficulties. Colleagues can be particularly supportive since they have likely had similar experiences and know what it's like.
Having some fun hobbies you can look forward to after work hours.
Knowing what strategies help you unwind. Maybe it's having a relaxing bath, or watching your favourite TV show.
Allowing yourself to feel sad or frustrated when setbacks happen.
---
People might not always accept your advice
Despite your training and professional expertise, clients may not always follow your advice. "Working with people who also do not follow your advice can be a major challenge as it can impact their risk of falls and further deterioration," Julia says.
It's important that the advice you offer is tailored to your clients' needs and is achievable in their given situation. You may also adjust your advice to make it simpler to follow, or have challenging conversations to identify why your advice isn't being followed. Ultimately though, you need to be able to offer the best care possible while accepting that clients are free to make their own choices.
It's also possible that clients do their best, but aren't making as much progress as expected. When this happens, Julia explains the challenge is to "remain patient, as progress can take time".
---
Trust, compassion, and care are key attributes for an aged care worker to have
"There are three attributes that my company and I advocate and follow daily whilst working in aged care. They've allowed me to develop good rapport with my clients," Julia says.
"I believe these attributes are essential to work in this field: trust, compassion and care."
"By possessing these qualities, I feel I am able to provide the best possible care for my clients."
Trust involves feeling confident in yourself, your work, and your client. You reliably do your best each day and, as a result, can expect rewards.
Compassion involves seeing the humanity of your clients, empathising with their challenges, and feeling committed to their goals. You provide emotional support alongside clinical care. It means you enjoy the company of the clients you work with and genuinely want the best for them.
Finally, care is (clearly) essential to care work. It involves putting your trust and compassion into action. You use your training and expertise to bring about outcomes such as helping to maintain or increase their independence, reach their goals, and maximise their quality of life.
Having a values-based approach to your career is a great way to tap into meaningful work. It's also useful to be a reflective health professional when applying for care jobs with aged care providers. This approach is appealing to potential employers who want to find ethical, thoughtful support workers.
Although there is a range of challenges working as a carer, the career is rewarding beyond belief. Aged care is a worthwhile career path where you get to make a huge difference in the lives of interesting, wise clients.
Feeling inspired to start caring for older Australians?
Total Health Physio was founded to provide trusting, compassionate and caring healthcare to older adults and the elderly in Australia. They are always looking for new exercise physiologists, physiotherapists, and occupational therapists.