Published on December 23, 2021
The Great Healthcare Resignation: What It Means for Healthcare & Social Assistance Workers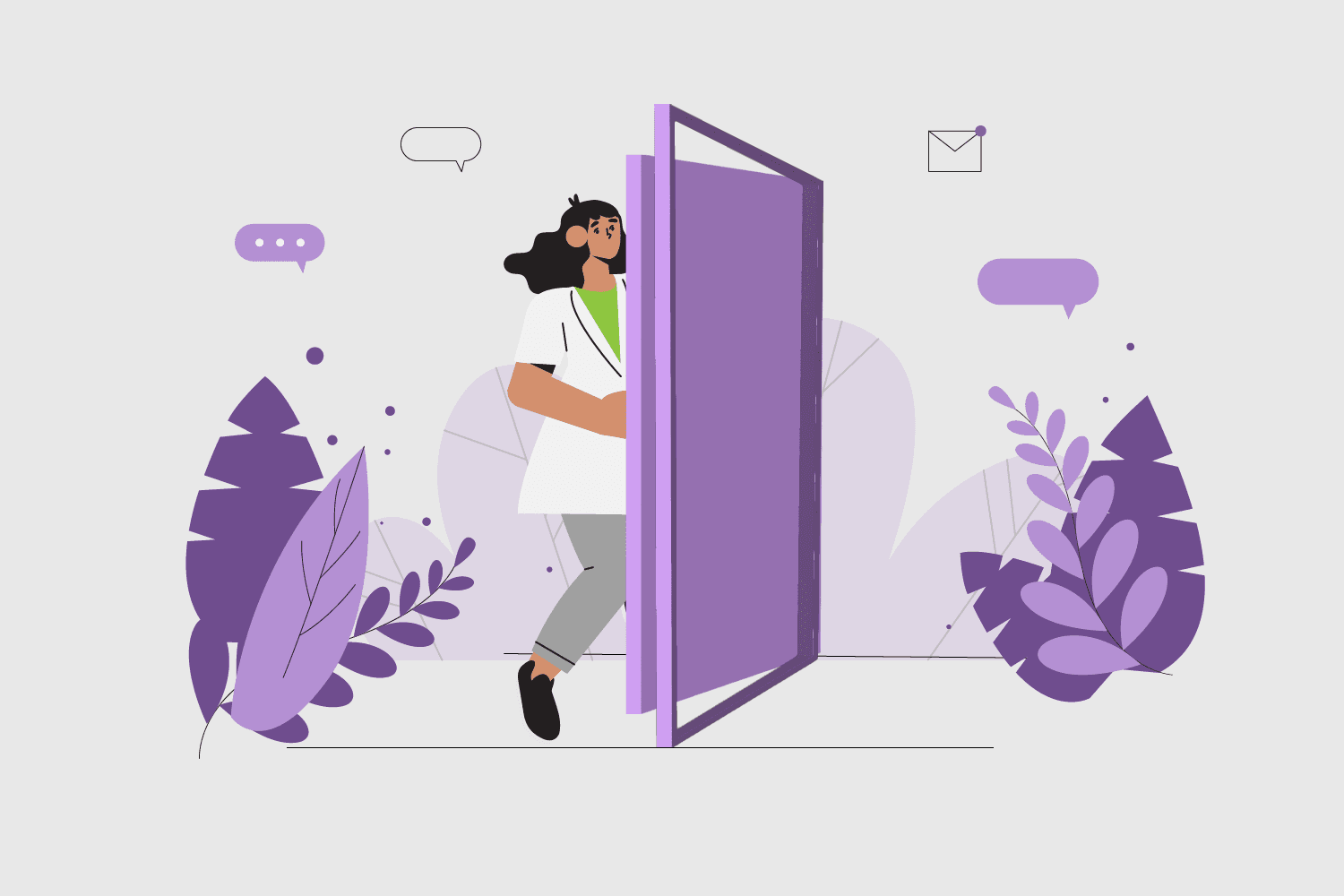 Heard a few doors slamming lately? The low hum of a fridge in an empty office? That's the sound of The Great Resignation, as workers walk out on their jobs in record numbers.
Shockwaves from the Great Resignation are being felt all over, but things look — and feel — much different from the frontlines than from behind a desk.
But while quit rates are highest in the healthcare and social assistance sector (after tech), articles so far have focused on knowledge and tech workers looking for a change.
So what's going on for our healthcare, disability and aged care, and community workers? What is driving people to quit in such large numbers?
If you're in the sector or thinking of moving into it, these questions are especially pressing:
What does this mean for my job security?

What challenges are my peers facing — should I be concerned about them?

Are there any hidden opportunities I should be aware of?
We asked 200 workers in healthcare and other high-turnover sectors. Here's what we learned. You'll also hear from managers in a hospital and a community service provider about what's been going on, and what that might mean for you.
While by no means an exhaustive survey, this snapshot points toward some broader trends:
Nearly 2 out of 5 healthcare and social assistance workers have changed jobs in the past year.
A third say they are seeing a significant increase in quits.
23% say they are likely to quit their jobs in the next 6 months.
Feeling tired, overwhelmed and at risk of burnout is the most common workplace challenge, particularly within the healthcare industry (31% versus 24% in other high-turnover sectors).
50% are considering a career change — a similar proportion to other high-turnover sectors like tech, hospitality and retail.
How we ran the survey
We surveyed healthcare and social assistance workers in Australia (120). For comparison purposes, we also asked workers from industries with the highest turnover (20 each in software, information and data services, hospitality and retail).

---
Is healthcare seeing more quits than other high-turnover sectors?
Tech workers may have one foot out the door — but many healthcare workers are a step behind.
More people are quitting recently, says Tom, a clinical lead with a community mental health service. Rachel, who works as a nurse unit manager at a private hospital, says her ward is seriously short-staffed.
Our survey suggests the same. Nearly a third of workers say they are seeing a steep rise in quits, with 23% saying they are likely to quit their jobs in the next 6 months.
It also seems like resignations are climbing faster in the sector compared to the hotel and food services sector, industries notorious for high turnover.
Large surveys show even larger numbers
According to an oft-cited

Microsoft survey

, 40% of workers globally said they intended to quit in 2021.

Aaron McEwan, an innovation expert at Gartner, told the ABC that up to

3 in 5 Australians

could be looking to change jobs.

HR platform Employment Hero's

survey

puts that closer to half (48%).
It's unclear whether these surveys are covering all occupations and industries, or mostly just knowledge work. Microsoft collected their data from interactions on LinkedIn and Microsoft 365, tools typically used by knowledge workers. Employment Hero's survey covers a representative spread of locations and demographics but doesn't disclose what industries its respondents work in.
---
Hanging in there — for how much longer?
After two punishing years at the forefront of the global health crisis, workers in the healthcare and social assistance sector are feeling the burnout.
"It's been a tough time working in mental health throughout COVID," says Tom. "Some are in need of some job respite."
Fewer healthcare workers have quit compared to other sectors with high quit rates (33.3% vs 58%) in the last year.

More healthcare workers (28% vs 20%) say they are likely to leave in the next 6 months.
And half say they're considering a career change.
"Turnover of staff also impacts a service's ability to provide support to clients, in turn creating waitlists and delaying much-needed support for vulnerable people," Tom says.
So, what's driving half the workforce to think about leaving the field altogether?
---
Burned out and exhausted
Burnout and dissatisfaction are clear reasons for mass resignations, across a wide range of sectors.
Feeling overwhelmed and at risk of burnout is the most common challenge experienced by healthcare workers, followed by inconsistent work hours, low team morale, and feeling disconnected.
In practice, these challenges play out differently for a marketing exec or software engineer, compared to a nurse or mental health support worker.
During the pandemic, Rachel's hospital stopped doing elective surgery and started taking emergency cases, sharing the burden with the public system.
On top of that, sick leave skyrocketed — with two weeks off for staff who have been in close contact with COVID, or who got COVID themselves. Add COVID scares, and you've got half the staff on sick leave at any one time.
"We were so short-staffed, all my staff were doing double shifts, maybe starting at 7:00 in the morning or finishing at 10:00 at night," Rachel says.
And then, when another ward had to shut down due to lack of staff, Rachel's staff had to run two wards with half the usual hands on deck.
The healthcare industry has the highest proportion of workers experiencing a significant change in workload as a result of their colleagues resigning.
Commentators like to point out that the pandemic has forced people to see work differently. This shift in perspective showed that work was not working for them — that things didn't have to be this way.
Perspective matters. A 70-hour workweek just looks different from the kitchen table of your studio apartment. Things look different again when you're staring down six consecutive double shifts in a hospital, at 15 hours a pop.
---
Looking for certainty and stability
In such a volatile, high-stress environment, people understandably look for more stability, flexibility and better working conditions. Tom thinks that what workers really want is "long term contracts, or even better, permanent roles".
"Not many healthcare and social assistance workers are in the work purely for the money, but a certainty and stability of salary makes the challenging work that bit easier," Tom says.
"At the end of the day workers want to support clients, and being able to offer clients some peace of mind around the length of support and consistency of workers is a mutually beneficial situation."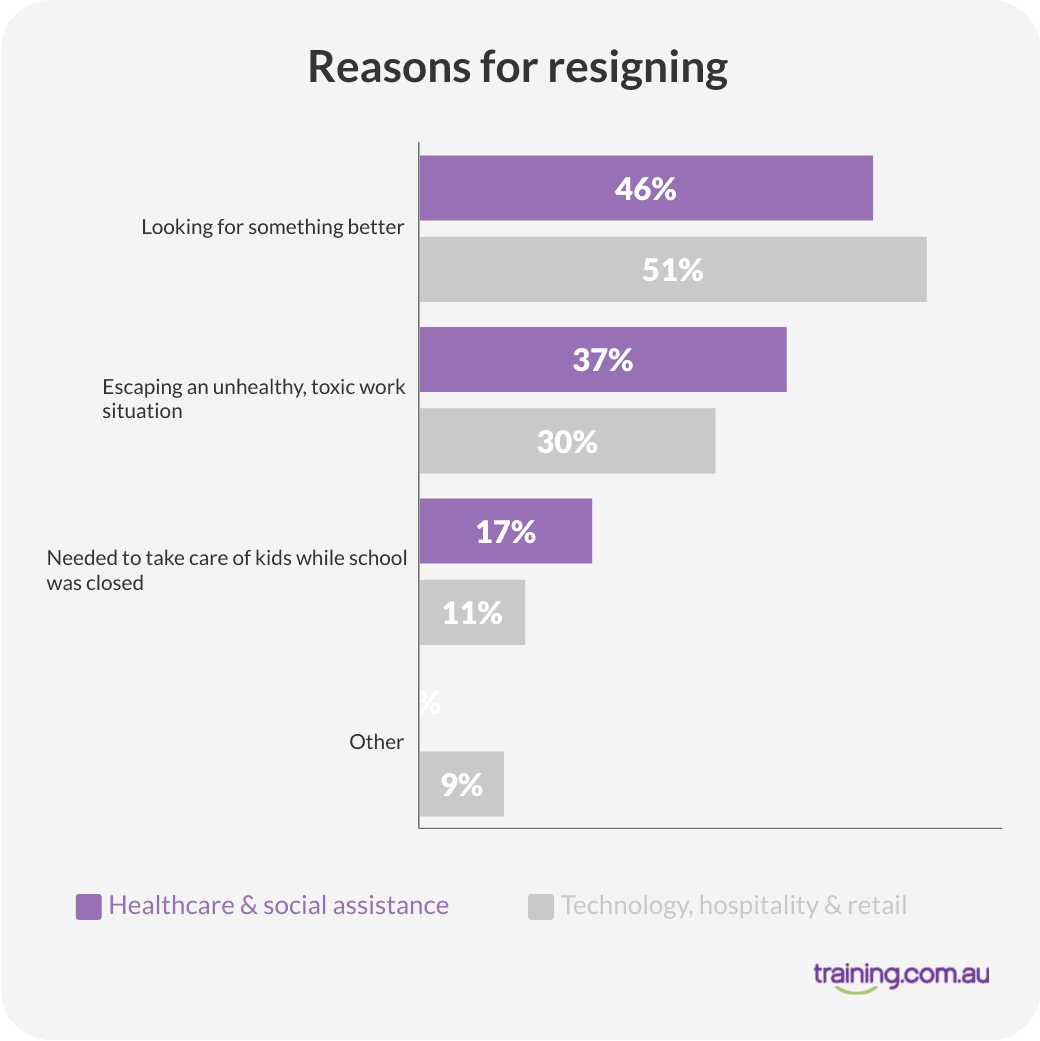 Healthcare and social assistance workers are more likely to be quitting an unhealthy, toxic work situation than other high-turnover sectors.

Healthcare and social assistance workers more willing to stay if offered a pay rise.
Though pay doesn't appear to drive resignations, it does seem like many people are looking for better wages. Even the most committed, passionate healthcare workers aren't immune to a better offer when the personal cost has been so high.
Large numbers of Rachel's staff have been drawn away by higher-paying, less-demanding COVID roles, like testing, hotel quarantine, and vaccinations.
"Many people are leaving because they're getting paid $60 or $70 an hour to do that. On the ward, they'd get paid between $25 and $30. So they're getting double the money to do probably half the work."
It's understandable, she says, especially because these roles don't involve direct patient care.
---
So what does this mean for you?
As we emerge from the darkest days (touch wood), some rays of hope are shining through.
Demand for healthcare and social assistance workers looks set to keep climbing.
Source: National Industry Insights
In times of staff shortages, management is often more eager to keep staff — which means keeping staff happy.
If you're a healthcare worker who needs some respite, you may be able to take on some of the lucrative COVID-related roles while reducing hours in your regular workplace.
And if you still have the energy to stay in your role, you may now have more negotiating power to improve your working conditions. Rachel says that in places like hospitals with highly structured pay, a raise may not be on the cards, but there are other things you can ask for.
This could mean asking for more training or upskilling. It could also mean a better schedule, or choosing your own days off.
"I'm trying to do flexible hours," Rachel says. "That's what will keep people in the job, and you're trying to help them do that."
It could also be a great time to upgrade your skills. Our survey suggests that 60% of HCSA workers plan to upskill or reskill through study.
Hidden opportunities, silver linings
Variety is another silver lining for those working in hospitals. Lately, Rachel says, management is letting workers rotate through different parts of the system. "People might spend one week with me in the surgical ward and they might work in an emergency department for the other week so that they're not working in the same place all the time."
While change isn't always quite as good as a proper holiday, it can certainly make things more interesting — and maybe even give you back some of your drive. If you're early in your career, this is a hidden opportunity to get familiar with different departments.
And if you're considering getting into healthcare, Rachel suggests trying out a health assistant role, helping out on the wards. "They help out a lot," she says. "We couldn't work without them." Not only will it look great on your CV, but it will give you a taste of nurse life without having to go through a degree and a placement first.
"If you start on your terms, being a health assistant, you could go into different wards and think, 'Oh yeah, I like this,' or 'I don't like that. You're still getting paid for that at the same time."
Improved safety and security
Rising vaccination rates mean that healthcare workers can return to "some sort of normality," but Rachel thinks some parts of the healthcare sector will be forever changed.
One of these things is improved infection control. COVID has seen workplaces introduce a more stringent approach to cleaning, hand-washing and general sanitation.
Workplaces may also be safer for patients and staff, thanks to the new check-in requirements and QR codes. "I think that there's a good safety thing because before any Tom, Dick and Harry could come walking into the hospital," Rachel says. "Whereas now, everyone's got to sign in, we know who it is."
For our largest-employing sector, the last two years have been a test of endurance.
Generalisations about reasons for quitting — like a change in perspective, or an existential crisis — don't usually apply for workers in the healthcare and social assistance industries.
So many things have changed since the pandemic hit, especially in this sector. If this is your career now (or your next career move) it could be a pivotal moment for you, and a good time to look at where you want to go next.
A huge amount of change can be daunting. But it's also an opportunity to make your own changes, maybe one that you've been waiting for a long time.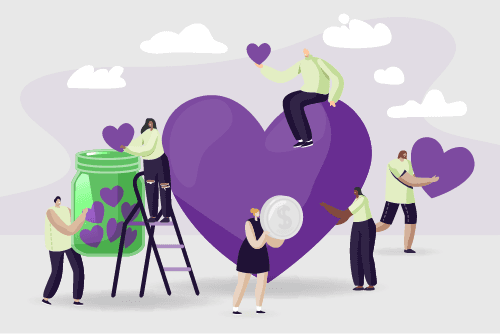 Want to help others, but need some career ideas?
Jobs where you can make a true difference and immensely varied and in high demand. From social work to healthcare to youth work, there are roles for every passion and skill set.
Read on