Published March 18, 2021
15 Highest Paying Jobs in Australia: 2021 Edition (based on real data)
Published on March 18, 2021
Updated on July 16, 2021 - 2021 data refresh
If you've got your sights set on a high-paying career, it's essential to look beyond the salary package and figure out what your take-home pay would actually be.
We've crunched the numbers to reveal the top 15 jobs that'll truly pay top dollar in 2021.
---
The 15 highest-paying jobs in Australia
General counsel
Anaesthetist
Cardiologist
General manager/project manager
Company secretary
Head of operations
Surgeon
Internal medicine specialist
Chief technology officer (CTO)
Head of technology
Investment director
Portfolio manager
Chief financial officer (CFO)
Head of compliance
Financial dealer
The data powering our insights
Looking at a single source of data can be misleading.
That's why we've crunched the numbers across all three reputable reports to reveal nuanced insights into the highest-paying jobs of 2021.
It's no secret that the economy has behaved unpredictably in the wake of the COVID-19 pandemic. Despite this, previously collected data still offers valuable insights into labour force trends. We can expect many high-paying jobs from previous years to remain equally rewarding (if not more so). 
The insights in this article are the culmination of Indeed's 2020 job report, the Australian Taxation Office's 2017-18 financial year data, and the Michael Page salary guide from 2020. 
The ATO's data reveals that careers in the medical field continue to be some of the most lucrative. Tech careers are also on the rise, with more tech jobs on the Michael Page list than any other field.  As we continue into the new year, we will likely see these tech roles continue to pay handsomely. 
According to Anders Sörman-Nilsson of Thinque think tank, "a decade's worth of technological advancement and skills evolution is being compressed into 2020 due to COVID-19. The virus has unleashed a global 'future of work' experiment on us all."
1. General counsel
It's no secret that law is an incredibly high-paying industry. General counsels come out on top among legal professionals, specifically those that work in-house at an ASX 100-listed company. This means you've been hired to work for that particular company rather than working at a law firm that provides legal services to companies.
A general counsel is the chief lawyer of a legal department, typically within a company or government department. It generally takes at least seven years of experience to reach this high-level position. With an average salary package of $400,000, in-house general counsels take home $249,333 a year or $4,795 a week.
To secure a high-paying position as an in-house lawyer, you will need to:
Complete a Bachelor of Law undergraduate degree or a Juris Doctor postgraduate degree.
Complete Practical Legal Training (PLT).
Gain admission from your relevant state or territory's Admissions Authority within five years of graduation.
Apply for a Practicing Certificate from your local Law Society.
Complete 18-24 months of supervised practice at a law firm.
2. Anaesthetist
With the risk and complexity involved, it's no surprise that anaesthetists tend to be incredibly high earners. Anaesthetists are medical doctors that work alongside surgeons to administer general or local anaesthetic to patients.
Our numbers reveal that anaesthetists earn $386,065, which is $4,647 per week after taxes.
To work in this high-stakes field, you will need to:
Graduate with a medical degree, typically taking 4-6 years.
Complete an internship at an accredited hospital.
Gain admission from your relevant state or territory's Admissions Authority within five years of graduation.
Finish your residency at an accredited hospital.
Undergo five years of specialist training with the Australian and New Zealand College of Anaesthetists.
3. Cardiologist
Another high-paying medical career, cardiologists specialise in diagnosing and treating conditions relating to the heart and blood vessels. From carrying out tests to performing surgeries, this high-stakes role also pays handsomely.
Australian cardiologists earn an average of $351,827, or $222,838 after taxes. That's $4,285 a week!
To enter into this specialised field, you'll need to:
Complete a Bachelor of Medicine or Medical Studies.
Advance to a Doctor of Medicine degree.
Work in the public hospital system for two years to complete your Internship and Residency.
Apply to the Royal Australasian College of General Practitioners, undergoing further training and receiving your Fellowship. This will generally require six years of study while also working as a doctor.
Pursue Advanced Training in Cardiology, which involves three years of full-time equivalent training.
4. General manager/project manager
Don't have a medical bone in your body? You'll be pleased to hear that there's plenty of high-paying jobs in Australia's booming construction industry.
As the name suggests, general managers oversee all company operations, including allocating budget resources, formulating policies, monitoring staff, improving administration processes and engaging with vendors.
General managers or project managers earn $350,000, which works out to be a take-home pay of $4,266 a week.
To start bringing home the bacon as a general manager, you'll have to:
Complete a bachelor's degree in business administration or similar. You might even want to complete an advanced degree like a Master of Business Administration (MBA) to increase your employability.
Gain experience across an organisation, particularly in the areas of managing people and overseeing processes.
Pathways: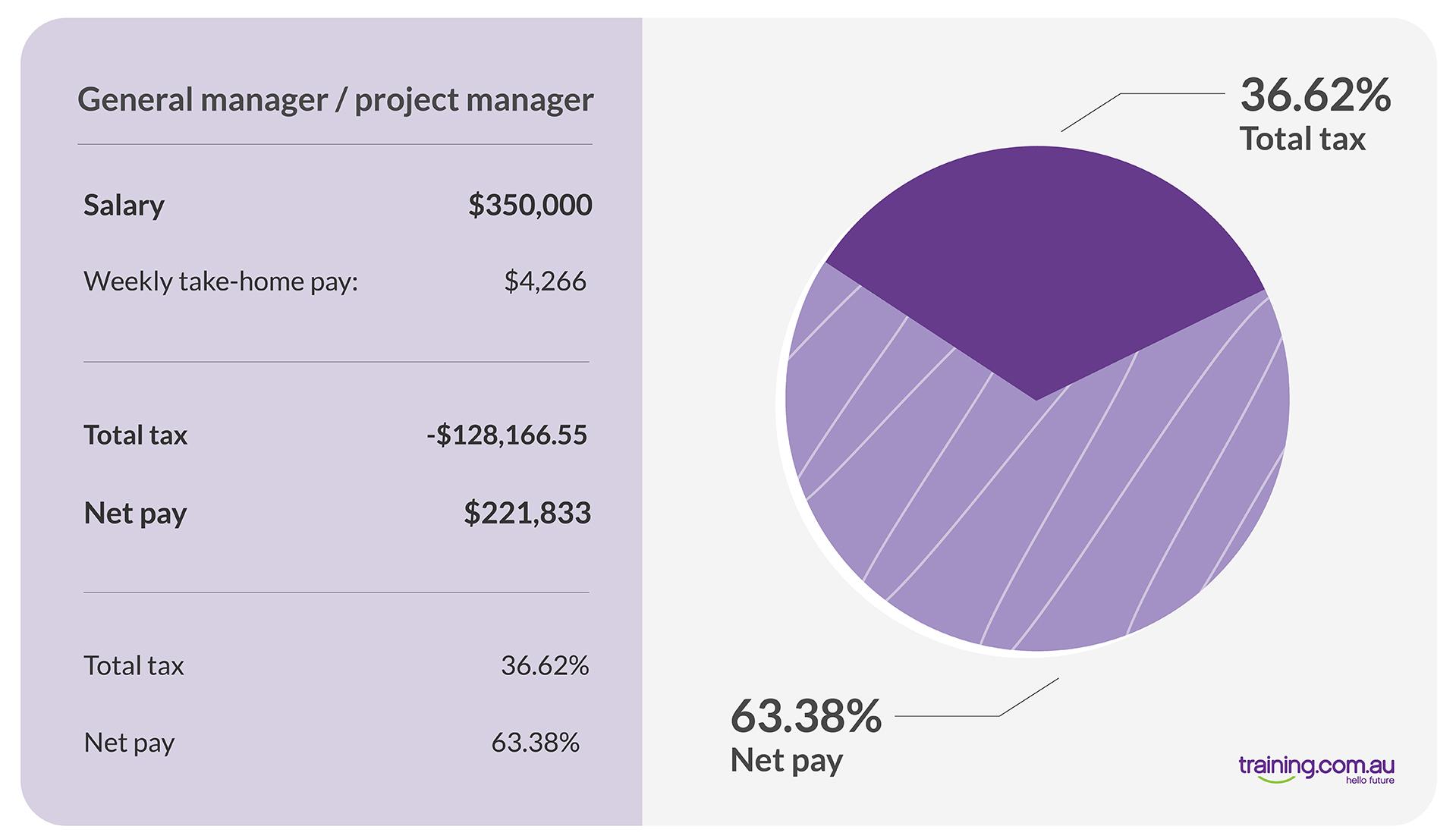 5. Company secretary
It will likely come as no surprise that law careers can be very lucrative. It is, perhaps, surprising that the role of a company secretary trumps barristers or lawyers, however! A company secretary provides legal, administrative and clerical support, keeping the company on track.
Company secretaries earn $342,500, or $217,708 after taxes or $4,187 a week straight into your pocket!
Company secretaries usually have a professional qualification in business, law, accountancy or public administration. 
Pathways:
6. Head of operations
The Head of Operations at a mining company oversees operations, ensuring that resources are used efficiently and that business profits are maximised. As a Head of Operations, you can expect $325,000 a year, or $208,083 after taxes. This works out to be a take-home pay of $4,002 a week. 
Professionals in this role usually have at least five years of experience, and have worked their way up the ranks and obtained professional qualifications. 
Pathways:
7. Surgeon
Surgeons carry out preoperative diagnosis, operations and postoperative treatments for a variety of conditions. All surgeons have to start as a general surgeon before entering a speciality if they choose to.
General surgeons have an average salary of $305,276, which works out to be $197,235 after taxes or $3,793 a week straight into your pocket.
To make it to the operating theatre, you need to:
Complete a medical degree, followed by training in a clinical setting for 2-3 years.
Apply to enter the Royal Australasian College of Surgeons' Surgical Education and Training (SET) program in your third year.
Become a Fellow of the Royal Australasian College of Surgeons (FRACS) if you would like to train independently.
NaviGator
Course Finder Questionnaire
Step 1 of 5
What is your motivation to study?
8. Internal medicine specialist
Internal medicine specialists, or general practitioners (GP), administer medications, immunisations, and other non-surgical treatments. You'll typically be the first point of contact for patients and refer them to specialists if necessary. 
Internal medicine specialists earn $304,752, which works out to be $196,947 after taxes or $3,787  a week.
To become a GP, you will need to:
Complete a Bachelor of Medical Studies before commencing a Doctor of Medicine.

Undertake an internship at a recognised hospital.

Become registered with the Medical Board of

Australia

.

Obtain GP fellowship.
9. Chief technology officer (CTO)
Considered an 'emerging role', chief technology officers are now highly sought-after. The technology sector continues to thrive, driven by the growth of big data, the rise of AI, and the challenges posed by COVID-19.
CTOs are tasked with managing the technical aspects and resources of an organisation, working towards technological development and ensuring digital readiness.
Our numbers show that CTOs make $300,000 a year, $194,333 after taxes or $3,737 a week straight into your account.
To become a CTO, you need to:
Complete a Bachelor's Degree or higher in a computer science-related field, with a focus on cybersecurity, big data and AI.
Gain work experience across areas like network architecture, information security management, and big data engineering. CTOs typically have 15 years of experience in other IT roles before they are entrusted to lead an entire organisation's technology strategy.
Develop skills in business, leadership and decision-making.
Pathways:
10. Head of technology
Like CTOs, the head of technology manages the technical aspects of a company to meet growth targets. Our figures show that a Head of Technology can expect to make $300,000, or $194,333 after taxes. That's a take-home pay of $3,737 a week!
To work your way up to being the head of technology, you should:
Obtain a Bachelor's Degree in information technology.
Gain industry experience – it's typical for a head of technology to have around 10 years of experience.
Pathways:
11. Investment director
An investment director, sometimes called a fund manager, helps clients get the greatest return on their financial assets. This role has long been a high-paying one, with investment directors working in the finance sector earning $300,000. This works out to be a take-home salary of $194,333 a year or $3,737 a week.
A certificate or diploma is enough to get started, but a Bachelor's or Master's Degree can help add further legitimacy to your work. 
Pathways:
12. Portfolio manager
A portfolio manager in the IT industry manages investments, projects and activities relating to its IT department.  While it's a niche and up-and-coming role, our numbers reveal that IT portfolio managers earn an average of $280,000, which equates to take-home pay of $3,526 a week.
Pathways:
13. Chief financial officer (CFO)
The executive-level position of chief financial officer has been consistently high-paying throughout history. Our numbers show that the average salary for CFOs is $280,000, or $3,526 a week after taxes. Bear in mind that CFOs often receive yearly bonuses, which allows for massive earning potential. 
CFOs are responsible for managing an organisation's financial activities, including tracking cash flow, financial planning, and analysing company strengths and weaknesses.
To earn bank as a CFO, you should:
Complete a Bachelor's Degree in business, economics, accounting or finance.

Complete a Certified Public Accountant (CPA) examination or a Master of Business Administration (MBA)

Gain leadership experience within the financial department of a company.
Pathways:
14. Head of compliance
The head of compliance ensures an organisation adheres to policies and procedures, performs audits, and designs control systems. You can expect to make $277,500 a year in this high-level legal position or $181,958 after taxes. That's $3,499 a week in take-home pay. 
Becoming the head of compliance requires quite a few years of experience and a relevant qualification in compliance, risk management, or quality auditing.
Pathways:
15. Financial dealer
The striking title of financial dealer refers to someone who buys and sells commodities and securities for profit under their own name and with their own capital. 
Our data shows that financial dealers make around $275,984   a year, which is $3,483 a week after taxes.
Most financial dealers have a university degree in commerce, finance, accounting, economics or actuarial science, but some also thrive in the profession with a VET qualification. As a financial dealer, you'll most likely work in stockbroking firms, financial planning organisations, banks or accounting practices. 
Pathways:
---
If you have a career change on the horizon, consider one of the above roles to ensure you set yourself up for success in 2021.
Explore our relevant courses to make sure you have the know-how necessary to make your mark in your new job.