Published April 1, 2020
Careers in Aged Care: 8 Things to Know in 2021
Published on April 1, 2020
Updated on October 8, 2021 - New statistics and insights added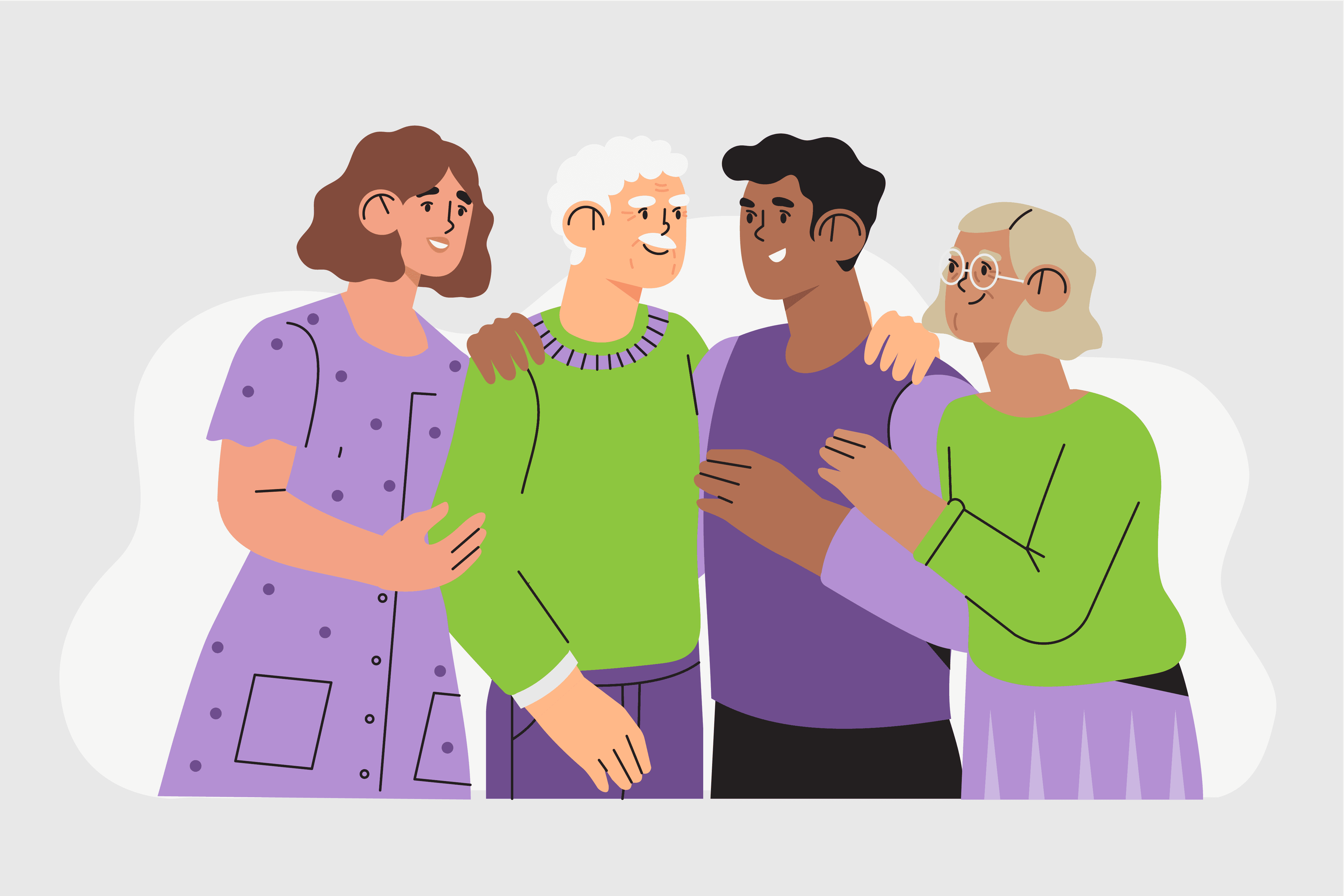 Taking care of older people in the aged care services industry may be one of the most demanding and challenging jobs in the health care sector. It also comes with plentiful rewards and opportunities that can lead to a gratifying career. If you're passionate about helping people, moving into aged care is your chance to make a genuine difference in people's lives.
As an aged care worker, you'd be able to dedicate your career to supporting those living out the later chapters in their lives. It's a deeply rewarding career. But making the decision to become an aged care worker isn't always straightforward.
You'll want to consider factors like:
What area of aged care should you pursue?
Which specialisation are you most passionate about?
Will the job really suit you?
What aged care qualifications should you study?
That's why this aged care resource library exists. To help you find the answers to these questions and understand how to navigate your new career path.
Where are you in your journey?
To help you navigate to the answers and insights you need, select the section that best applies to you from the 'In this post' navigation menu.
---
Deciding whether an aged care career is for you
---
Aged care skills
On top of being dedicated, passionate and caring, there's a vast range of critical aged care worker skills. These include:
Technical skills:
First aid skills
Hygiene knowledge
Home maintenance
General health knowledge
Physiotherapy assistance
Safe lifting and OH&S
Legal and ethical knowledge
Soft Skills:
Compassion
Responsibility
Relationship-building
Patience
Adaptability
These skills come into play every day as an aged care worker. They'll allow you to perform a vast and varied range of responsibilities in the role.
Role and responsibilities of individual workers in aged care
There are many positions within the aged care industry to suit a variety of skills and personalities. There are careers in frontline support, administration, human resources, and catering as well as managerial and corporate roles. There are also a variety of situations you as a support worker can work within.
You may work as a personal carer with elderly persons or families with people who receive aged care. Career opportunities abound in community care where you can offer in-home care and services.
Alternately, you might work at a residential aged care facility, providing continuous nursing support. Or you might choose to work at a community-based aged care provider, or in respite care services for those at the end of their lives.
Whether they work in community care, residential care or respite care, a support worker will report to the registered nurse or supervisor and work under their direction. With the appropriate professional development and career development opportunities, you can progress to supervisory roles and oversee other team members, or behind the scenes managing the overall operation of care facilities and support services.
| | Aged care duties for personal care assistants |
| --- | --- |
| 1 | Providing companionship and conversation |
| 2 | Helping people with showering, toileting, dressing and other personal care and hygiene needs |
| 3 | Administering medication |
| 4 | Domestic duties such as preparing food |
| 5 | Ensuring your clients' spaces are clean and free of hazards |
| 6 | Helping clients get around and stay socially engaged. For example, taking them to appointments, shops or outings |
| 7 | Teaching clients to use adaptive technologies to maintain their independence |
| 8 | Giving clients exercises that are tailored to their abilities and needs |
| 9 | Liaising with clients' family and other health professionals in their health care team |
Working in aged care, your duties will be varied, and you'll follow an individual treatment plan for each client. But the crux of the role is about providing support to help your clients maintain their physical, emotional, and social wellbeing.
Aged care careers are widely regarded as demanding roles. But the rewards and job satisfaction of helping one of Australia's most vulnerable populations far outweighs the challenges.
Keen to learn more about aged care worker duties and skills?
More than Physical Support: A Realistic Look at Aged Care Worker Duties and Skills
This article takes a deep-dive into the role of an aged care worker, including the most crucial aged care skills you'll need and how to hone them to make a real difference in this role.
You'll learn about:
Aged care worker duties and responsibilities
Aged care worker skills
---
7 best aged care jobs
Aged care is actually a large umbrella field covering a vast number of roles. The duties, responsibilities and salaries of the various types of aged care workers differ. It's a good idea to compare the types of aged care jobs to get a good understanding of where your passion lies, and where you want to make a difference.
| | Aged care jobs | Earning potential |
| --- | --- | --- |
| 1 | Aged care support worker | $59k |
| 2 | Residential aged care support worker | $137k |
| 3 | Community Care/Lifestyle support worker | $70k |
| 4 | Care manager | $137k |
| 5 | Physiotherapist | $101k |
| 6 | Enrolled Aged Care Nurse/ AIN | $57k |
| 7 | Registered Aged Care Nurse | $99k |
Want to discover the key responsibilities for each of these roles, as well as more salary information?
7 Best Roles to Work in as an Aged Carer
This article explores seven different aged care jobs, so you can picture the role you could play in each, and the difference you could make.
You'll learn about:
The types of jobs in aged care
The average aged care salary for each role
---
Understanding the aged care industry
Aged care in Australia is starting down a path towards massive change.
Despite being one of the largest industries — one Australia is increasingly dependent on — it's also one of the most understaffed, underskilled and underfunded.
These facts are baffling. The number of Australians over the age of 85 is expected to rise over 50% by 2058, to 1.5 million. Along with the increased frailty of our elderly population, this is the reason that qualified, caring aged care professionals are in demand.
Qualified and caring are the operative words in that statement.
The Royal Commission inquiry into Australia's aged care industry revealed that these two things are shockingly absent from the industry.
The path towards change in aged care requires many more dedicated, passionate and caring workers to enter the industry and make an impact. However, these traits aren't inherent in everyone, and finding people with an innate capacity to care is rare. If you possess these traits, you're exactly the kind of person this industry is crying out for.
What this means for you is that once qualified, you'll have plentiful job opportunities. Carers are in demand across the country, so whether you're based in NSW, Queensland, Victoria or Western Australia, you can get employment in the sector quickly and get started building a successful, fulfilling aged care career. And it's doubtful that you'll have to worry about unemployment with this kind of demand, making aged care a future-proof career.
7 Things to Know Before You Start Working in Aged Care
This article will give you a top-level overview of the aged care industry, so you can decide whether it's a path you'd be interested in travelling.
You'll learn about:
What it's like working in aged care
Common aged care jobs
Why work in aged care
Understanding the stigma around aged care and how it must be changed
Australia's ageing population continues to create opportunities for caring and passionate individuals to make a real difference.
However, the terms, "caring" and "passionate" are not words that have been associated with the aged care industry over the past years. Instead, a Royal Commission inquiry into the lack of staffing, skill and care within Australia's biggest sector has uncovered a tainted culture in industry that we're so dependent on.
Federal Secretary of the Australian Nursing and Midwifery Federation, Annie Butler, explains:
"This [Morrison] Government and many previous Governments, have done nothing to address ever-increasing shortages of registered nurses and qualified carers working in aged care. Without an adequate staffing and skills mix with minimum standards for care workers, nursing home residents have suffered terribly as a result of inadequate levels of care."
The final Royal Commission report titled Care, Dignity and Respect, has been released. It details 148 wide-sweeping recommendations to overhaul the current state of aged care in Australia, and deliver more care and support.
The call for qualified, skilled and passionate aged care professionals is a large part of the report's recommendations. And the need for people like this is increasing as Australia's ageing population becomes larger and more frail.
What about aged care qualifications?
Personal care workers make up 70% of the aged care workforce. However, qualifications aren't currently mandatory for these roles. It's still uncertain as to whether qualifications will be regulated in the future. Prime Minister Scott Morrison says:
"What I want to be sure of is that, the people who are providing care and the services they're providing as part of [the aged care workforce]. That they're properly trained and qualified to do that."
The emphasis on qualifications and skills remains only one facet of working in aged care. The other crucial part is an innate desire to care for others, and a passion for making a difference to the lives of vulnerable populations.
The question you need to ask yourself is: could you become that carer?
The aged care industry needs people like you. Not only to offer outstanding care and support to the elderly. But also to begin tearing off a stigma that has shrouded the industry for too long.
---
If you're curious about what careers in aged care are actually like…
---
Why work in aged care? 5 Insights on the job's rewards and challenges
Without a doubt, working in the aged care sector can become an extremely rewarding and fulfilling career. However, it does come with its challenges both physically and emotionally. Caring for an aged person or one with a disability can have its physical demands. For example, if you are in a support role where you are required to provide hands-on assistance.
You may also be in a situation where you are required to manage someone with difficult behaviours or health issues, you may be working in an environment where you will experience grief and loss and you may be exposed to the emotion of friends and family throughout your career as a support worker.
Occupational therapist, Julia Caplan, has a wealth of experience working in the aged care sector and knows exactly what this feels like.
"When you have developed a great rapport with a client and are working towards achieving their goals, a health complication might impact their progress or unfortunately, they might pass away. That can be distressing. It has impacted me on a number of occasions."
While this is one of the most distressing realities of working in aged care, Julia says there are also some incredible rewards of working with the elderly.
Want to read the five insights she's gleaned from her experience in the aged care sector?
5 Insights on the Challenges and Rewards of Working in Aged Care
This article talks through the insights Julia has learned through her aged care career.
You'll learn about:
Why it's rewarding to work in aged care
The challenges of jobs working with the elderly
The difference you can make in this field
---
Tips on how to become an aged care worker in Australia
So you're ready to begin your career journey as an aged care worker, and now you're looking for a guide on how to actually get started.
Here are two comprehensive overviews on how to get started as an aged care worker, and how to get started as an aged care nurse:
How to Start a Career in Aged Care
This article offers a rundown of how to get your aged care career started, exploring relevant qualifications, skills and industry statistics.
You'll learn about:
How to get into aged care
The typical aged care worker job description
Requirements to work in aged care
Your Best Guide to Becoming an Aged Care Nurse
This article explores the role of an aged care nurse in detail, and offers crucial information on the pathways you'll need to take on your journey.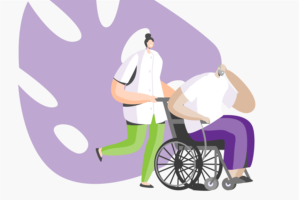 You'll learn about:
What it's like working with the elderly as a nurse
Aged care nurse responsibilities
Aged care nursing pathways
---
How to get an aged care job with no experience
If you're wondering how to become an aged carer, there are two main paths. You can study aged care, or take on a traineeship or apprenticeship.
In addition to your qualification, aged carers also need a first aid certificate. Some employers will require you to hold a driver's license, a national police check, and manual handling training.
1
Study aged care
If you choose to study aged care, most carers complete a VET Qualification in either Ageing Support or Individual Support. Specialisations and units covered vary across providers, so make sure to find out all the details for the courses you're considering. Compare Aged Care Courses in Australia.
2
Take on a traineeship
A traineeship means that you can study and work at the same time, receiving formal and on-the-job training. These must be conducted through a Registered Training Organisation (RTO), and at the end you'll receive a VET Qualification. Read more about Traineeships and Apprenticeships in Australia.
How to Get an Aged Care Job with No Experience: Pathways and Qualifications
This article takes the confusion out of choosing your pathway into aged care, and offers a rundown of the qualifications you might need.
You'll learn about:
Aged care career pathways
Aged care qualifications
Aged care nursing pathways
---
Choosing the right aged care qualifications
If you are planning to explore a career in aged care services, you might be wondering: what qualifications do I need to work in aged care services? There is a vast range of carer courses available to suit your needs.
What qualifications do I need to work in aged care?
While a qualification isn't strictly required to work in aged care, gaining one will prepare you for working in the sector and enable you to begin working straight away. Many employers prefer workers with a qualification since they need less training and supervision to start with.
Whether you have the time to study full-time in class, or part-time via an aged care course online, there's an option for you.
Whether you have the time to study full-time in class, or part-time via an aged care course online, there's an option for you.
Available qualification types for aged care that can be studied at TAFE:
NaviGator
Course Finder Questionnaire
Step 1 of 5
What is your motivation to study?
---
Preparing for your aged care job interview
The aged care industry is crying out for passionate and dedicated workers. But this doesn't mean you can just walk into the industry. Once you've finished your aged care course and are ready to apply your knowledge and skills in a real world setting, you'll have to interview for the job you want.
Since this is an aged care interview, there'll be specific questions that relate directly to your course. Here are some interview tips that can show potential employers that you're the right person for their aged care facility:
How to Ace an Aged Care Job Interview
The article explores four tried-and-true tips to help you ace your interviews and make an amazing first impression.
You'll learn about:
Common aged care interview questions
How to prepare for an aged care job interview
---
Ready to make a difference in an industry that needs you?
Regardless of which role you pursue, a career in aged care is guaranteed to offer a range of challenges, mixed with heartwarming rewards in every situation.
If you're ready to take your first step towards becoming a professional in this rapidly expanding and changing industry, it's time to find your perfect course.
---
FAQs
How much does an aged care worker earn?
The average salary for an aged care worker varies depending on experience and role. On average, aged care workers earn $23.16 an hour. A trainee completing a Certificate III can earn up to $17.50.
Some higher-level management and specialist roles within aged care can pay upwards of $100k a year. Such roles include Care Manager, Physiotherapist and Residential Aged Care Support Worker.
What is a typical aged care worker job description?
There isn't really a set job description for the role of an aged care worker — your daily duties and responsibilities will often be broad and varied. But the crux of any aged care job is to provide care, support and assistance to elderly clients.
Your duties could range from assisting with daily hygiene tasks, helping with domestic duties, to supporting clients as they learn to use assistive technologies.
On a more personal level, you'll also be providing companionship to your clients.
How can I get a job in aged care with no experience?
The aged care industry is bursting with job opportunities for caring compassionate people — even the ones without experience. One of the best pathways into aged care for people looking to gain real world experience as they learn is a traineeship. You'll complete a certificate III with an RTO while also receiving on the job training.
Another way to get a job in aged care without experience is to complete an aged care certification. This is an industry that currently doesn't have mandatory qualification requirements. So showing your commitment and passion for the role by completing an aged care qualification is really appealing for employers. Regardless of a lack of experience, a qualification will send your resume to the top of the pile.