Published on December 2, 2020
A Content Marketing Manager Shares: What's Your Job Actually Like?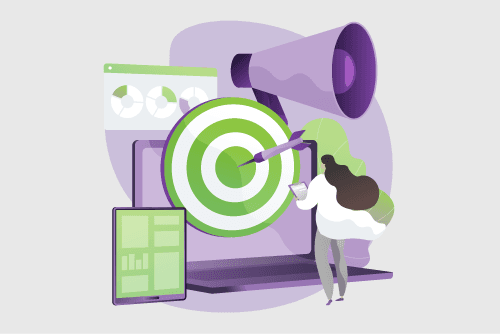 If you're a born writer and researcher who loves working with others on projects, then a career as a content manager is the perfect fit for you. This engaging, satisfying work will allow you to broaden your knowledge and deliver measurable value that makes the internet a better place.
Keen to find out more? In this post, we'll explore what it's actually like to be a content marketing manager — and what skills you'll need to succeed.
---
What do content marketers do?
To understand what a content marketing manager does, it will help to get to grips with content marketing as a discipline.
Content marketing is educational but is not about the products the company sells. The vendor offers such good information that you become loyal to the brand.
Industry experts have called content marketing the present and future of marketing. It's existed since the 1600s, been trending since 2007, and is now used by most big brands and organisations.
What is content marketing?
Content marketing is different from traditional marketing approaches. Rather than directly promoting a product or company, content marketing involves creating and distributing free content that helps your audience in some way — usually through informing or entertaining.
For example, the content you create for your audience should:
Answer their question
Help them solve a problem
Entertain them
Be something they can't get anywhere else
"Content marketing is writing that serves a business objective."— Animalz
Types of content
Content marketing can include a wide variety of forms, such as:
Blog articles
Podcasts
E-books
Graphics
Videos
Webinars
Quizzes
Courses
Distributing content
Another important aspect of content marketing is distribution, which means finding ways to make sure that people actually see your content.
This can take a few forms:
Using Search Engine Optimisation (SEO) to ensure content can be seen in search results
Sharing your content over social media
Including links to content in email newsletters
Engaging in online communities, sharing your resources if they will add value to the conversation
---
The role of a content marketing manager
The role of content marketing manager usually requires a couple of years of experience in marketing and communications roles. It's common to start as a junior content writer or content marketing assistant and get a feel for how it all works.
Something to note: this is not just a content creation role. Because it is a management role, it involves leading a team (unless you're a one-person team). You'll provide direction and feedback for your team's work, liaise with upper management on their behalf, and look after their career growth and development.
Depending on the size of the company you're working in, you may be a one-person marketing department, or you may be one of many content marketing managers looking after a specific part of the business.
---
Introducing Olivia
We spoke to Content Manager Olivia Blazevic, who stepped into this role in March 2019 after briefly working as a Content and Marketing Assistant and then as a Social Media Specialist. She studied a Bachelor of Communications (Public Relations) at university, and now leads a team of five content writers and video producers to create content around tertiary education and career development.
Olivia offers her six lessons gained from starting a role as a content marketing manager and shares the challenges and rewards that come with creating online content for a living.
---
1. You're creating measurable value for others
The best thing about working in content marketing, says Olivia, is "nurturing our blogs and watching them thrive".One of the most satisfying things about content marketing is seeing the fruits of your efforts. "It's a good feeling when you create something that resonates, and you can measure that success." Because content marketing is so goal-driven, it's easy to see when what you do is creating value.
"Whether that's through the numbers or anecdotal feedback, knowing that we've helped people in their growth journey is super rewarding."
---
2. You'll wear multiple hats
This is a role that requires flexible skills and the ability to take on new challenges. "No day is the same, which I love," says Olivia.
You might be involved in more strategic and managerial tasks one day. "I'll be meeting with other teams to discuss cross-department projects, catching up with my own team for one-on-ones, leading up our content strategy and mapping our content calendar.

"
And on the next day, you'll put on your digital marketing hat, "working on SEO initiatives and ensuring our site health is in check, digging into analytics data and tinkering with an article."
Though the bulk of content creation may be delegated to freelance and in-house writers and videographers, you'll have your own content production projects on the burner, too.
"I'm still learning how to better my own writing, so making sure that I'm putting some time aside to spend in the weeds helps me stay connected to the practical side of content creation."
Typical tasks for a content manager can include:
Developing and executing a content strategy
Researching keywords and trends
Mapping out article topics
Planning content calendars
Creating briefs for writers
Writing long-form articles
Editing and providing feedback on drafts
Creating visual content, such as infographics
Promoting and distributing content across channels
Managing social media accounts
Collaborating with the wider marketing team and sales teams
Editing and providing feedback on drafts
Creating and analysing data reports
---
3. There's much more to content marketing than meets the eye
Like many content marketers, Olivia didn't even know this career existed before she fell into it. Some content marketers start out as writers, while others start from studying marketing or PR — then, one day, they are asked to assist with writing some blog articles, and the rest is history.
Olivia explains that this kind of 'happy accident' can be a double-edged sword. "It meant that I just wasn't aware of how much there is to content marketing." Though it's often enjoyable work, it's also difficult to do well. Content marketing is an in-depth discipline that rewards hard work and investing in your skills.
"From the surface, it may look like just a collection of articles, but it's so much more meaningful than that."
Luckily, content marketers are, by necessity, helpful, informative folk who love sharing their knowledge online. "I also wish I'd known how supportive the content marketing community is from the beginning," Olivia says. "There are so many helpful resources and Slack communities, with members who genuinely want to help you learn and be better."
---
4. The right environment will enable you to thrive
Acknowledging the depth and complexity of this role can help you keep your head up when you're getting to grips with the skills and knowledge required. "You're not going to know everything from the get-go, and that's okay," says Olivia. Content marketing management is a blend of creative writing, digital marketing, journalism and project management that will take a while to learn.
"Entry-level is hard, and you may feel a twinge of an imposter experience, a sense that your 'incompetence' will be exposed at any minute."
Olivia advises new content marketing managers to focus on finding a supportive company to work for. "The best way to overcome this is by building your abilities in a balanced work environment that encourages your confidence, but also brings you back down to Earth and reminds you that you're still growing."
---
5. You'll need to make time to learn
"Funnily enough, I still struggle with the need to know everything there is to know about content marketing right now," says Olivia, when asked about the biggest challenge in this kind of work.
"I'm yet to hit my two-year workiversary as a content marketing manager, so I know this kind of thinking isn't rational, but I see what is out there and I just want to know it all!"
Olivia says she consciously builds professional development and learning time into her schedule. "I try to block out a couple of hours for L&D each week to satisfy this urge and keep me on track."
---
6. You'll need to love reading, writing, and organising
Having your finger on the pulse is a non-negotiable in the content marketing world. If you thrive when reading and researching, and you crave new knowledge, then being a content marketing manager could be the perfect way to get paid for doing what you enjoy.
This role also involves a lot of collaboration and communication, as well as project management and reporting. The technical and subject-specific skills can all be learned, whether in a marketing course or on the job, but there are some crucial transferable skills that you can't do without.
Olivia names four core skills for a successful career in content marketing:
The ability to write well and tell a story
The ability to communicate well
Impeccable organisational skills
Knowing how to crunch some basic numbers
High Demand Careers for Creatives in 2020: 15 Dream Jobs That Actually Pay
Want a creative career with financial security and good job prospects? Here's a list of 15 creative jobs that can fulfil you – and pay the bills.
Ready to build your career in content?
A career as a content marketing manager will keep you engaged, interested, and can lead you in many interesting directions — across industries, areas of expertise, and in contact with all kinds of people and organisations. If you've got a passion for communicating and love learning new things, it's certainly a path worth exploring.