Published on November 11, 2022
How A Married Couple Left Their Corporate Jobs to Create a Thriving Small Business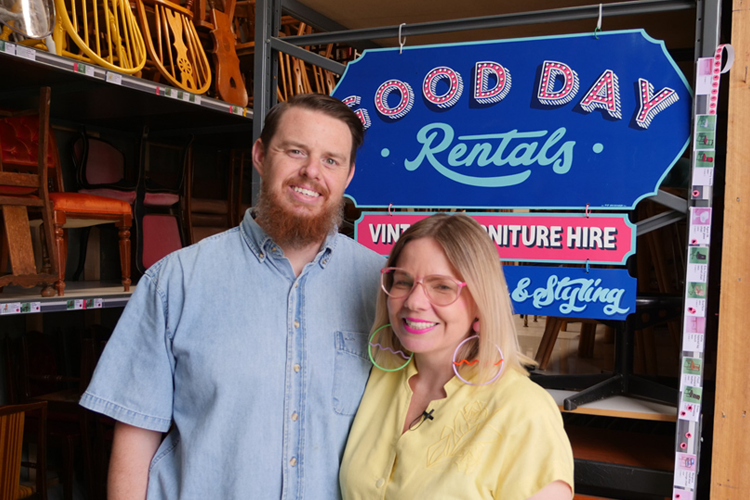 Any change is hard. It can be difficult to take a leap when you don't even know what you're going to land on, and more importantly, to take the plunge into a sea of potential risks. But sometimes, backing yourself and your motivation can be highly rewarding.
We all reach a point where it's time for us to move on in our careers, whether that means an entirely new change or you want to take a crack at starting a business, there's a lot that can hold us back from trying. But a good success story can be all it takes to reignite that desire and passion to pursue something meaningful.
That success story comes in the form of Kate and Dave, a husband and wife power duo who launched Good Day Club in 2014 after deciding to leave their corporate jobs to pursue a passion in events, styling and most importantly: vintage furniture.
Good Day Club, a vintage and retro furniture hiring company, provides styling for an array of events, mainly weddings who want to embrace a unique and stylish theme. Now dabbling in very cool neon signs, Kate and Dave are an everyday reminder that change isn't just possible, but it can pay off.
Kate was a corporate communications manager for 12 years when she started her journey, while Dave worked as a business analyst and project manager. While their corporate jobs allowed them to first meet, it wasn't their calling. Kate explained to us how the business came about and their journey together to establishing Good Day Club into what it is today.
Kate has always been drawn to the idea of starting her own business but was never sure of what exactly that would look like. "I sort of assumed it would be a communications business, which I'd call CommuniKATE. But I never had the passion for it, I hated making comms plans too much!", she explains, sharing a laugh with her husband, Dave.
The idea of Good Day Club came to fruition when Kate and Dave were planning their own wedding in 2013, Kate, a vintage lover, had wanted to hire the furniture for their special day, but couldn't find any businesses that did such a thing.
I thought, maybe that chapter had come to a close and I had a glimpse into how much I enjoyed the business and this whole new life– and I said, "Yes, I want that."
Her solution; "We'll just buy it all and start a business!", she laughs with her husband and co-owner, Dave. "I told this to Dave and he said, 'What about warehousing and logistics?" and I said it'll be fine! And it has been quite challenging– but that's how it came about."
Kate and Dave spent the next six months travelling Victoria in a borrowed Ute, collecting vintage furniture to use in their wedding. "We filled up one of our spare bedrooms at home. We got the stuff for our wedding, had our wedding and then spent the next few months setting up the business." Setting up an ABN, accounts and the business plan followed. "At the time we both had our corporate jobs and then I left ANZ on maternity leave in 2015″.
Watching and seeing the growth, and being like
'oh I did this, we built this!', it's really amazing.
|
Most career changes don't happen overnight and normally involve a gradual transition from full-time work. When it comes to small businesses, most in Australia start as a small side-gig before fully taking off. And for Good Day Club, this was no different (especially when it comes to couple jobs).
After going on maternity leave and growing the idea into a fully-fledged small business, Kate had to decide whether it was worth pursuing full time. "That was when someone asked us to style a wedding and I said, 'Sure why not!'. Once I did that, I couldn't see myself going back to ANZ. I thought, maybe that chapter had come to a close and I had a glimpse into how much I enjoyed the business and this whole new life– and I said to myself, "Yes, I want that."
See some of their favourite wedding looks!
---
Starting a business, what's it really like?
Of course, starting a business is not easy. Unlike normal career changes, it does involve a lot more upskilling, planning and commitment to make it a successful reality. We asked Kate what her best piece of advice is for anyone looking to make a change and start to turn their own passion into a revenue stream. "A small business is like an analogy of the sprint or the marathon. You think, I really have to go really hard this week and get to this point; but actually, if you want to have a sustainable business long-term, you have to be able to pick yourself up."
According to Kate and Dave, adaption is the key to getting a small business off the ground. "You have to adapt all the time in small business, I think that's something we've both learnt, that if you've constantly done something a certain way, you sometimes have to realise that it doesn't work maybe three, four or five times."
If you have a passion to do something,
give it a try.
---
The evolution of Good Day Club
How it Began
It all started in 2013 while Kate was exploring a Pinterest board to gather ideas for her and Dave's upcoming wedding. There was a serious lack of vintage furniture for hire– especially the velvets and vinyls!
What About Logistics?
"Let's buy furniture we need for the wedding and start a vintage hire business?"
Kate and Dave decided to fix the gap in the market themselves. When Kate proposed the idea, Dave's first question was: "What about warehousing and logistics?"
We'll work it out!" was Kate's reply!
Around Victoria Collecting Furniture
In a borrowed ute, Kate and Dave collected furniture around the state and filled their home.
Ready to Take-Off
In 2014, Good Day Club officially launched. Kate and Dave decided to leave their corporate jobs to pursue their new business venture.
Kate left her communications career in 2015, and Dave following in 2018. Since then Good Day Club has taken off and has become a thriving business
---
So, what's the best advice?
What we work hardest for in life we tend to appreciate the most, and having your own business is definitely something that requires a lot of work. For Kate and Dave, the rewarding aspect of seeing your own creation grow and flourish is what makes it so worthwhile. "Watching and seeing the growth, and being like 'oh I did this, we built this!', it's really amazing." What makes their small business even more rewarding, is the nature of working with couples to plan their dream wedding. "We work with people at the best time of their lives when they're happy. It's exciting and that's extremely rewarding. It can be challenging, but in a really good way."
Small businesses are unique, in the way that many others in the same situation tend to connect and collaborate more, sharing ideas and advice to help others. "We have our own little networking and dinners and we talk about our challenges and our wins." Explains Kate. While formal qualifications, like a small business or management course, is definitely worthwhile, experience on the job, in this case, provides a lot of learning.
It's exciting and extremely rewarding. It can be challenging but in a really good way.
We asked Kate what her final piece of advice would be to others out there wanting to make a change but still hesitating, "Horror stories don't work on people, because if they did no one would have children, start a business… people go, 'that'll be different for me' and that's good! You should definitely take that path. If you have a passion to do something, give it a try."
---
Explore their Office
One of the best perks about having your own business? The office that comes with it. Kate and Dave's beautiful, vibrant office is filled with neons and plants and even features a bright pink and yellow acrylic wall. Our favourite feature? The flying anteater painted on the wall!
---
Courses to Start Your Story
If you're inspired to start your own journey and pursue a passion of your own, the best way to get you there is to be backed by the right skills and knowledge. We've hand-selected some of the best courses to provide you with everything you need to know to get your own small business up and running.