In this post
Published on May 11, 2020
Hospitality Cover Letter Example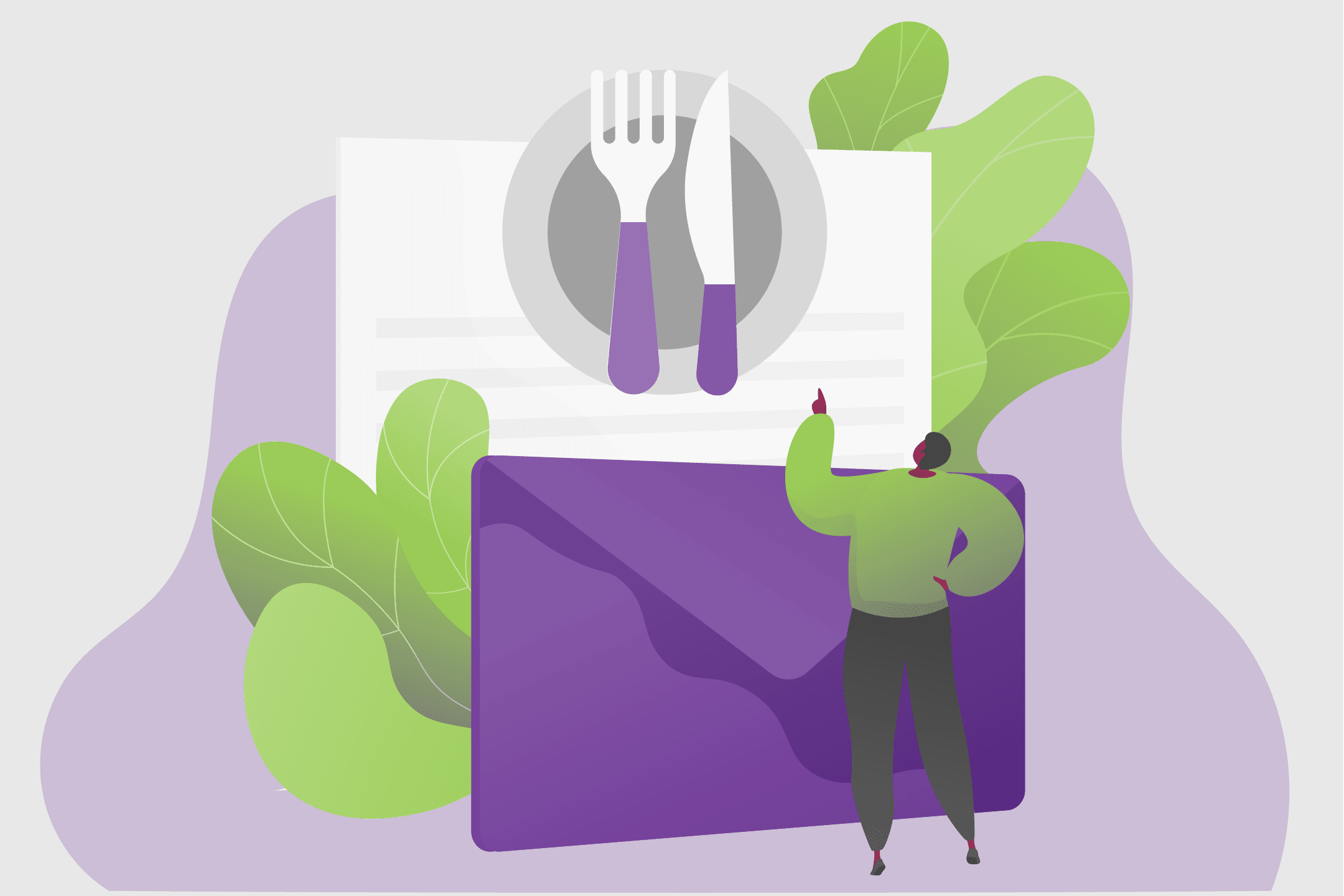 Looking for a cover letter tailored to the hospitality industry? Use this sample to craft the perfect letter for culinary or tourism job.
What are the key points in a hotel and hospitality letter?
A perfect cover letter directly targets a specific position and matches industry expertise so that it grabs the hiring manager's attention right away. The hotel and hospitality industry requires a strong customer service background, communication skills and attention to detail, to name a few. The first paragraph of a professional cover letter will start with why you are a perfect fit of the role and draw on relevant experience throughout the cover letter. This sample cover letter template will cover working in a hotel or hospitality restaurant setting. Your cover letter should be tailored accordingly for your hospitality job posting.
---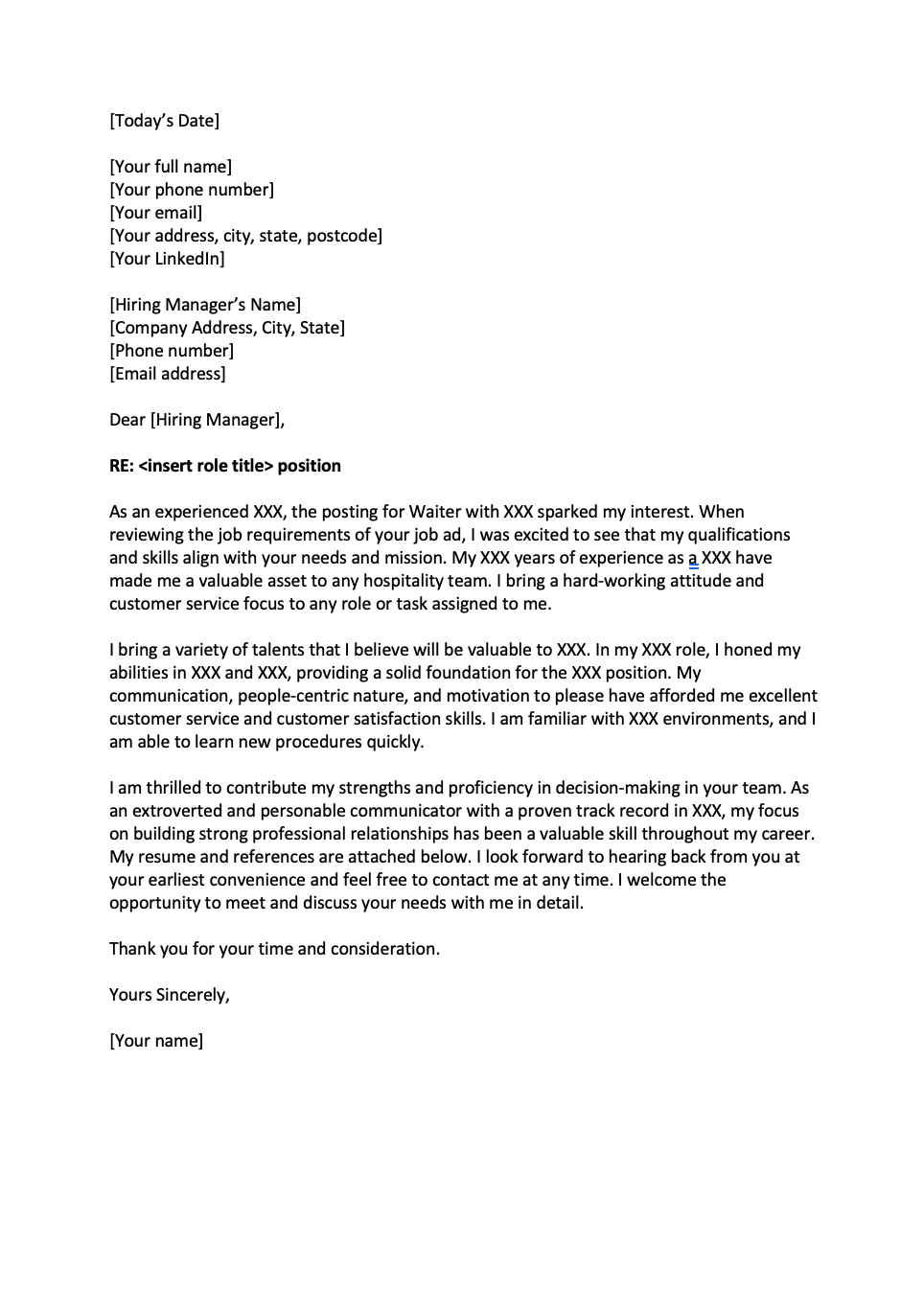 Hospitality Cover Letter Template
This template is created for hospitality roles. All you need to do is input your own information!
Download
Once you've downloaded and edited your cover letter, make sure to save it with a new name (try: <Your name> Cover Letter — <Position you're applying for>). Then, export the document as a PDF and you're ready to submit it.
---
Hospitality Cover Letter Example
[Today's Date]
[Your full name]
[Your phone number]
[Your email]
[Your address, city, state, postcode]
[Your LinkedIn]
[Hiring Manager's Name]
[Company Address, City, State]
[Phone number]
[Email address]
Dear [Hiring Manager],
RE: <insert role title> position
As an experienced XXX, the posting for Waiter with XXX sparked my interest. When reviewing the job requirements of your job ad, I was excited to see that my qualifications and skills align with your needs and mission. My XXX years of experience as a XXX have made me a valuable asset to any hospitality team. I bring a hard-working attitude and customer service focus to any role or task assigned to me.
I bring a variety of talents that I believe will be valuable to XXX. In my XXX role, I honed my abilities in XXX and XXX, providing a solid foundation for the XXX position. My communication, people-centric nature, and motivation to please have afforded me excellent customer service and customer satisfaction skills. I am familiar with XXX environments, and I am able to learn new procedures quickly.
I am thrilled to contribute my strengths and proficiency in decision-making in your team. As an extroverted and personable communicator with a proven track record in XXX, my focus on building strong professional relationships has been a valuable skill throughout my career.
My resume and references are attached below. I look forward to hearing back from you at your earliest convenience and feel free to contact me at any time. I welcome the opportunity to meet and discuss your needs with me in detail.
Thank you for your time and consideration.
Yours Sincerely,
[Your name]
---
In Summary
This cover letter builder aims to provide job seekers with an excellent opportunity to stand out from other job applications for the same role. There are many hospitality cover letter examples found on the internet, so it is crucial to ensure your cover letter is tailored directly to the person you are writing it to. If the person is not known, then it is critical to highlight some personality traits and touches. By practising cover letter writing for different job applications, your cover letter writing should drastically improve and will give you a leading edge over others in your job search.
Cover Letters: A Comprehensive Guide [With Templates and Examples]
Learn how to create a polished, professional, and personal cover letter that will grab the hiring manager's attention for all the right reasons.