Published on May 22, 2020
How to Become a Chef in Australia: Complete Guide for 2022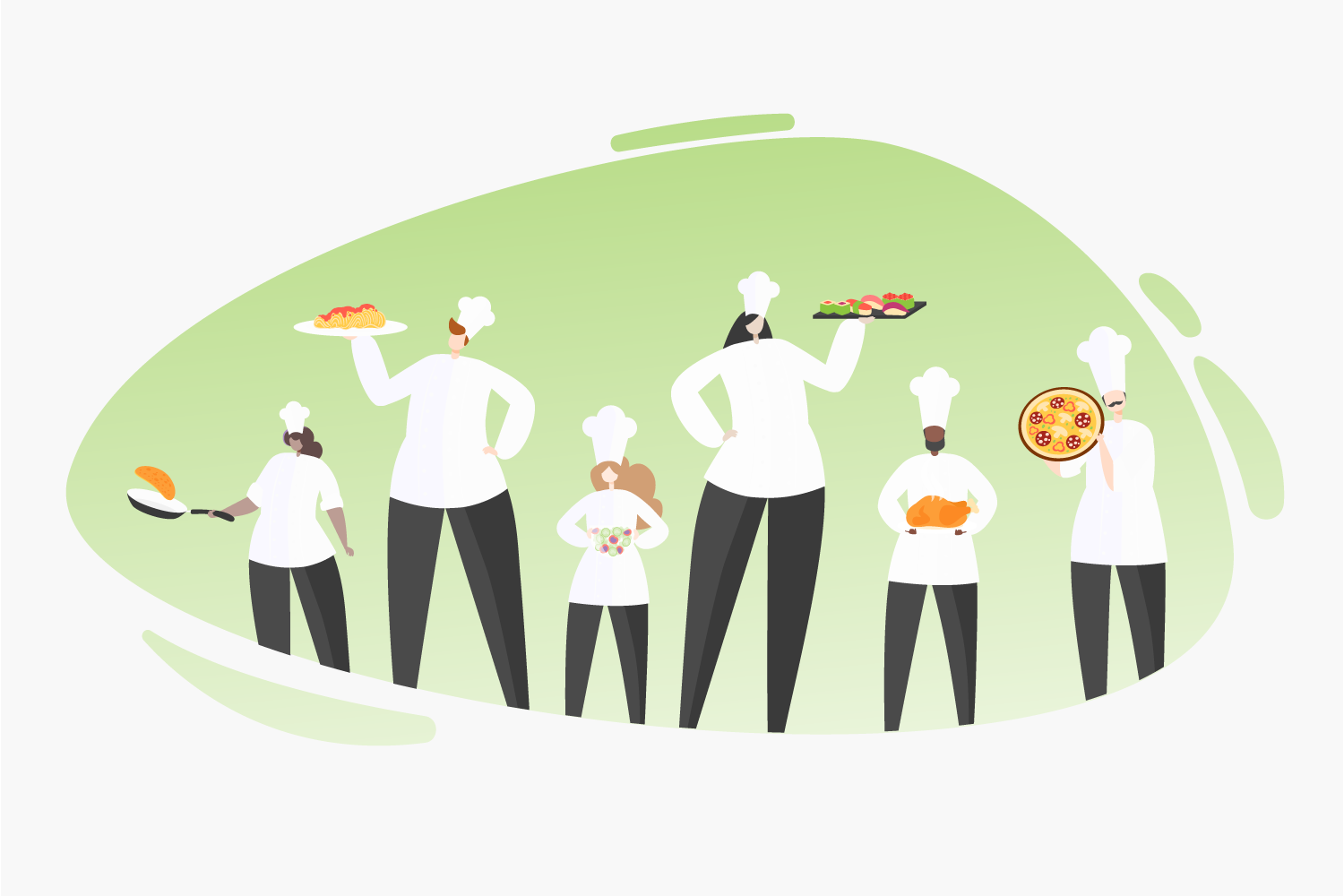 This is your handbook to becoming a chef in Australia. Learn how to get your start and make it in the hospitality industry with this in-depth guide.
Food has risen to an art form in Australia, taking chefs along the ride to fame and glory.
Always loved cooking? If you've got a bit of a flair for flavour, you might have imagined yourself at the helm of your own kitchen, artfully garnishing a plate with one hand and balancing a flaming wok with the other.
A career as a chef can open many doors. The hospitality industry in Australia is always growing, and the career opportunities on offer can take you anywhere. From an upscale resort in far-north Queensland to a winery in South Australia or a tiny laneway in inner Melbourne: the world is your freshly-shucked, locally sourced oyster.
But beneath a chef's passion and creativity there lies dedication and an extraordinary amount of hard work. So how do you get from being handy in the kitchen to a darling of the culinary world?
If you're just starting to explore the idea of a culinary career, you may need to field some important questions first, like:
What kind of work will I do in the kitchen?
How much does a chef earn in Australia?
Are chefs in demand in Australia?
What qualifications do you need to become a chef?
How long does it take to become a chef?
What are the chef rankings?
What other types of culinary jobs are there?
Today, we'll cover all these questions and more. This comprehensive guide to becoming a chef will take you from the research and discovery phase, through to concrete next steps for starting out in the industry.
In this complete guide, we'll brief you in five chapters.
---
Let's get cooking.
1
WHAT DO CHEFS DO EVERY DAY?
Get an idea of what it is, exactly, that chefs do in their day-to-day work, job prospects, and how much they get paid.
2
IS BEING A CHEF RIGHT FOR YOU?
Find out what it's really like being a chef, and decide whether it's a good fit for you.
3
WHAT IS THE CHEF RANKING SYSTEM?
Chef rankings, the kitchen hierarchy, what now? Time to finally find out what a Sous Chef is. (It has nothing to do with soup.)
4
CULINARY QUALIFICATIONS
Get the low-down on what qualifications and training you'll need to become a professional chef.
5
CHEF APPRENTICESHIPS
Why chef apprenticeships are the best pathway into the industry, and how to get one.
---
But First: What Does the Word 'Chef' Really Mean?
A chef is a professional cook who oversees food preparation and manages all aspects of a kitchen, including the other cooks. The word 'chef' comes from the French phrase 'chef de cuisine', which means the 'boss of the kitchen'.
In Australia, the word 'chef' is sometimes used to refer to a professional cook; confusingly, it's also sometimes used to refer to a head chef or chef-manager.
Chefs are trained through formal qualifications or an apprenticeship, and usually have several years of experience as a cook. As they gain expertise, chefs will master a broad range of techniques in all areas of cookery, and often specialise in a particular cuisine. Chefs most commonly work in commercial kitchens such as restaurants or catering companies, but they can also be found in private households and institutions like schools and hospitals.
CHAPTER 1
What Do Chefs Do?
A chef is more than a cook – they don't just cook food, they make it possible for an entire restaurant to function. Depending on the chef's level of seniority, they can be responsible for an entire process of creating dishes, from researching and planning a menu to sourcing produce, organising the kitchen, designing the presentation of each dish. Some chefs are in charge of a particular section, such as desserts or soups, according to the kitchen hierarchy.
Chef Duties
Cooking and preparing food
Developing a menu
Estimating the costs of each meal
Purchasing ingredients
Hiring and training staff
Demonstrating cooking techniques and procedures
Maintaining hygiene standards
Designing an efficient kitchen workflow
Supervising other cooks and kitchen staff
Using and maintaining kitchen equipment
Job Prospects are Strong & Getting Stronger
Australia has a huge hospitality industry, and it's growing all the time. Over the past 5 years, demand for chefs has skyrocketed, and the Australian Government predicts strong growth, with another 81,000 job openings over the next 5 years.
Chef Salary
The average salary for a chef varies greatly, depending on their position in the kitchen hierarchy, but a typical salary across all roles lies between $43,000-$55,000.
So what does this mean? Don't be a chef for the money – do it for the love. Cooking is a moderately-paying career path, and most people get into it because it gives them great creative satisfaction, variety, and excitement, not stacks of cash.
That is unless you become a celebrity chef. You never know, right?
$49,000
Typical Chef Salary
How did we arrive at this number?
There are a lot of conflicting figures floating around. Data from the ATO estimates a typical taxable income of $43,157. Seek averages out data from job postings, estimating a typical chef's salary at $55k.
According to Payscale, full-time kitchen chefs (a lower ranking cook) usually make around $51,575 per year, whereas an executive chef typically earns $81,000, and up to $107,000 on the higher end of the scale.
CHAPTER 2
Is Being a Chef Right For You?
The hospitality industry can be tough, and it takes a particular kind of person to flourish in the heat of the kitchen. But if you happen to be that kind of person, you may find yourself madly in love with your career.
Not many jobs can provide the level of excitement and challenge that a career as a chef can. No two days in the kitchen are the same, with creativity and problem-solving skills required in equal measure.
So is a career in the culinary arts right for you?
Try Working in a Kitchen First
Before you go to culinary school, before you apply for an apprenticeship, before you decide that cooking is the love of your life… work as a kitchen hand for a while.
Seriously, work in a kitchen.
It's the only way to get a feel for what being a chef is really like. Being a kitchen hand is fast-paced, physically challenging work, as you're essentially the support role that makes sure everyone else can do their job properly. In this role, you'll get to know fairly quickly whether you absolutely thrive or wilt in the kitchen environment. That way, if you choose a foray into the culinary world, it will be based on true, grounded love for cooking rather than illusions.
Find a restaurant that you connect with in some way, with an ethos or cuisine that excites you, and start working at the bottom of the ladder.
You
Calm under pressure
Attention to detail
Passionate and creative
Mentally tough and driven
High physical energy and stamina
Enjoy working with others
Skills
Cooking expertise
Business savvy
Highly developed palate
Organisational skills
Food safety
Managing people
Culinary knowledge
Problem-solving
Activities
Organising, planning, and prioritising your work
Using your hands to move & manipulate objects
Forming good relationships with people
Coaching, teaching, and developing people
Creative thinking
Thinking on your feet & problem-solving
Source: JobOutlook
People call me for advice about their kids who want to go into cooking, and I always tell them, "You know, the kid should work in a restaurant as a dishwasher, waiter, cook, whatever, to get the taste and essence of that thing that may seem glorious from the outside."
What is Life in the Kitchen Like?
Once you've worked in a kitchen for a while, you will start to realise some things about professional cooking.
Long hours
Being a chef is not a 9 to 5 job. Head chefs, in particular, are famous for regularly working 12-hour shifts to accommodate morning deliveries, afternoon preparation, and lunch and dinner services. It's not uncommon for cooks and kitchen staff at all levels to work long hours. Kitchens open long before dinner is served, and close long after.
Close-knit
Because you're working so closely with the other staff, they will become like family to you. A working kitchen is like a well-oiled machine. Everyone has their part to play, and high-pressure environments forge strong friendships. This is not a job for lone-wolf types.
Fast-paced
The kitchen can be a hectic place during food service. You'll need to be quick on your feet with good spatial awareness to move around the others working near your space and. If you thrive in busy environments, you'll love this.
Hands-on
Cooking for a living is not for the faint of heart. You must be able to handle lots of physically demanding, high-pressure work, and keep your cool around very hot cooktops. On the other hand, if you prefer physical work and you've always dreaded the thought of a cubicle, hands-on work like this could be very satisfying.
Ben's Career Journey: From Chef to Sustainable Food Educator
Meet a professional chef whose path led him through some of Australia and New Zealand's top kitchens – and to create a game-changing social enterprise that seeks to reinvent the way we think about food. Dive deeper and find out where a career in the culinary arts can take you.
CHAPTER 3
Chef Rankings and the Kitchen Hierarchy
The hierarchy most commonly seen in kitchens is a legacy from the french 'brigade' system. We break it down and show you the average duties and salaries for each position.
When you start off working in a kitchen, it's most likely your first job will be as a kitchen hand – a job which mostly involves cleaning and assisting everyone else in the kitchen. As you gain experience and skills, you will start moving up the ranks.
The chef ranking system can be confusing at first, but once you get to grips with the way the kitchen works, it will start to make sense. The different rankings of chef are listed here from highest to lowest.
1. Executive Chef
$80,967
TYPICAL SALARY
$56k – $107k
Executive Chef duties:
(sometimes aka Chef/Owner)
May own restaurant
May manage several restaurants
Develop menu direction
Supervise food preparation
Share knowledge and train kitchen staff
Assign responsibilities for food preparation to cooks
Deal with complaints and customer feedback
Prepare food alongside other chefs
Manage all food and beverage operations
2. Head Chef
$64,107
TYPICAL SALARY
$52k – $82k
Head Chef duties:
(aka Chef de Cuisine)
Specialise in one type of cuisine
Manage kitchen operations
Prepare, cook, and present food
Planning the menu
Inventory and purchasing
Budget management
Manage and train kitchen employees
Oversee hygiene and sanitation standards
3. Sous Chef
$59,055
TYPICAL SALARY
$51k – $70k
Sous Chef duties:
(aka Second-in-Command)
Manage day-to-day operations of the kitchen
Manage, direct and discipline kitchen staff
Oversee quality control
Assisting with creative menu development
Manage daily food inventory and costs
Generate business reports
Deal with suppliers
Substitute for the head chef or other chefs when needed
Help with daily food preparation
4. Chef de Partie
$54,361
TYPICAL SALARY
$46 – 60k
Chef de Partie duties:
(aka Line Chef or Station Chef)
Responsible for preparing one type of food
Season and cook elements of each dish
Garnish and present dishes for serving
Operate kitchen equipment and appliances
Monitor cleanliness and sanitise kitchen areas
Taste and keep records of food products
5. Kitchen Chef
$22/hr
TYPICAL SALARY
$18 – $27/hr
Kitchen Chef duties:
Help to plan menu
Prepare salads, sandwiches, stuffings, sauces
Cutting up vegetables, fruits, and meats
Plate up and garnish meals
Supervise kitchen assistants and waiters
Ordering and bookkeeping
6. Chef Assistant
$20/hr
TYPICAL SALARY
Range: $16 – $26/hr
Chef Assistant duties:
Ordering and inventory of supplies
Clean and maintain kitchen, including appliances, tools and equipment, and storage areas
Estimate type and quantity of food items to order for daily service and functions
Basic ingredient preparation, such as chopping and pre-cooking
7. Kitchen Hand
$19/hr
TYPICAL SALARY
Range: $15-$24/hr
Kitchen Hand duties:
Cleaning dishes, cookware, and utensils
Sweeping and mopping
Clearing tables and bringing dirty dishes to the kitchen
Maintaining a clean kitchen
Helping with station setup for cooks
Helping with basic food preparation, such as washing and chopping ingredients
Laundering linens
The Chef Hierarchy: Who is Who in the Kitchen?
Let this article be your guide to the chef ranking system, or the kitchen brigade system as it is sometimes known. Go into more detail on the different kinds of roles and explain how the system helps a kitchen run efficiently so you can be prepared for your first shift.
CHAPTER 4
Culinary Qualifications
The type of qualification you should pursue depends on what kind of chef you want to become. Getting qualified can take anywhere from 6 months to 3 years, but you'll need at minimum a Certificate III in Culinary Arts to work professionally.
Working in a restaurant is not the only path available to you as a chef. It's worth considering other routes such as baking or patisserie, both of which are experiencing a boom and urgently in need of skilled, talented people to fill the workforce gaps.
Necessary
You will need, at minimum, to have completed one of these qualifications to become a chef in Australia:
Recommended
It's also highly recommended to gain your qualification through an apprenticeship, as cookery is an extremely hands-on profession. You'll get a much better start through learning on the job, working your way up, and gaining industry contacts as you go. To gain an apprenticeship, you will usually need to have completed at least Year 10 or equivalent.
It's also usually a good idea to gain your VCE or equivalent. Since your job will involve a lot of business and communication skills, as well as calculating for cooking temperatures and quantities, you'll need strong Mathematics and English skills.
How to Become a Baker
Are you interested in the field of baking but you're not sure where to start? Learn about what being a baker is like, what skills and qualities you'll need to succeed, and how to get started in the industry.
CHAPTER 5
Should You Take on a Chef Apprenticeship?
While you don't have to complete an apprenticeship to become a chef, it's a smart move – and will greatly improve your chances of starting out on the right foot. You'll be able to gain work experience while you complete your qualification, all while getting paid.
How a Chef Apprenticeship Can Benefit Your Career
Learn what's involved in a chef apprenticeship in Australia, what to expect while you're working. Read the article to discover why it's the best way to get started in the industry.
Your culinary adventures await.
So, you've had a taste of being a chef – and you've decided it's the perfect path for you. What are you waiting for? Start making a wishlist of kitchens nearby (and further afield!) you'd like to work in and explore the qualifications available to you.