Published on February 19, 2023
5 Reasons a Community Development Career is Perfect for You
Looking for a job where you can live your values? Believe in empowering people? Find out how to start a rewarding, stable career in community development.
The community sector is broad, and roles for community workers are quite diverse, but they all aspire to create social change and improve the world we live in. As one of the most fascinating parts of the community services sector, community development is two things: an approach, and a profession. You can feel confident that working in this area is a proven way to create deep, long-lasting, sustainable change from the ground up.
Why study community development?
Community development is an effective approach that's all about working alongside people in vulnerable communities, and empowering them to improve their own lives and help themselves. Building resilient communities enables us to support each other, to band together in hard times, and to grow into a better society.
Here are five reasons why you should get into this brilliant, fulfilling field.
---
Principles of community development
When it comes to communities, there's no one-size-fits-all solution. For that reason, there's no one set of steps to follow when working in community development. Instead, you'll take a community-led approach, with these principles as your guiding star:
1. You'll make a lasting difference
Do you feel a calling to make the world a better place? We all need to work to survive, but what if you want more from life than the typical nine to five? Finding a job that makes a difference and fulfils you can be tough.
Especially if you dread being stuck in an office, chained to a desk, and you'd rather be out there, actually talking to people and making things happen — and you want something you can get stuck into now, rather than after years of rigorous study.
What is community development?
Community development is a sensitive and supportive approach to working with communities. It aims to create a fairer, more inclusive society by getting to the root causes of unfair disadvantages and thinking long-term.
Community development aims to enable people to create positive social changes in their communities through education, resourcing, and relationship building.
Community development lies at the overlap of two fields that aim to make a better world: community services and sustainable development.
Location
People that live in particular places, such as towns or cities.
Groups of people with a shared identity or interest
Such as cultural/ethnic/religious groups, at-risk young people, or LGBTQIA+ people.
How does it work?
Community development is a 'bottom-up approach, which means that projects are designed and carried out by people in the community, rather than outside 'experts'. This means more than just consulting with community members: it means that a project is initiated, led and carried out by the community members themselves.
In community development, you must approach each situation differently, and work with community members to find out what matters to them, and then support them to make it happen — rather than deciding what people need, and then delivering it to them.
Community development seeks to:
Identify common problems
Connect private and public issues
Enable people to find solutions together
Support community development programs
What it isn't:
Charity programs
Outside experts or agencies designing solutions
Consulting with community members – consulting does not go far enough
A rigid process that's the same each time
"Community development considers community members to be experts in their lives and communities, and values community knowledge and wisdom."
2. You'll be more fulfilled at work
Community development is more than just a job: it's a calling, and it takes someone with an abundance of warmth and empathy. If you're a people person with a passion for justice and helping others, you will thrive in this role.
The role of a community development worker
As a community development professional, your aim is to empower the community to come together and create the change they want to see. Each community will be different — with different strengths, needs, and problems. Your job is to be a facilitator, helping to identify needs and removing obstacles. During your work with the community, you'll be there to:
Facilitate meetings
Provide trusted resources and data
Help to build relationships between people with common concerns
Run skill-sharing workshops
---
Meet Kerry Grace

Founder and Director
Evolve Group Network and the Community Practitioners Academy
"With enhanced access to education and skill-sharing, anything is possible."
How Kerry found her path
While my career started in a more corporate environment (advertising and media) I always found I needed more from work to be satisfied.
I started working in community development quite accidentally when I moved to a new community and while looking for work was offered a marketing role – provided I supervised a group of Work for the Dole participants. I loved the work and found contributing to the community provided the career satisfaction I'd been looking for.
Why Kerry loves her work
Over the years I learned there is a stark difference between being a 'do-gooder' and 'doing good' – 'do-gooder syndrome' (of which I'm now in recovery for) can create a lot of damage in communities as it really reinforces poverty, welfare and disadvantage.
Capacity development is at the core of all of my work now as I believe that with enhanced access to education and skill-sharing anything is possible.
Editor's note: If you're not familiar with the term 'do-gooder', it's often used to refer to an optimistic, yet person who tries to do good deeds without understanding the full consequences of their actions. For instance, charity programs that actually case harm in the long-term by creating dependencies on outside help.
---
3. The skills you learn will open doors
Want to use your career to make a difference, but unsure of what to study? Community development is an excellent place to start. Studying community development can open doors into the community and public sector. It can also lead you to a wide variety of roles you may not have considered – or known existed – before.
In community development, you'll empower your own career, too, building a versatile skill set that will enable you to follow your interests and take your career anywhere. Study options are flexible and stackable, so you can start off with a low-cost Certificate and upskill once you've got a job. And once you're in this growing sector, you'll have plenty of opportunities to build a career that truly reflects your values.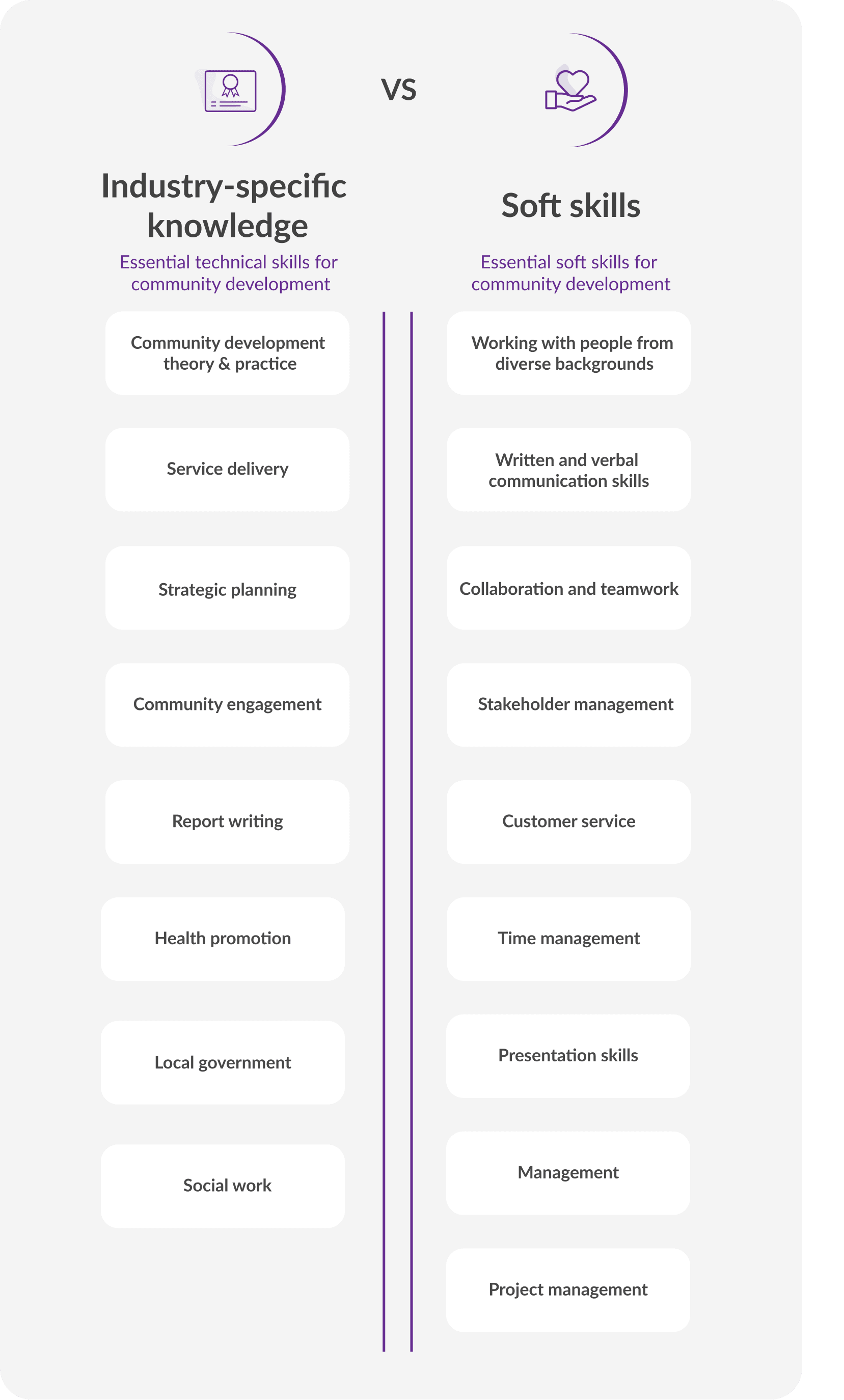 Industry-specific knowledge
Community development theory & practice
Service delivery
Strategic planning
Community engagement
Report writing
Health promotion
Local government
Social work
Soft Skills
Working with people from diverse backgrounds
Written and verbal communication skills
Collaboration
Teamwork
Stakeholder management
Customer service
Time management
Presentation skills
Management
Project management
Where do community development professionals work?
A community development approach can apply across many areas of the community and public sectors, including:
Education
Community health
Community arts and culture
Employment
Aboriginal and Torres Strait Islander community development
Urban planning
Sustainable development
Youth work
Welfare and human services
Social policy
Overseas aid work
Mental health care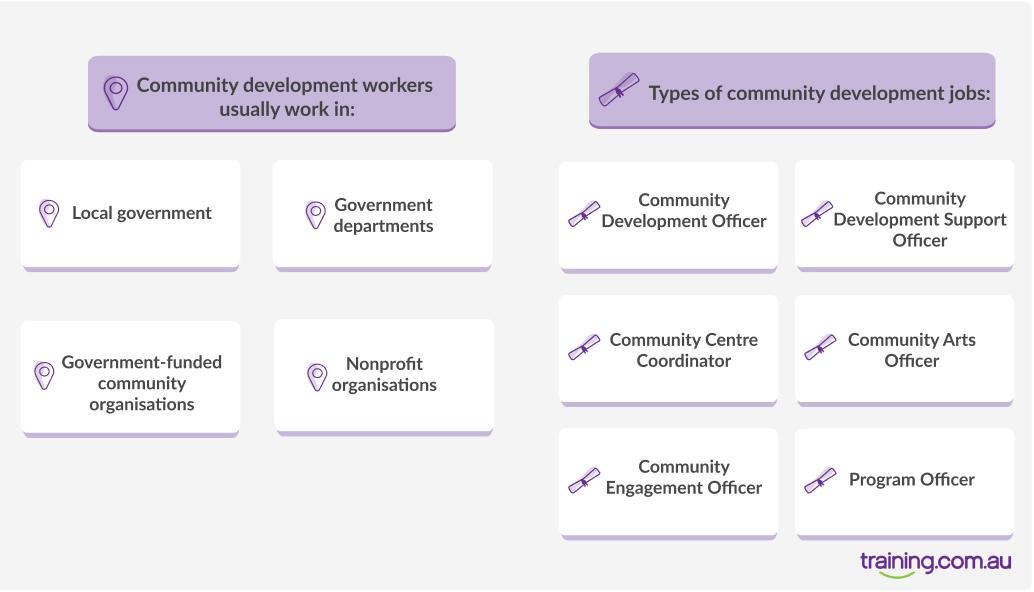 Community development workers usually work in:
Local government
Government departments
Government-funded community organisations
Nonprofit organisations
Types of community development jobs:
Community Development Officer
Community Development Support Officer
Community Centre Coordinator
Community Arts Officer
Community Engagement Officer
Program Officer
---
As a community development worker, you'll get a deep understanding of how to organise people, facilitate group conversations, and make things happen. The soft skills you develop while training in community development are worth their weight in gold.
For instance, the ability to connect with people from different backgrounds is highly sought after across the community sector. But it's also valued in other sectors too — an ability to communicate and collaborate with many different types of people is crucial to many roles in the business sector, in nonprofits, and in governments.
Employers love seeing community service experience on resumes because it translates so well into many areas of work. This means there are plenty of jobs to choose from where you can apply your skills and experience.
So if you don't like one job, or you just need a change of pace, you can apply for a different job without having to do another course or going back to university.
NaviGator
Course Finder Questionnaire
Step 1 of 5
What is your motivation to study?
4. Getting qualified is an investment in your future
Healthcare and social assistance: Australia's largest, fastest-growing industry
Researchers predict that in the aftermath of the pandemic this industry will come out looking stable. So you don't need to worry about your job security or wasting your time getting a qualification in this area. Considering that the industry is growing so strongly, you'll have plenty of job opportunities to choose from.
Community services has been a rapidly expanding industry and the demand for talented workers is only getting higher, which means good job security. The Health Care and Social Assistance industry, prior to the coronavirus pandemic, was the biggest and fastest-growing sector in Australia and was set to add another 250,000 jobs by 2023.
Working in the public sector: great pay, job security, and benefits
Over a third of community development workers are in the public sector, working for local councils or government departments. This is a great place to be, with high job security, excellent salary, and benefits – and the knowledge that you're working for people, not profit.
Starting out in community development
A qualification isn't strictly required to get your first job, but it will make you a more attractive candidate. Especially as you move past entry-level roles, you will find that a qualification will pay off, giving you access to better opportunities.
---
CEO
JustSociale, an ACNC-accredited NGO committed to promoting and protecting online human rights.
"Every individual has the power to create change in the world for good."
How Sarah found her way into community development
"As someone who can't remember a time when I haven't believed in fairness, I have always been passionate about contributing to my community. I found my way into my current career path after working in the private media sector for several years, before realising that I wanted to do something that aligned more with my values and dedication to promoting inclusion, diversity, equality, respect, social justice and service to others.
My first role was as a humanitarian volunteer working for AusAid in Jogjakarta (Indonesia) with an NGO supporting survivors of a major earthquake. I then moved on to senior communications roles at the Climate Council & ActionAid, before moving to Paris to complete my Master of International Relations in Human Rights. There, I was fortunate enough to join the UN Women #GenerationEquality campaign and become one of their Ambassadors.
After finishing my postgraduate studies, I decided to combine my passion for human rights with my love of the digital realm and its potential for connecting communities worldwide, and founded JustSociale – where I now work as the Founder and CEO."
What she finds most rewarding
"My career rewards me in so many ways. As someone who is genuine and who believes in treating everyone with kindness and respect, it brings me joy to bring joy to others. And it's been scientifically proven that being kind to others does boost our own mood. I also believe that every individual has the power to create change in the world for good, and I am extremely passionate about promoting this so that all human beings feel self-empowered to create change and use their voice in their own way."
Who she thinks this job suits
"I think that people who work in the community development sector are motivated by their values, their compassion for others and a sense of social justice, rather than selecting a job for purely economic reasons. That doesn't mean that you can't make a decent living, but it often means that you prioritise other things – like connecting with individuals and bringing joy and justice to the world – rather than making money."
---
5. You can walk your own path
Want to get out from behind the desk? While there's some administration work involved, you'll be anything but stuck to your chair. Community development involves travelling to communities and talking to lots of different people. Building relationships face-to-face and facilitating meetings are the most crucial parts of the job.
If you want something flexible that can accommodate your future plans, such as starting a family, or making a tree change, community development and community services more broadly could be the perfect fit. Part-time work in this sector is common, with 63% of workers part-time.
Study options are flexible, with many people choosing cost-effective TAFE or VET courses. You can also use these qualifications as a pathway into university.
Example study scenario
Amy is working full-time but wants to shift into the community services sector, with an aim to work in community development. She gets started with an online Certificate III, which she completes on nights or weekends over a few months. This allows her to hit the ground running in her first role, in which she gets further on-the-job training.
Then, she finds that she is enjoying the work. She sees that there's an opportunity to progress into more senior roles, but she'll need more advanced knowledge and training. She uses her qualification as a springboard into a bachelor's degree.
She talks to the course advisor and gets RPL (recognition of prior learning). This means that her degree is shorter and more affordable, and she continues to study part-time whilst working in the industry.
---
Community development courses
Some relevant TAFE qualifications for this role include:
Certificate II in Community Services
Certificate IV in Community Development
Diploma of Community Development
Graduate Certificate in Client Assessment and Case Management
As a profession that seeks to help people help themselves, community development is a rewarding, meaningful career. Studying community development opens up myriad opportunities and broadens your horizons. If you've been wanting to make a change and make a difference, this could be the path you've been looking for.
Take the first, small step towards a bright new future by browsing community services courses today.