Published on February 7, 2022
What Is a Graduate Certificate? And How Can It Level-Up Your Career?
Why study for a graduate certificate? Because when you're passionate about your work, chances are you want to keep growing, both professionally and personally. A graduate certificate can help you upskill quickly without the fluff.
---
What is a graduate certificate?
A graduate certificate in Australia is a specialised qualification that usually takes one semester of full-time study or one year of part-time study. Think of it as a fast-tracked, practical qualification that focuses on one specialisation's skills, designed to help you reach your career goals faster.
If you're looking to get better at your work or put yourself forward for a promotion, a graduate certificate makes sense. It develops critical industry skills while not as costly or time-consuming as a graduate diploma or a master's degree.
---
What is a graduate certificate equivalent to?
As a level-8 postgraduate qualification on the Australian Qualifications Framework, a graduate certificate sits just under an Honours year (for a Bachelor's Degree) or a Graduate Diploma.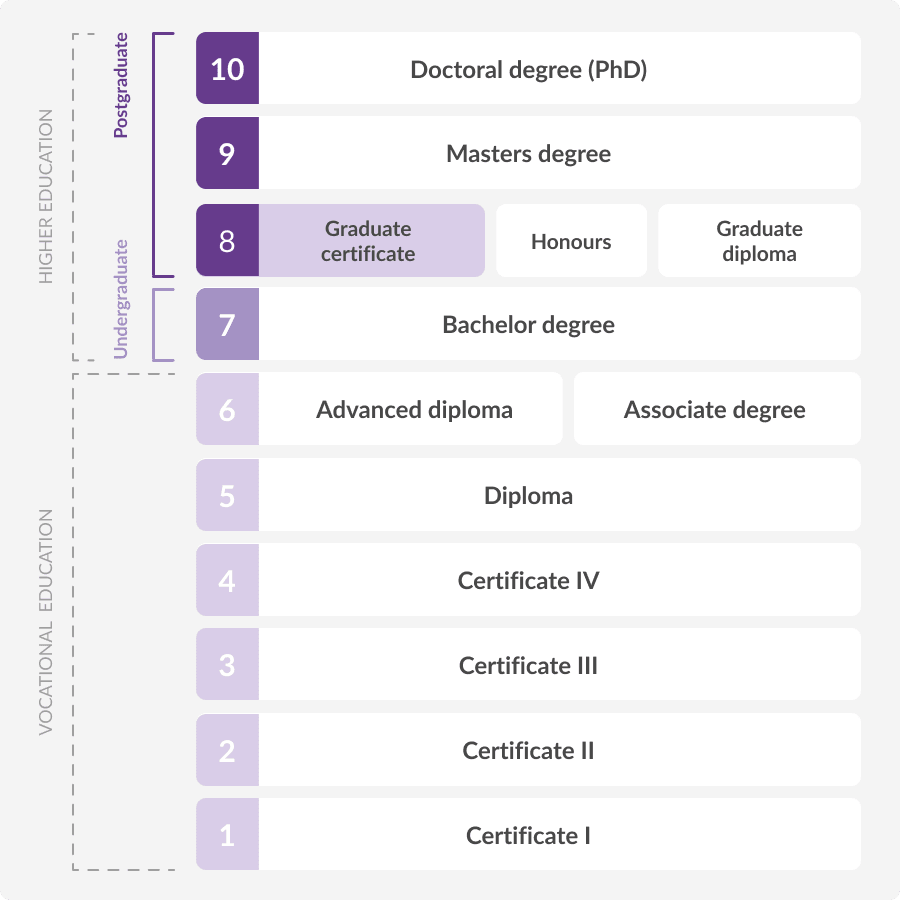 Graduate certificate vs. bachelor's degree
A bachelor's degree is an undergraduate university qualification, usually taking three to four years of full-time study to complete. It provides students with a strong foundation of knowledge on a broad discipline of studies such as Science, the Arts or Business. At AQF level 8, a graduate certificate sits above a bachelor's degree.
Entry requirements
You don't necessarily need a bachelor's degree to embark on a graduate certificate. Anyone who has completed a certificate IV or equivalent in their chosen field meets the entry requirements of most graduate certificate courses. To complete a graduate certificate or a "level 8" qualification, you should have advanced knowledge and skill within your chosen profession or field. Most people who have worked in their profession will meet this criterion.
A stepping stone to a masters degree
Successfully completing a graduate certificate can be a stepping stone toward into academic journey and fully-fledged postgraduate studies. It can be used as a bridging qualification, allowing you access to a more advanced course, like a master's program. However, not all masters degrees have a graduate certificate entry pathway. So for those hoping to jump feet first into the land of postgraduate studies, make sure you do your research.
---
Is a graduate certificate worth it?
Levelling up in your career can sometimes feel like a slog. And maybe you know further study is the way to go, but navigating all the options gets confusing. How and where should you upskill? Do you need to spend years completing a masters?
Not necessarily. The graduate certificate is a super-targeted and well-regarded qualification. It's a great alternative to a full-time postgraduate degree that can take years to complete, and you won't need a bachelor's degree to get started.
Here's why a graduate certificate could be the perfect choice for you:
Relevancy-led coursework
A graduate certificate is a highly specialised qualification. It aims to develop advanced specialist knowledge and skills within your chosen field so you can move forward in your career. As the graduate certificate is only six months long, the coursework and learning outcomes are relevant and practical.
More autonomy over your studies
A graduate certificate's shorter, more specialised nature means you have more control over what you learn than longer postgraduate courses. The certificate focuses more on practical application than theoretical knowledge, leaving less room for irrelevant, core units to take up your time.
Enables career progression
Choosing to complete a graduate certificate shows your employers (and yourself) that you have a passion for your work. It shows your drive to upskill and can open the door to forward progression in your industry.
Takes less time and money
Graduate certificates are only one full-time semester long. Most RTOs offer part-time study options and online or blended study methods. Not only are graduate certificates more flexible than their longer postgraduate counterparts, but they also have lower tuition fees. Rather than pay for two-three years of full-time study, you only need to pay for one semester, and FEE-HELP loan schemes are also available.
---
Popular industries for graduate certificates
Many people choose to complete a graduate certificate to prepare for a new leadership position. By honing in on specific skill sets within your field of choice, you demonstrate the initiative, passion and knowledge required of leaders in any sector.
Some industries that particularly encourage specialised upskilling via graduate certificates include:
If it's time to take the next step in your career, but you need a leg-up with some focused, effective upskilling, it's time to enrol in a graduate certificate.