Beauty Therapy: Your Career Toolkit for 2021 [Updated]
by Adele Cochrane
This is a complete beginner's guide to beauty therapist careers.
Learn how to build a successful career in the beauty industry with this career toolkit.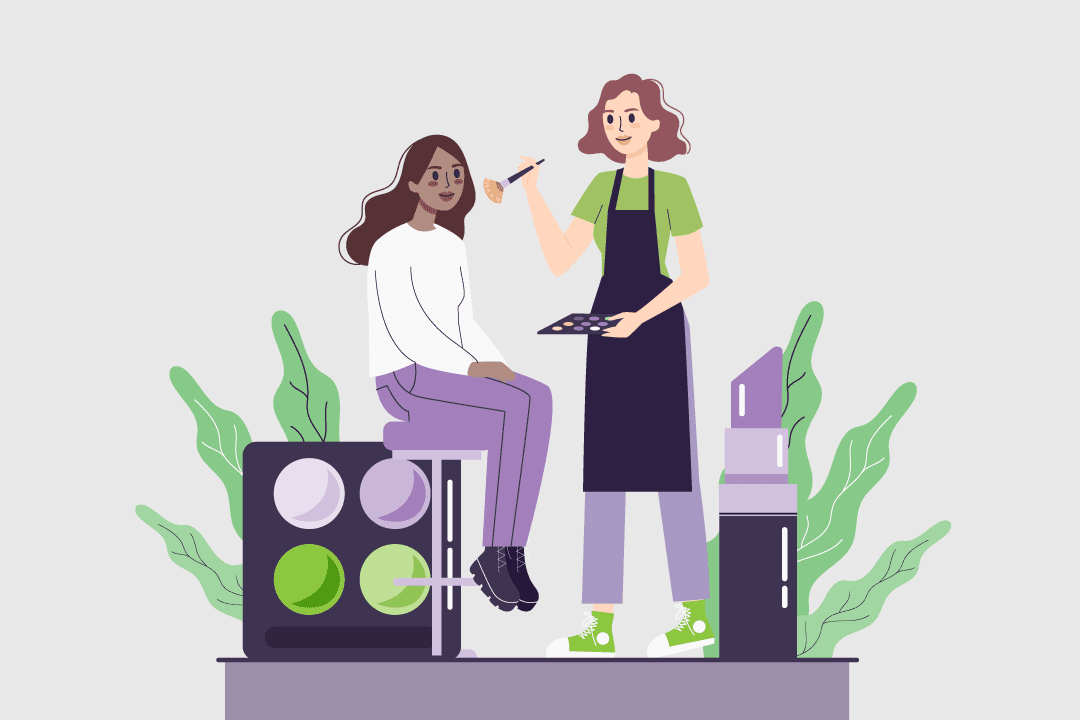 Consider this your personal toolkit for starting a career in the beauty industry. Beauty therapy is an exciting field that offers you many pathways and builds a versatile skillset — perfect for the dynamic work landscape of tomorrow.
Over the last decade, the beauty industry has unfolded its narrow ideals, opening up a multifaceted concept of beauty. It is becoming a more inclusive place, and has started to acknowledge that there are as many ways to be beautiful as there are human beings. 
Beauty professionals, too, come from many backgrounds and take many forms. The ever-shifting nature of this work makes them agile and flexible, as artful with people as they are with their tools.
The skillsets you build working in beauty are fluid and infinitely portable. They open up exciting avenues to explore – both in the beauty industry and in neighbouring fields such as health and wellness. In particular, these skills can be stepping stones to a wide variety of client-facing roles, where abilities like relationship building and a high standard of personal service are prized.
On the surface, beauty therapy may seem concerned mostly with appearances, but in truth it's anything but skin-deep. At its heart, beauty therapy is a caring, hands-on profession. We all need the occasional break from the ups and downs of life, and beauty therapists provide windows of respite and joy for their clients. 
What you consider a simple manicure could be a client's only self-care ritual amongst a hectic schedule of caring for others. Transforming an actor's face into a work of art can aid their transformation into the character they embody. Solving someone's confidence-destroying skin issues or injuries can empower them to show up in the world without self-consciousness. An expert massage can be the one thing that gets a busy doctor through the week.
Beauty is an industry of transformations: using skilled artistry and craftsmanship to transform the way people look, feel, and move through the world. It's also an open field rich with possibility: the paths you can take are limitless.
But there are several things useful to know before setting out on your path to a beauty career, like:
What do

beauticians

and

beauty therapists

actually do day-to-day?

Can I make good money?

What kind of qualification will I need?

Someone told me beauty is a shallow career path, should I listen to them?

What's the difference between a

beautician

,

beauty therapist

, esthetician, aesthetician, dermal therapist, and a cosmetologist in

Australia

?

What kind of business and

job opportunities

are there in the

beauty industry

?
In this career toolkit, we'll brief you in five chapters.
1. WHAT DO BEAUTY THERAPISTS DO EVERY DAY?
Get a glimpse into a 'day in the life' and learn the difference between beauticians, beauty therapists  and dermal therapists.
2. IS BEAUTY A PROMISING CAREER?
Learn about the thriving beauty industry in Australia, including job prospects, salaries, and working conditions.
3. WHAT TYPES OF JOBS ARE THERE IN BEAUTY?
Discover the different types of jobs in the beauty industry – and more career opportunities than you can wave a mascara wand at.
4. IS BEAUTY THERAPY RIGHT FOR YOU?
Find out if you've got the chops to thrive in a beauty career, and what you should focus on to succeed in the industry.
Learn about beauty qualifications, and which one you should choose.
What is a Beauty Therapist?
Beauty therapists apply beauty treatments to faces and bodies, often with aims of elevating a client's sense of wellbeing, improving their appearance, or looking nice for a special occasion.
They are a diversely skilled bunch, capable of providing a broad range of treatments such as skincare, facial treatments, professional makeup, nail treatments, hair styling, massages – and the list goes on. There are specialisations at each level of qualification within the beauty professions.
CHAPTER 1
What Do Beauty Therapists Do Every Day?
Let's get some things straight before we begin. In different parts of the world, different kinds of beauty therapists and beauticians go by other names: beauty therapist, beautician, esthetician, aesthetician, dermal therapist, cosmetologist.
In Australia, we refer to general beauty practitioners as either a beautician, beauty therapist or dermal therapist, depending on their level of qualification.
Beautician
Qualification: Certificate III in Beauty Services
Beauticians perform beauty services such as lash extensions, manicures, brow and lash tints, tanning, hair removal, and some simple skin treatments.
Equivalent of a cosmetologist in the US.
No formal qualifications required, but most hold a Certificate III
Often get qualified through an apprenticeship or traineeship
Can perform the following services:
Makeup

Spray

tanning

Hair removal

&

waxing

Eyelash

& eyebrow tinting

Nails, including

manicures

,

pedicures

, extensions and nail art

Lash extensions

Simple facials/massage under the supervision of a

beauty therapist

.
Beauty Therapist (Cert 4 Level)
Qualification: Certificate IV in Beauty Therapy
In Australia, beauty therapists include anybody who is qualified with a Certificate IV or a Diploma of Beauty Therapy. The services they can provide differ depending on their level of qualification.
Equivalent to an esthetician in the US, or aesthetician in the UK
Trained in basic cosmetic chemistry 

Trained in skin anatomy and physiology
Can perform beautician services, plus:
Facials
Massages
Body wraps and scrubs
Beauty Therapist (Diploma Level)
Qualification: Diploma of Beauty Therapy
Beauty therapists with a diploma are skincare specialists with an impressive array of facials at their disposal, providing advanced skincare treatments in beauty salons and spas. Their training enables them to carry out skin analysis, treat skin diseases and disorders such as acne, rosacea, and dermatitis, and help clients improve the appearance and feel of their skin.
Skincare treatments
Trained in skin anatomy and physiology
Trained in cosmetic chemistry
Can perform some of the same treatments as dermal therapists
Can perform beauty therapy services, plus:
High frequency acne treatments
Galvanic facials
Microcurrent facials
Sonophoresis facials
LED facials
Oxygen infusion facials
Radiotherapy facials
Ultrasound
Dermal Therapist
Qualification: Bachelor of Health Science (Dermal Therapies)
Dermal therapists hold an advanced diploma, graduate diploma or a degree such as a Bachelor of Health Science (Dermal Therapies). They treat skin with an arsenal of advanced, technical skin treatments. They are experts in skin anatomy and physiology, skin conditions, and cosmetic chemistry.
Usually work in medical settings, such as skin rejuvenation clinics or medi-spas
Can, with further study, become Registered Nurses and administer injectables (such as Botox and dermal fillers) under doctor supervision
Can perform beauty therapy services, plus:
Laser
IPL
Skin peels
Photorejuvenation
Cosmetic tattooing
Micro-needling
Caring
You'll make clients feel good. By listening closely to your client's needs, you can help them find their own kind of beautiful.
People-oriented
You'll prioritise serving people, getting along with others and building relationships.
Results-oriented
Use your abilities to achieve things and feel a sense of accomplishment.
Scientific
Always been curious about how the products we use everyday work? Want to go deeper? Starting out in beauty therapy offers many pathways into skincare and health sciences.
CHAPTER 2
Why Is Beauty Therapy a Promising Career?
Perhaps you've heard some discouraging things about careers in beauty services, and it's true that beauty therapists have been the victims of some negative stereotypes in pop culture.
However, it's worth noting that the beauty industry is a huge place, and your experience will depend a lot on your workplace. Working in an upscale salon or spa will be incomparable to working in a nail shop in a shopping centre. And it's an open ended career path, as you have the opportunity to become a highly qualified skincare scientist or run a successful business.
So, if family or friends have concerns about this career path, you can reassure them that it's a solid, growing industry with endless pathways to take and good job prospects.
If you're looking for a resilient industry to build job security post-pandemic, the beauty services industry is a solid choice. It also offers flexibility, you'll work with other caring and empathetic people, and can lead to many other pathways by building valuable transferable skills.
1. Flexible Working Hours
The beauty services industry can provide a flexible working environment for those balancing care commitments or those who don't want a nine-to-five. It's heavily female-dominated, with 97% female workers, and offers plenty of opportunities for flexible work hours with most working part-time (61%, as compared to the average of 39%). 
2. It's Accessible
 It's also an accessible field without high barriers to entry. As you don't need qualifications to get started, it's a brilliant opportunity to take on an apprenticeship or traineeship. This will allow you to learn on the job and get paid while you're getting qualified. Most beauty therapists go on to get a diploma or advanced diploma, although some follow their interest further into areas like Health Science or Dermatology.
3. It's Full of Possibility
 The skills you learn working in beauty therapy are valuable and versatile, giving you entry pathways into many related disciplines.
For instance, if you find you're excelling in building client relationships and making sales, you may pursue client-facing sales and accounts roles which demand a high degree of personal service and immaculate personal presentation. There are also ample opportunities for creating your own business empire.
Or perhaps you find that your clients respond beautifully to your welcoming, nurturing manner, your tact and sensitivity. You can provide them with valuable downtime from the stresses of everyday life, and make them feel comfortable and relaxed. You might find that you enjoy the caring aspect so much that you'd like to pursue further study in nursing, counselling or allied health, and the skills you earned in beauty therapy form the perfect springboard.
Jane Helps Her Clients Get Their Confidence Back
"In 2015, I left a successful career in the corporate world to begin my career in eyebrow microblading.
I needed to do something totally different from what I had been doing. I went from a grown-up corporate role to eyebrow microblading, and I was 50! Everyone thought I was mad to do so. But five years on, I have a wonderful life and business. I could not be happier, making women a happier version of themselves.
When I began the business, I wanted to rid the world of bad eyebrows, two at a time! That ideal lasted about one week when my first client, who had undergone chemo, saw herself in the mirror and burst into tears of joy. 
I specialise in helping women who have undergone chemotherapy, who have alopecia or who have lost their brows due to a myriad of other reasons to look better but more importantly feel confident.
They tell me that after they have had their eyebrows done that they can put a line under their cancer journey. A lot my clients say, 'I'm in remission, but every time I look in the mirror I'm reminded that I have cancer because I have no eyebrows.'
Daily I work with women who have been through the emotional and physical wringer with cancer treatments. Or who have lost their hair due to alopecia, in some cases, it all falls out in two weeks.
There is a common phrase to let the world know you're having a bad day: you are having a "bad hair day", your hair is bad, your day is bad. Imagine having no hair?
As women, our hair forms part of our identity. When there is no hair on our face, no eyebrows, it affects our self-esteem. These women are embarrassed to been seen without brows. They don't go swimming or to the gym, and they dread summer, as the drawn on brows melt off.
I give them beautiful new natural-looking eyebrows, but I also give them back their self-confidence, their freedom. I am empathetic and make them feel comfortable and happy. It is not an unusual sight to see a wig lying on my shelf and a beautiful bald woman lying on the treatment bed.
Make sure you have an absolute passion for what you want to do, that you want to do it and not just think it might fill in time, or someone else thinks you will be good at it. Ask local businesses in the same industry if they would let you spend time observing and getting a good feel for the career you think you want.
Whatever you choose to do, give it your absolute best and enjoy it – or there is no point in doing it."
Interview has been edited for brevity and clarity.
CHAPTER 3
Types of Beauty Jobs
Beauty Consultants are salespeople and educators with extensive knowledge of cosmetics and skincare products. They may also apply makeup in-store.
Retail Managers oversee the day-to-day operations of a beauty store or consignment stand in a department store, including staff performance and sales
Clinic or Salon Managers supervise the day-to-day operations of a beauty or hair salon, including managing staff, ordering stock and supplies, training, and budgeting.
Spray Tan Artists apply spray tan to client's bodies.
Beauty & Skin Therapists provide face and body treatments at spas and clinics. Those with a diploma level qualificiation also address skin conditions.
Dermal Laser Technicians / Dermal Therapist
Dermal Laser Technicians / Dermal Therapists provide advanced technical skin treatments in a medical spa or medical settings.
Cosmetic Nurse (Registered)
Cosmetic Nurses are Registered Nurses that assist with medical cosmetic procedures such as dermal fillers, laser hair removal, and Botox.
Going Into Skincare Science: Beneath the Surface
Always been curious about how skin really works? Pursuing further study in dermal therapy allows you to go deeper into skincare science, understanding the chemistry and physiology of skin. You may even decide to become a cosmetic chemist and formulate your own skincare products, like Terri Vinson.
"As a self-confessed geek and skin scientist, I am so proud to be a woman working in this exciting field.
I was that awkward schoolgirl who spent hours a week poring over chemistry and biology books but was constantly urged to focus on other academic areas. But I refused to wear the 'women don't do science' badge of the '70s!
Thankfully, my incredible dad, who passed away too early but who is still that encouraging voice on my shoulder, was on my side and supported me in pursuing my passion for science.
I'm certainly no rocket scientist, but forty years later (eek!!) here I am, a cosmetic chemist living my dream of formulating skincare products that not only make a difference to the outside, but can also boost confidence from the inside – and that's why I get up in the morning.
To any young girl out there who wants to follow a path in science, I say unleash your inner nerd and go for it!"
CHAPTER 4
Is Beauty Therapy Right For You?
Aside from a relevant qualification, there are a few skills, attributes and personality traits that will serve you well as a beauty therapist. 
What skills do you need to be a beauty therapist?
Professionalism is essential in all industries, but when it comes to the beauty industry, this is what employers look for:
Neat, well-groomed appearance

Warm and tactful

Fastidiously clean and tidy

Sensitive and understanding when talking with clients about their faces and bodies

Make people feel welcome and comfortable
How do I succeed in the beauty industry?
Provide great personal service

Watch videos on YouTube and read books about people skills

Work on becoming a great trainer & educator

Practice showing, promoting and selling

beauty products

Always watch new trends and take inspiration from the world around you

Educate yourself on new research in skincare science, and the formulation of cosmetics
How do I know if beauty therapy is right for me?
These are the qualities you will need to have and develop if you want a career in beauty services:
Entrepreneurial – initiative to carry out projects, start new things, lead people, make decisions, take risks
Helpful – you like working with people to provide service
Practical – you enjoy hands-on work, using tools and materials
Creative – you need to express yourself creatively and go your own way, design things, work with form, colour and texture
These are the day-to-day working conditions you'll experience in beauty therapy, so it's a good idea to think about whether you'd be happy in this kind of environment.
Being physically close to people – touching their face and body
Talking to people face-to-face
Freedom to make your own decisions
Work indoors, in a temperature-controlled environment
Work in a team
"Working in the beauty industry has allowed me to follow my passion of bringing joy – both physically and emotionally – through skincare. I realised this passion whilst studying beauty therapy – however, our industry is so diverse, allowing us to specialise or work generally across multiple specialties.

Our industry is constantly evolving as new techniques, ingredients and machinery are discovered allowing us more opportunities to grow professionally and to better care for our clients." 
Emerging Trends in the Beauty Business
Enabled by the internet, social media and online communities, the balance of power has shifted. What was once a dictatorship from mass media to consumers is now a more democratic dialogue. We're seeing more diverse representations in beauty marketing and advertising, and a much wider range of shades available in makeup products. So, after diversity, what's next?
These trends have already become prevalent, reflecting changes in our society, and look likely to increase over the next few years. If you are interested in developing a business or a product line in the future, then here are some trends to keep an eye out for:
Sustainability / organic niche

Products and services focused on older people

Babies and young children

Men's products and services
CHAPTER 5
Beauty Qualifications
How Do I Start a Career in the Beauty Industry?
 To work in beauty services, you will usually need a VET qualification in beauty, gained through a TAFE or RTO. It's often possible to earn your qualification through an apprenticeship or traineeship, allowing you to study and earn at the same time.
 To find work as a beautician, you will probably need to complete a certificate III, while most Beauty Therapists have a diploma.
Within qualification courses, there are often several core subjects, but you also have the option to choose between some elective subjects and specialise in a particular area or skill.
Short courses and certificates

: You can take short, often online courses that train you for specific skills, such as

eyelash extensions

or nail art.

Certificate III Level 
Certificate IV Level
Diploma Level
Diploma of Beauty Therapy

(

SHB50115

)
T

akes between 46 weeks – 2.5 years. formally qualifies you to be a

beauty therapist

capable of performing advanced facials and

body treatments

, a hair or

beauty salon

manager, or a

makeup artist

.

Diploma of Salon Management (SHB50216)
Takes between 6 months – 1 year to complete. Qualifies you to become a hair or beauty salon manager, hairdresser, or barber.
 Advanced Diploma Level
Advanced Diploma of Intense Pulsed Light and Laser for Hair Reduction (SHB60118)
Qualifies you to become a laser hair removal specialist.
University Level
What Is the Highest Beauty Qualification?
A Graduate Diploma of Beauty Therapy is the highest beauty qualification in Australia, and is equivalent to Master's-level study. You usually complete the Graduate Diploma after the Bachelor of Health Science (Dermal Therapies), a science degree specialising in human skin anatomy, physiology and chemistry. Completing the Diploma of Beauty Therapy will often function as an entry pathway into the Bachelor course, with your qualifications counting as credit toward completion.
What Can I Do With a Beauty Therapy Diploma?
A beauty therapy diploma enables you to begin working as a beauty therapist, qualified to perform most of the treatments offered in day spas and clinic, including the full suite of body massages, treatments and facials, and all cosmetic beauty treatments such as makeup, lashes, tanning, waxing and nails.
Pursuing a career in beauty therapies, you'll discover opportunities to express your creativity, care for people's wellbeing, build relationships and businesses, and make a name for yourself specialising in a particular craft.
This is an excellent career for caring people who want a practical, hands-on career where you'll work closely with your team and your clients. A career in beauty therapy can open many exciting doors and teach you valuable skills – where you take it is up to you. Just imagine going to work each day knowing that you're making your clients feel good and that you can bring a little sunshine and joy to people's lives.
Make Every Day Beautiful.
Follow your calling to make the world a more beautiful place. If you start with the right training, nothing can stop you.