Published on June 24, 2021
3 Ways Experiential Learning Can Help You Get Your Edge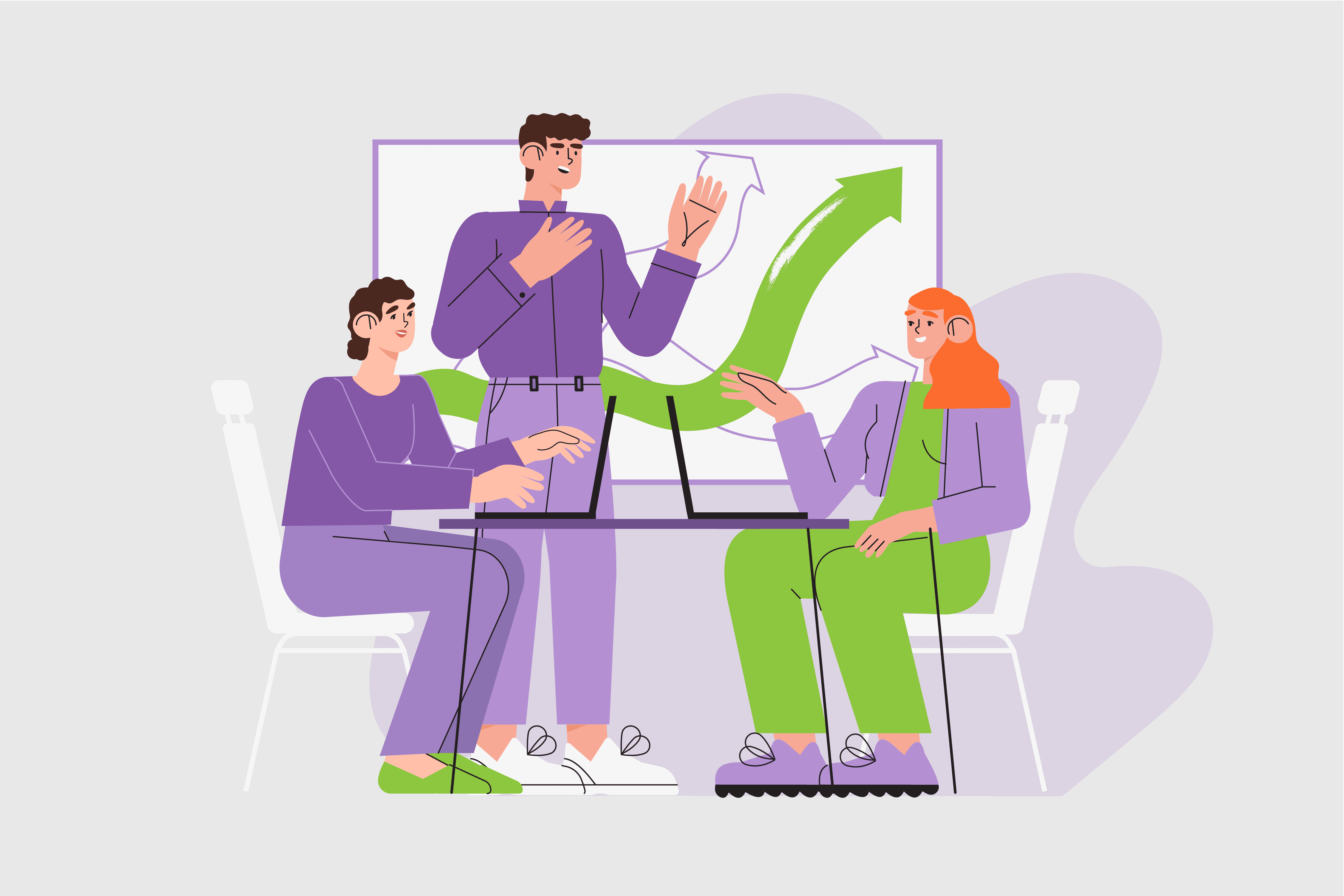 As the modern job market continues to shift and grow, employers are increasingly favouring experiential learning over traditional academia.
Many graduates feel unprepared for "real life" work.
They're unsure how to reconcile classroom learning with practical application. These feelings often come down to a lack of opportunities to develop critical industry-specific skills through experience while studying. The lack of confidence in recent graduates can lead to low employability and stalled career progression goals.
If you're looking to stay ahead in your career, you need to upskill strategically. Choosing to disrupt the traditional academic pathway and prioritising real-world professional opportunities should be the driving force behind deciding on a degree course provider.
What is experiential learning?
Experiential learning, or applied learning, is a disruptive education practice that moves away from the teacher-to-student information pathway that traditional academia tends to follow.
This learning method is inspired by the question 'what would a future employer value more?' or, for those business owners out there 'what do you need to grow your business?'.
Just an MBA? Or,

An MBA that incorporates an industry-relevant practical project?
Which of these options prepares the student for real work better?
Rather than dictate what and how to learn, teachers facilitate real-world industry experiences that allow students to reflect and identify what skills they need.
Students are encouraged to collaborate, experience, reflect and test practical skills while in a controlled education environment. As a result, students are more likely to develop critical transferable skills that, as graduates, they can confidently bring to current and new workplaces.
Why should this be prioritised?
According to KPMG, approximately 40% of current Australian jobs are at risk of disappearing within the next 7-12 years. The knowledge and service industry is projected to rapidly grow as the fourth industrial revolution of technology-centric business continues to take over.
So, how do we prepare future and current professionals for this inevitable shift?
Education providers need to focus on helping students develop strong practical skills that will ensure they thrive in a technology-heavy and globalised market.
Social and cognitive skills that can only be developed through exposure to 'non-routine' situations in the real business world should be central to new-age qualifications.
1. Leaders create leaders
Educators play a critical role in the experiential learning approach. Their main goal is to facilitate students to transfer knowledge into real-world understanding. This method is very student-centric and places the student in a position of active decision-making and problem-solving.
Education providers must understand the importance of good teachers to facilitate practical, industry-relevant learning. By building a faculty of over 250 global leaders and business innovators, Ducere provides its students with direct access to invaluable insights into their chosen field, bridging the gap between traditional academics and industry coaching.
Too often in life, you see people trying to share their strengths… But, if we're going to develop a partnership, your strengths need to be able to make up for my weaknesses and my strengths need to make up for your weaknesses. So, what we need to share are the weaknesses.
Effective applied learning often inspires students to push further in their careers. By modelling student coursework around current industry-relevant case studies and practical projects, Ducere encourages students to take autonomy and value in their learning.
---
2. Find your value through projects and assignments tailored to you
The most critical part of successful experiential learning is incorporating industry-relevant opportunities to facilitate the transfer of knowledge from paper to reality.
Experiential learning relates course structures and teaching content to practical application consistently. It's in this space that leaders are given the agency to grow.

Ducere seeks to do this in three critical ways:
1
You choose your own assignments when undertaking a Bachelor's qualification, allowing students to work towards their own small business plans consistently.
2
You will have no examination assessments. Any assessments throughout your qualification focus on testing practical skills and their application in a realistic way.
3
You work on three current industry projects with company partners of Ducere when undertaking an MBA.
These teaching methods ensure the curriculum facilitates participation. This allows students to identify and reflect in real-time what skills they need to build upon to become great leaders while receiving supportive mentorship from global industry leaders.
The surprise component for me was 'wow it's not just the theory we need to work through and the content, it's applying to what's happening today.
Learn from the leaders behind the projects
Applied learning is only as effective as the student who's willing to ask questions and learn from those currently living their business goals. That's why, choosing to participate in projects with organisations or leading business figures that inspire you and your goals, is essential.
Choosing a degree provider that can facilitate access to a broad range of partnerships and industry-relevant projects will allow you to explore and learn about the multi-faceted nature of the 'business' industry.
Ducere, for example, aims to provide partnership opportunities with industry organisations that give students access to projects with real commercial impact and exposure to an organisation on a national scale.
Some of Ducere's partners include:
KPMG

NAB

Save the Children

Telstra
Practical curriculum components with industry partners also allow students to show potential future employers their ability to adapt, reflect, learn, and professionally handle themselves in real-time.
---
3. Experience grows your network
Networking is a significant part of what makes experiential learning so valuable, especially within business and entrepreneurship. It's how people find more opportunities, support, and inspiration in what can be an overwhelming industry.
Ducere capitalises on networking opportunities for its students by hosting events, networking evenings, and seminars with its global leader faculty and guests. This allows students to ask relevant questions and find out more about the opportunities available to them post-graduation.
The major benefits of doing an MBA with Ducere were the experiences I received with three different types of big organisations that I never would have experienced otherwise. That resulted in a promotion and new job for me before I even graduated.
Taking the next step
If you're ready to take the next step in your career and stay ahead of the professional curve, you should consider completing a degree qualification with Ducere Global Business School.
Whether you're just starting your career and looking for an immersive Bachelor of Business qualification or you're ready to gain a market edge with an industry-immersed MBA, training.com.au is your one-stop marketplace for all Ducere courses.
Move forward with Australia's leader in applied learning and become a Ducere work-ready graduate.