Published 11 Nov 2020
51 Best Remote Jobs: How You Can Earn a Living Entirely Online
---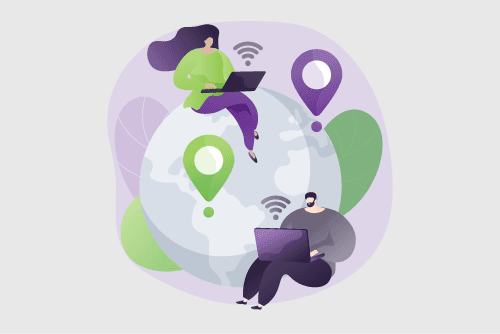 With the advancements of digital technology and dramatic shifts in the way we work, remote jobs are the future. The remote-working model is a change many have embraced, and for good reason.
The shift working remotely means no commute, a flexible schedule, more time to spare and general savings — really, what's not to love?
The 51 Best Remote Jobs
So, what work can you do remotely? Below is a comprehensive list of 51 remote jobs you can do to earn money from home, grouped into six categories to help you find the best fit for you.
Prefer to jump straight into your preferred section? Click on the option that suits you best below:
---
Download: 51 Best Remote Jobs
Remote Jobs for Carers
Carers are people who are passionate about improving the mental or physical health and wellbeing of others.
---
1. Childcare Worker: You can start your own daycare at home by getting your license and other proper documents. Ensure that your home is safe and of course, provide plenty of toys.
2. Caregiver: Caregivers are people who provide both personal and emotional support to people who need it, whether they're a senior or have a disability.
3. Doula: An online doula is someone who offers care to mothers in the form of emotional support, general advice before, during and after childbirth, through the use of emails and video conferences.
4. Pet Groomer: While pet grooming is often a mobile service or an established shop, you can easily set up your own business at home. Apart from the regular training required, you'll have to buy equipment like shears, nail clips and dryers.
5. Online Therapist: Online Therapists support their clients by encouraging them to talk through their problems and lending a helpful ear over video calls.
6. Speech-Language Pathologist: Speech pathologists diagnose and treat speech disorders by establishing goals and rehabilitation exercises. Just like with the therapist, you can use video calls, or have your clients come to your home.
---
Remote Jobs for Coordinators
Coordinators are people who enjoy looking after the 'behind-the-scenes' of a business. These remote roles typically involve administrative and service tasks.
---
7. Account Executive: As an account executive, you'll be passing information between a company and client, particularly in regards to closing sales deals.
8. Actuary: Actuaries are people who assess risk by analysing statistics and identifying uncertainties.
9. Bookkeeper: Bookkeeping, being a much broader area of finance, refers to recording transactions and processing payroll records.
10. Copywriter: Copywriting is a creative cross coordinative career that is all about writing interesting advertising and promotional material to capture your audience's attention. Since it's all about writing, you can easily do it on a computer and upload it on an online platform.
11. Virtual Assistant: As a VA, you'll be doing administrative tasks on behalf of corporations, like creating schedules, organising files and managing social media.
12. Virtual Recruiter: As a virtual recruiter, you'll be conducting video interviews, while also giving your company representative updates on how you're going finding the right candidate.
13. Database Administrator: Your main aim is to protect information on behalf of a company, like payroll data and customer shipping records. Since this is all based on technology, you can easily do this at home.
14. Human Resources Administrator: A HR administrator focuses on supporting both managers and staff by managing employee data, helping with recruitment and administering general HR issues.
15. Event Planner: Another creative cross coordinative career, you'll arrange everything during the lead-up and time of the event, from location to staff to decoration.
16. E-Commerce Store Owner: As an e-commerce store owner, you'll be managing your website, marketing your business, processing transactions and making sure your customers leave satisfied.
---
Remote Jobs for Creatives
Creatives are ones who love to channel their creativity in their careers. They have an eye for design, whether that be illustrative design, wordsmithing, fashion or crafting.
---
17. Animator: With a variety of drawing tablets and art programs at your disposal, freelance animation is an excellent career for creatives. Just make sure to keep an eye out for job postings online and stick close to deadlines.
18. Blogger: If you're passionate about writing about a particular subject and know how to engage and target a niche audience, blogging could be the remote career for you.
19. Editor and Proofer: An Editor/Proofer is someone who is provided with written material. They then review it for any spelling/grammatical errors and make any adjustments.
20. Stylist: As a Stylist, you'll be providing fashion advice for a variety of clients — from individuals to clothing brands. A majority of this advice revolves around coordinating the best outfits for fashion events.
21. Freelance Writer: With this job, you'll look for freelance job postings online, often working with a variety of companies. Once you land a gig, you'll typically write alongside a brief and upload your article onto their website.
22. Graphic Designer: Graphic Designers use computer software to design visual material that is pleasing to the eye and which effectively conveys the desired message.
23. Handmade Crafter: You can start your own small business by creating little trinkets and selling them on specific websites for crafts, like Etsy.
24. Makeup Artist/Beauty Therapist: Both Makeup Artists and Beauty Therapists can start their own business at home, as long as the environment meets hygiene standards, and you have all the products on hand. Both need to listen carefully to their customer's demands and carry them out — whether it to be to enhance certain features or providing facial and body care.
25. Photographer: Photography is more than just taking photos: you have to also to edit them and deliver your product to your clients. If you're working for yourself, you may also need to go out on-site and promote your business on social media platforms. However, this career can predominantly be done in a remote location.
26. Social Media Manager: Social Media Managers aim to market a company's brand by outlining a social media strategy, growing and maintaining followers and creating social content that aligns with their company's objectives.
27. Videographer: Similar to photography, videography is all about creating quality video content. You'll have to direct people, manage equipment, record and make the final retouches.
28. Voice Actor: If you've got the voice for this gig, as long as you know how to source jobs, make a reel and have a setup for quality recordings, you can build a career entirely online.
---
Remote Jobs for Generators
Generators are people who look for a high level of interpersonal interaction when deciding on a career path.
---
29. Affiliate Marketer: One of the more common WFH jobs, affiliate marketing is where a company sources the help of a third party to create traffic on their website and raise awareness around their products and services.
30. Call Centre Representative: Call centres are always looking for people who can work remotely. As a Call Centre Representative, you'll use your knowledge of products to help your customer with their inquiries and complaints.
31. Realtor: If you're intrigued by looking into property listings, the neighbourhoods that potential clients are interested and negotiating house prices, then consider becoming an Online Realtor. You'll keep in contact with your clients through emails, phone calls and video conferences.
32. Sales Manager: Online Sales Managers lead and oversee their sales team, ensuring that they build strong relationships with their clients and generate revenue. Contact with both their sales team and customers can be easily managed online.
33. Travel Agent: As a Travel Agent, you'll be helping your clients by organising accommodation, transportation and booking any other things, such as resorts, cruises, etc.
34. Customer Service Representative: Customer Service Representatives make sure their customers are satisfied by answering their questions, processing their orders and solve any complaints they may have. Most of their interactions happen over phone calls.
35. Recruitment Consultant: As a recruitment consultant, you'll be helping your company find suitable candidates for any vacancies, and ensuring that they fit the requirements, strictly following the job specifications given by the company.
36. Content Marketing Manager: Content Marketing Managers are accountable for overseeing and managing the content strategy for a brand. They typically lead up a team of other content professionals and look after a range of content output types, such as blog posts, video, interactive, and other on-site content.
---
Remote Jobs for Informers
Informers seek out professional careers where they can offer insights, information, education or business services.
---
37. Online Teacher: As an Online Teacher, you'll be doing a lot of your teaching over Zoom from home, and compiling your lesson plans on your home computer.
38. Online Tutor: Using programs like Zoom and Google Hangouts and looking for job postings online, you'll meet your student online and focus on a particular subject, just like a regular tutor. Browse education courses.
39. Consultant: This job requires you to provide expert advice for specific groups within organisations. As you might expect, this knowledge can easily be dispersed online.
40. Translator: Several businesses are always on the lookout for people who are fluent in writing in multiple languages, or even have basic proficiency in one. This makes being a translator a great remote job.
41. Transcriptionist: Transcriptionists have to write clear records, whether it be from recordings or live meetings. They often work in the medical and legal field.
42. Product Reviewer: By signing up for product testing, you'll be given a free product to review. The review can either be written or filmed on your channel. You will explain what it is, its components, any criticism, and rate it overall.
43. Financial Advisor: Financial Advisors are all about helping their clients reach their financial goals, whether they be short-term or long-term. The position requires a lot of research, regarding the market and various investment strategies.
---
Remote Jobs for Technologists
Technologist types are interested in jobs that require skilled understanding and use of digital tech.
---
44. Data Entry Specialist: A Data Entry Specialist's job is to transfer paper documents into disparate sources digitally. They'll need to write and organise this data in a clear, accessible way on behalf of their business.
45. Programmer: Programmers write and test code to ensure that the applications and software work efficiently. You should know how to write in different computer languages, like C++ and Java.
46. SEO Specialist: A SEO Specialist aims to improve website traffic and general functionality of their company's webpage, increasing its ranking across many search engines.
47. Software Developer: As a Software Developer, you'll be creating programs that help its users complete specific tasks, like writing documents, playing video games or filling in spreadsheets.
48. UI Designer: A UI Designer's job is to create the user interface design, focusing on how it's presented, the interactivity and how it feels to the audience. Just like a UX Designer, they regularly run the app through test audiences.
49. UX Designer: A UX Designer, often confused with UI Designer, focuses more on the user experience, like how easy it is to navigate with the app. Just like a UI Designer, they regularly run the app through test audiences.
50. Website Tester: As you might have expected, Website Testers look at websites and web applications across many different devices for quality assurance, for their customer's satisfaction.
51. Web Developer: Web Developers use both graphic design and web design coding languages to create the design of their web pages. Because of this, their main aim is to make their websites functional and looking presentable.
How do remote workers get paid?

Depending on whether you are working as a freelancer, establish your own business or work within an organisation, there are various ways you might receive payment for your work. Typically, remote payroll or utilising a third-party service such as a GEO Service that enable companies to outsource global employment to hire team members in a compliant manner. Make sure to establish this before you agree to a remote job.
If working as a freelancer, you have more control over how you invoice. You can opt for bank transfer from your clients through a simple monthly invoice that you can send through for your work, or settle on a mutual, alternative agreement.
Now that you've discovered your perfect remote job, you can explore the next step in your career journey.
Check out our detailed working from home guide below, or find out more about a specific career by enquiring on a remote course.
Flexible work, whether full-time or casual jobs, are available in virtually every industry – you just need to know where to look.
Read More