Published on April 6, 2022
6 Types of IT Jobs That Are Great for Creative People
In this post
Often, an information technology career evokes a vision of html, codes, operating systems, cyber security and statistics. While this is true, there is a high level of creativity needed in many jobs within this massive and varied sector.
From the occasional social media user to the CEO of a huge tech company, all people value technology more if it is interesting, artistically considered, and aesthetically pleasing. Even the internet favours unique and easily digestible content for varied demographics.
There is a tech career for anyone with a creative flair and a thirst for new advancements in the digital world — and you don't necessarily need a technical degree to start one.
These six different types of IT jobs require innovation and creativity as much as an analytical mind:
Web developer

UX designer

Augmented reality designer

Software designer

Digital animator

Game designer
Discover more about these jobs, and learn how your current skills might be transferable. You're so close to finding your dream job in IT that combines your interest in technology and your creativity — and pays well too!
---
Web developer
Role description
A web developer makes and maintains websites using codes and other specialised inputs.
They're in charge of technical aspects like programming, website speed, and capacity and performance. They also lead the overall look and feel of a website.
While many developers work in collaboration with web designers and other stakeholders, they are often required to work with video, audio and graphics, and these creative skills allow them to provide a complete service to their clients.
Creative skills of a web developer:
Graphic design

Image editing

Developing wireframes

Site mapping

Layout designing
Getting into the role
You may know more about the technologies used to create websites than you think. We use new programs all of the time, and most of us have a basic understanding of how they work just by using them.
Although it's possible to get employment as a web developer without formal qualifications, most employers will prefer you to have undergone training.
A VET course such as a certificate in information technology can be an excellent place to start and covers all skills and knowledge needed to gain an entry-level position. A diploma of information technology could open you up to other roles in technology should you like to have a more flexible outcome.
---
UX designer
Role description
UX designers work to create and develop digital processes, from start to finish, for projects like apps, websites, games and software.
Their job involves looking at, designing and working with other professionals to create the best user experience for front-end interfaces using an understanding of human behaviour.
They are also involved in research, testing and problem-solving and are often in contact with designers, branding professionals and strategists who they collaborate with on large projects.
Creative skills of a UX designer:
Layout design

An eye for detail

Visual communication skills
Getting into the role
With no formal UX Design qualification available, people usually enter this job from related areas.
Any past roles involving design principles, web development, digital production or app development will give you a solid foundation for this job.
Basic skills in UX design can be developed through a short course or by joining local networking groups.
---
Augmented reality designer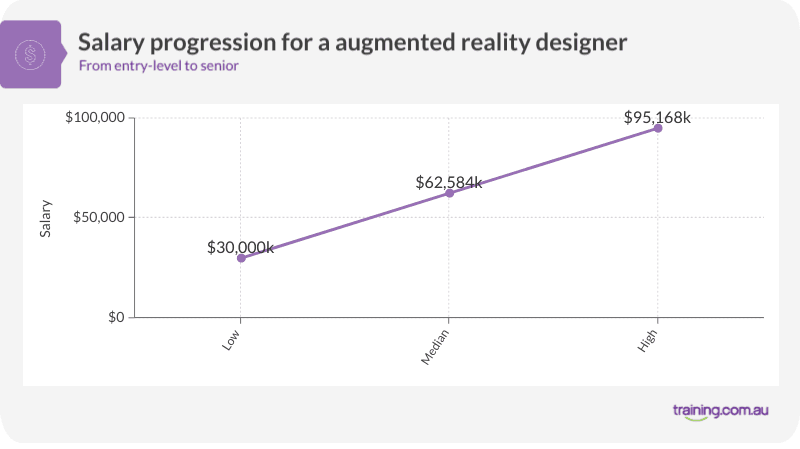 Role description
Augmented reality is popping up more and more in the tech we use each day. Brands have even been using it to allow us to try on clothes and play games with characters that enter our reality through the magic of our smartphones.
A job designing augmented reality requires you to find new ways to connect the digital world with our own. These skills are used to create campaigns and produce the visual media aspects to go along with them.
Creative skills of an augmented reality designer:
Design

Animation

Digital art

Visualisation

3D modelling
Getting into the role
Like many types of IT jobs, to become an AR designer, you generally need to have a background in coding and have knowledge of the programming languages used to create interactive media.
As augmented reality is an emerging technology, people often get into these roles via pathways from other tech or digital design jobs.
If you don't have a tech or digital background, you may want to undertake an undergraduate degree in information technology to develop and hone the fundamental skills of this industry.
If you have some experience, you could develop your AR skills by creating content on your own and building a portfolio of work to enhance your job applications. You could also take a short course in AR and VR applications or strategy.
---
Software developer
Role description
Software developers are IT professionals who create, test and implement software for a broad range of applications using programming skills and technical knowledge. They also design the software they develop, which is where a lot of creativity comes in.
Like all types of IT jobs, they work with computers and information systems daily. These professionals can work in either a team with other tech professionals or as freelancers. They may also be in charge of project management.
Creative skills of a software developer:
Layout design
Visualisation
Getting into the role
It is possible to get into a career as a software developer without a formal qualification. But you will want to have the IT skills needed to perform the job confidently, and employers prefer to hire people with experience in a related field.
A bachelor's degree in computer science or software engineering, or a diploma in information technology will give you the core skills needed in this role. In addition, taking in an internship while studying is a great way to get your foot in the door.
A role in software development could lead to further and more senior jobs in IT if you choose to push your career in that direction.
---
Digital animator
Role description
A digital animator's job description is to use computers to create moving illustrations that can be used in films, games, or videos.
Of course, this role requires creativity and strong artistic skills. But there is also a need for solid knowledge of the computer programs used to make the illustrations.
Creative skills of a digital animator:
Digital art

Illustration

Visualisation
Getting into the role
To become a digital animator, you may not need an IT background. With the focus of the role being on the design of the illustrations, the tech aspect can be picked up along the way or studied through a short course.
A VET qualification in digital media, design or game art is also a great way to hone your artistic skills.
---
Game designer
Role description
A game designer invents, develops and produces video games and generally works in a team including developers and animators.
Along with a fundamental understanding of how IT works in conjunction with the games, the role requires a high level of imagination, creativity, and knowledge of what makes a good game.
Creative skills of a game designer
Design

Artistic ability

Visualisation

Storytelling ability
Getting into the role
Most game designers start their careers through their studies, or jump into the role from careers in digital media or design.
If you're keen to develop and hone skills in video game design or production, a VET course in interactive games or game development is the best place to start.
This role offers lots of room for progression as well. By undertaking further study or a bachelor's degree in games or interactive design, your career as a game designer could lead to a senior job title, like lead game designer, in the future.
---
There are so many career choices in tech available for creative people. Our reality is becoming more and more immersed with the digital world, and your skills in design, eye for aesthetics and flair for creativity are becoming exponentially more valuable in the field of IT. You don't need to choose between following your love of tech and your love of creativity. And by pursuing a career where you can combine your passions and skills, you're going to stand out to employers.
We are so lucky these days to have a vast selection of resources to help us get into new jobs — including courses that can be easily accessible, affordable and flexible enough to fit around already busy lives.
IT career paths are available and highly accessible to you — especially with your new, finely honed skills (or the ones you bring from past careers). Are you ready to take the first step towards your dream job in IT?
Ready to browse IT courses? Check out your options here.